The Scottish songbird talks to Lydia Jenkin about flying solo with a loop machine, dealing with personal tragedy and creating a bittersweet album packed with raw, yet tender, songs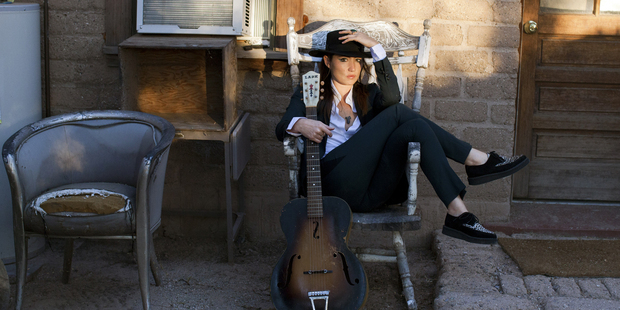 Husky-voiced folk rocker KT Tunstall first came to our shores in 2008 for the inaugural Bluesfest in the Coromandel, and was so smitten that when Neil Finn asked if she would return for the 7 Worlds Collide Project (a collaboration with the Finns, plus members of Wilco and Radiohead, along with Johnny Marr and Bic Runga, which raised money for Oxfam) just a few months later, she jumped at the opportunity.
"It was a fantastic experience because it was an amazing line-up of people. Such a privilege. And I had a wonderful time working with Bic, who is just a complete diamond of a woman. I hope I'll be able to catch up with her when I'm over," she enthuses in that warm, lilting Scottish accent, from her home in London.
But things have changed quite a bit for Tunstall since she last visited - albums, record labels, personal life, they've all evolved, and not least, she now performs solo.
Since she broke across the UK and North America with Black Horse and the Cherry Tree in 2004, Tunstall has spent most of her international career performing with her band, but she's enjoying being on stage by herself these days, just with a loop pedal and multiple instruments.
"I'm really loving it. It gives me a lot of leeway, and a lot of freedom to decide on the spur of the moment if I want to do something different. It's kind of ironic to me that it's not something that I've done more of. But when you look back at it, I think you get into a situation as a solo artist, where if you employ a band, and you spend all that time getting to know them and getting a really slick show going, you can't really say, 'Okay, I'm going to tour on my own for a bit now', because they'll have to go and work for somebody else, that's only fair. And I was really fond of the band I had for a long time, so it had to be quite a definite and deliberate decision to not work with the band anymore."
That decision may have, in part, been instigated by her divorce from Luke Bullen, who was also her drummer, in 2012. However, Tunstall was also ready for a change, and for the challenge of being alone on stage. "I was very ready for it, and the idea of doing some solo touring really excited me. It's very empowering actually. In a way, I find it easier somehow because I just don't have to worry about anyone else, I'm controlling the whole thing.
"And I think, also, because the new record is very emotional as well, it's certainly really great for those more emotional songs that people can really get to grips with the lyrics when they hear me sing them, because it's so stripped back. They suit the feeling of being raw and real."
Last year's release Invisible Empire/Crescent Moon is indeed one of those albums that manages to translate an artist's raw and real vulnerability, and press a few tender nerves, and it's clearly a record that Tunstall is surprised at and proud of.
"The whole thing really, was a surprise - I wasn't planning to make an album at all, but I met Howe Gelb from Giant Sand, he was part of a tour here in the UK, and I think he sensed that I really wanted to do things differently. I felt like I'd been stuck in a bit of a major label formula of going into a well-known studio with a well-known producer and trying to make a pop record, and I just really didn't want to do that again. I wanted to be more adventurous."
The timing of their meeting was fortuitous, as Tunstall's label EMI was being taken over by Universal, and she ended up with a new team of label people who were happy to leave her to her own devices.
"It was such a gift, it was lovely to be trusted like that. And so Howe said, 'Come out to Tucson, Arizona, I think you'd really enjoy it, we can just do some recording and have some fun'."
So that's what she did. She wrote nine songs in the two months before heading across the Atlantic, and when she got there they recorded those songs in an almost totally live setting in 10 days.
"It was all done on reel to reel tape machine, in single takes, and live performances. It was a total revelation because I always find it weird singing in the studio because there's no audience, but because it was live and you can't go and edit anything afterwards, I felt like the tape machine became my audience, and I was performing for it, so I think my vocals really improved."
She wasn't sure what her A&R guy would think about the recordings when she returned to the UK, but he loved them, and told her to go back and make the rest of it.
"And so I did, but not before I had a summer of life-changing shifts."
Between those first recordings in April 2012, and her return in November, Tunstall's father died suddenly, and she found herself getting divorced, so she decided to treat the album as a whole of two halves, and acknowledge those changes - hence the double-barrelled title.
"By the time I went back out, my life felt very different. It's funny though, because the first half is the half that was melancholic and brooding and questioning, and more introverted, and then by the time I went back out in November, after the dust had settled a bit after losing my Dad, and my personal life turning inside out, I was gagging to leave Britain, I was really looking forward to getting out and going back to the desert. So it was very cathartic and healing, and that second half for me, it really felt like it was the beginning of something new, and that's why it's called Crescent Moon; it's very hopeful and there's a sense of release there."
Tunstall does seem like an irrepressibly hopeful, forward-looking person - one look at her Twitter account shows how much she delights in all the little surprises the world has to offer - and you can tell, despite the tumultuous, difficult experiences, she's really in her best creative space yet.
Who: Scottish songstress KT Tunstall
Where and when: Performing at The Studio in Auckland on Saturday, May 3
Listen to: Invisible Empire/Crescent Moon (2013)
- TimeOut