Irishman Jason Byrne tells Lydia Jenkin he is looking forward to getting to know his audiences on his return to New Zealand shores.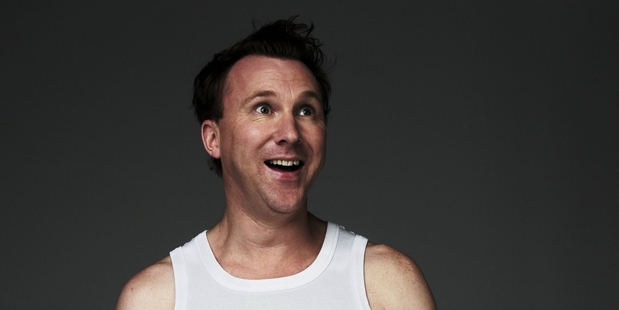 Being an occasionally lazy Irishman, Jason Byrne decided to get us, his audience, to name his show this year. You will possibly be rewarded - there is a $1000 prize for the winning entry, which will be revealed on his final night.
"It's one of those ideas that I kind of wish I hadn't done, because now I have to go through all the entries. But some of them are very funny. The more offensive, the funnier I find them in general. Like there have been loads that try and tear me down in a clever way, but one of my favourites so far just said 'f*** off'. No effort whatsoever, just 'f*** off' in a speech bubble. I do love the misery of humans sometimes."
Speaking from Melbourne, where he's currently gigging, the 42-year-old was feeling a little lonesome in his temporary apartment, with the absence of his wife and children (who were still in Ireland) but was secretly revelling in some downtime ahead of his return to New Zealand for his second local festival appearance.
"I'm actually absolutely loving it. When I put something down, I can go off, and come back, and nothing has moved! It's the most astounding feeling ever. Do you remember Monica from Friends? She would be incredibly anally clean, and that's my wife, so basically the minute I finish touching a cup or a plate, the dishes are done and everything will be put away. But in saying that, I'm keeping the flat pretty tidy anyway, because I hadn't realised, but she's actually trained me well without me even knowing."
Byrne (consistently one of the biggest-selling acts at the Edinburgh Fringe with an armload of TV credits) spends a good deal of time in Australia these days, and loves the crowds there and in New Zealand.
"When I came last time, I was like 'Holy shit, where did this crowd come from?' They're so much like the Irish. They're not afraid to shout shit at you, and if you ask something, someone nearly always has a funny answer. So it was great. And coming from a country like Australia that has loads of rules that everybody follows, New Zealand felt like a place with loads of rules that nobody follows. It was amazing. It's great when people join in."
Byrne is after all, very keen on audience participation. If you've seen any of his past gala appearances, or Youtube videos, you'll know audience members are often coaxed into some fairly surreal competitions or skits - to be wrapped up in cling film and rolled up and down ramps, or turned into a human xylophone for example. How does he get people to do it? Well, it's really all about picking the right ones.
"When I do my show, I try to make sure I have plenty of time to groom my victims. And I can just tell usually by their body language, whether they would get up or not. I would never make anybody get up if they weren't interested. The only problem is if somebody gets up and they're really drunk - you can't really tell that when they're sitting down. I had one guy who could barely even talk.
"But then you just get through it all as fast as you can, and people often end up finding the whole thing amusing anyway."
Those people will then likely become part of the gags for the rest of the show, lucky things. Byrne is quick like that, managing to weave jokes about average punters in among references to his relationships, aging, and of course his family - who were also the key inspiration for his recent BBC 1 TV show Father Figure.
"My show is all over the place really. People go 'What's he doing?' 'Ahhh ... he's mad?" I'm not mad, I just have a lot of stuff to get through" he explains, with the same hyperactive rapidity that he has on stage.
Of course, while his ability to be an ebullient motormouth may not be suffering from age, he has started to feel the physical effects - and old person jokes have begun to permeate his routine too.
"I'm allowed now definitely, because I turned 40 a couple of years ago. In fact when I say anything now, whether it has to do with relationships, or history, or age, everyone goes, 'Yup, I reckon that definitely happened'. Cos when you start out, and you're like 24 or 25, if you even attempted to talk about relationships, it just didn't work, people just stare and go, 'What the f*** do you know?'
"Of course, there's still people who will always see you as younger. Like my dad is 75, but if he meets even say a 70 year old, he'll say 'Alright young man?' So you can't win."
It's well known that Ireland has a knack for producing successful international comedians - they seem to have a naturally pointy funny bone - but being a comedian in Ireland can be a tougher ride than some might think, because there's such a cultural currency in being amusing, that the bar is set quite high.
"Irish people are always trying to make you laugh.
"We're raised to take the piss out of each other all the time, so you've gotta be able to hold your own in a bar with a bunch of mates. It's definitely the hardest place for me to gig - the minute you walk on stage, they're all sitting there going, well, he better be funnier than me."
Which he usually manages, except when it comes to naming his show - this time he's hoping the audience will have one over him.
A gala full of laughs
The comedy gala, which Jason Byrne is hosting for the first time, takes place tonight at the Civic Theatre at 8pm, and will be screened on TV3 on Monday April 28 at 8.30pm.
Tickets are still available to the gala (sponsored by Old Mout Cider), and the following comedians will be performing: Reginald D. Hunter (US), James Ascaster (UK), Sara Pascoe (UK), Ian D. Montfort (UK), Carl Donnelly (UK), Marcel Lucont (FRA), Steve Hughes (AUS), Stephen K. Amos (UK), Sam Simmons (AUS) and John Gordillo (UK). Local acts include: Rhys Darby, Ben Hurley, Jarred Christmas, Rose Matafeo, Guy Williams, Nick Rado, James Nokise, Jamie Bowen, Paul Ego and Urzila Carlson.
Who: Jason Byrne
What: You Name the Show!
Where and when: Performing from Friday April 25 to Sunday April 27, at Q Theatre Queen Street, and hosting the Comedy Gala tonight, at the Civic Theatre.
- TimeOut