Auckland institution Real Groovy Records is proving a long player in a world of changing music technology.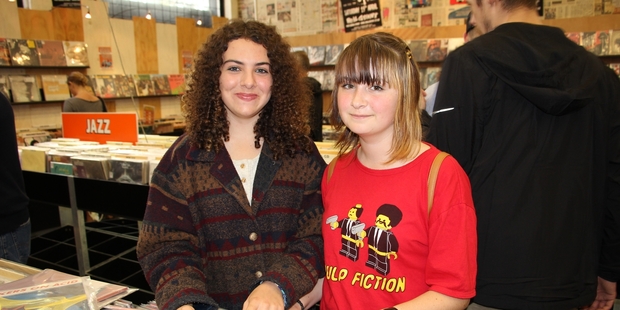 The thing about the good old days is that they tend to be more old than good. Yes, we once left our houses unlocked when we went out, but we also allowed teachers to flog our children when they misbehaved and only Dutch-owned delis sold wholemeal bread.
All things considered, we're lucky that things ain't what they used to be.
In the area of technology, we lap up improvements so fast we can't remember what things were like before the improvement happened. Phone boxes, anyone? Outdoor dunnies? I don't notice people hankering after cross-ply tyres. Gearless bicycles are making a comeback, but as a style statement; no one is arguing that they make for more efficient locomotion.
So why did the vinyl long-playing record escape being trampled in the march of progress? Or, to put it more accurately, how has it come back from the other side of the brink of extinction?
This question presented itself when I saw that Real Groovy, the country's largest retailer of new and used music (and much else besides) was to hold a Record Store Day. The Weekend Herald billed it as "a day for all those vinyl lovers who know the gods of music are on their side".
As somebody who buys music only occasionally, I was only dimly aware of vinyl's return, perhaps because I have a genetic predilection for looking to the future, not the past, of recording technology.
My parents lived and breathed music - as young marrieds they bought a piano before they bought a lounge suite - and in the living room of my childhood were big cabinets full of operas on 78rpm records (the Ring of the Nibelungen would have taken several strong men to lift).
Then came the 33 rpm "long playing" record (a luxury item at 25 shillings, which is an inflation-adjusted $108).
Mum and Dad scrimped and saved for a state-of-the-art Collaro turntable, only for the invention of stereo to make it antique, if not obsolete, overnight.
On it went, through cassette tapes, CDs, digital downloads, personal stereos weighing a few grams, entire music collections stored in the cloud. How did we end up at Real Groovy on Saturday with punters riffling through bins of LPs?
Owner Marty O'Donnell explains that vinyl never died - it was just sleeping.
"We never got out of the format. When they stopped making vinyl as new releases in the 1990s, we still had tens of thousands of second-hand ones and continued to source new ones."
Store founder Chris Hart says that nowadays little is not released on vinyl as well as in digital formats. And, he says, people who say that it "just sounds better" are not post-modern Luddites. Compact discs filled a need for portability (remember the Discman?) and could be played in the car, but in order to make them usable in environments where there was ambient noise the sound was compressed, which made the quiet parts louder. Exit nuance and contrast, light and shade.
Digital music has other disadvantages, dressed up as bonuses, the pair explain. Bonus tracks expand an album to more than an hour, which makes for listener fatigue ("one side of a record, 20 minutes, is just right," remarks Hart); meanwhile cheap compilations and shuffle functions on devices destroy the continuity artists and producers have carefully contrived.
More ineffable, but just as important, is the physical relationship with an artefact: the disc, 12 inches in diameter, that you removed from its sleeve and wiped clean before carefully lowering a stylus on to it.
That's something Millie Ketchley and Isabelle Livingstone understand. The North Shore teenagers were checking out a vinyl copy of the 1967 Jimi Hendrix classic Axis: Bold as Love when I accosted them.
"Music just sounds better on vinyl," Millie explained.
"It is more original, somehow, and I feel more special when I get it out and put it on the record player. It's a ritual."
Isabelle agreed, adding that she liked the sound "because it's less perfect - and it's a lot cheaper as well".
It was enough to make me regret my foolishness in having traded in all my vinyl - at Real Groovy, in fact - in the 1990s. It was a fundamental change in my relationship with music, I now see.
As Hart reminds me: "Vinyl is about sitting down in a living room - because you can't play your records anywhere else."
Search for "loudness war" on YouTube for graphic demonstrations of the effect of compression.
On the web
www.realgroovy.co.nz