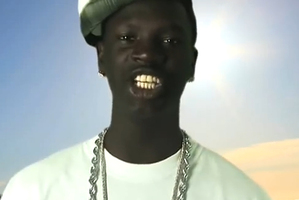 A viral internet hit has turned into a viable hip-hop career for Bangs, who is promising to perform in New Zealand next week.
The Sudanese-born, Australian-based rapper, whose unlikely hit Take You To Da Movies has had more than nine million views on YouTube, says he'll be performing a one-off show in Auckland next week.
He's yet to say where he's performing, which day the show's on, or how much tickets cost - but he did say he'd be "going to movies when I hit New Zealand".
Bangs - whose other YouTube songs include Follow Me On Instagram and Meet Me On Facebook - put a call out for New Zealand promoters to "hit me up asap" on Twitter on Sunday.
He later tweeted that he'd found a venue in Auckland and would be performing a one-off show next week, with only door sales available. He later said that his flights had been booked.
Bangs has turned his unorthodox rapping style and internet success into a mildly successful career, releasing two albums through with HSM Entertainment and starring in a Honda advertisement.
Read Bangs' tweets about his New Zealand show:
I think I found a venue in Auckland NZ. so I'll update u guys wit more Details soon tickets will be at the doors. ??

— Ur Boy Bangz (@yourboibangs) April 21, 2014
Time To Go Book My Flights. ??

— Ur Boy Bangz (@yourboibangs) April 21, 2014
I'll be going To Movies when I hit New Zealand. ????

— Ur Boy Bangz (@yourboibangs) April 22, 2014
I'm doing ONE show ONLY in NZ Auckland that's All. ?? if u miss it that's sit.

— Ur Boy Bangz (@yourboibangs) April 20, 2014
I could come to New Zealand next week. But I'm js lookin for a better Venues.

— Ur Boy Bangz (@yourboibangs) April 20, 2014
In box me if ur a promoter from NZ. ASAP ??

— Ur Boy Bangz (@yourboibangs) April 20, 2014
Watch the video for Bangs' Take You To Da Movies:
- nzherald.co.nz