The story of how New Zealand's conscientious objectors were treated during World War I has inspired a television movie screening on the eve of Anzac Day. Bridget Jones goes behind the scenes.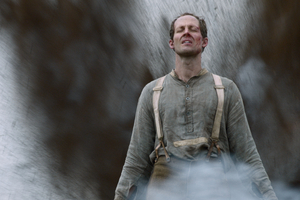 On a hot, dry summer's day in the dusty Kumeu showgrounds north of Auckland, writer Paula Boock ducked under the shade of a tree alongside her film crew.
Like every shoot the company is a part of, this one was starting with a Maori blessing.
But in the distance she heard a whistle blow, followed by the sound of marching boots; 40 pairs in all.
The film's extras - the ones playing soldiers in this World War I drama - marched towards them in full uniform.
"I think for everybody, there was that moment of 'oh my God. There they are. There they are, looking like these boys, these young boys.'
"And it felt very real," remembers Boock, co-writer and producer of Field Punishment No.1, the story of 14 New Zealand men sent to the front against their will.
World War I was New Zealand's first encounter with conscientious objectors, men who openly declared their opposition to war and who were branded traitors and cowards.
Archibald Baxter was one of more than 2000 New Zealanders who resisted conscription. A committed pacifist, his moral belief that "all war is wrong, futile, and destructive alike to victor and vanquished", was not enough to avoid service. Others refused on religious grounds.
Baxter and 272 others were arrested, imprisoned, and later, 14 of them were shipped off to war, to receive a military punishment on the battlefields, insane asylums and military prisons of Britain and France where they were tortured and publicly disgraced in an attempt to break their spirits.
Baxter, who died in 1970, wrote about his wartime experiences in the memoir We Will Not Cease, which was published on the eve of World War II.
It's a story Boock and her writing partner Donna Malane heard whispers of while growing up in Dunedin, the hometown they both shared with Baxter and his famous family - Archie was the father of poet James K. Baxter.
But it wasn't until the pair were looking for a follow-up project to Tangiwai: A Love Story, that she truly came to understand it.
"Growing up, I remember my parents making vague references to the fact the Baxters were treated badly by Government because of their pacifist stance, so I had always known that name. And to my parents, James K. was the son of Archibald, whereas I think maybe the opposite is true these days."
"When we finished Tangiwai we had a really good think about what sort of story that would have the ability to touch New Zealanders. Something that was really significant and affecting. And this was something of a half-lost story."
The film's name comes from one of the punishments Baxter suffered, in which he was tied to a post in a field, his hands bound behind his back, his feet tied together for hours each day. The posts were tipped forward, the ropes cut into his skin, and all in freezing conditions.
Despite scouring official records and newspaper archives and talking to Baxter's descendants, Boock was still shocked by what he and the other 13 men endured.
"I really didn't expect to find that degree of brutality.
"I didn't expect that it would have come from New Zealand soldiers and officers - I think I had assumed that they had suffered a lot of this at the hands of the English officers, and that wasn't always necessarily the case," she says.
Archie Baxter was the kind of role Fraser Brown had been dreaming of since drama school.
In fact, that's where he first heard the "conchie's" story - classmate Ben Barrington (The Almighty Johnsons) chose Baxter as the subject of his final project.
Despite being fascinated with the motivations of soldiers in war, Brown says he was astonished to realise how little he knew about this particular story.
"To me, it's the ultimate act of bravery and should be proudly taught in schools alongside the well-known story of Anzacs at Gallipoli and on the Western Front."
It was that strength and outer toughness, matched with a powerful internal struggle, that he wanted to embody. He says there was a danger of making Baxter appear weak, when in reality he was a rugged Otago farmer who had made a name for himself with his boxing skills.
"Archie had the most incredible determination and strength of conviction throughout his ordeal but I wanted to make sure we didn't make that seem too easy," Brown says.
And the six-week shoot was far from simple.
Filmed in early 2013 with a $2.7 million budget from the New Zealand On Air platinum fund, the production struggled to make a Kiwi summer look like the muddy battlefields of Europe. There were water tankers and rain machines running on the set. The snow-covered scenes of the field punishment were filmed in a sweltering hot studio in Henderson, and Brown says the wool uniforms made the actors scratch like "elderly dogs".
"But the biggest factor was maintaining stamina for the whole six weeks. It was not only physically, but also very emotionally, demanding and I smashed myself in the end; we finished filming on a Friday, had the wrap party on Saturday and on Sunday I woke up with shingles."
Boock admits it was a long, hard slog but it was a struggle that paled in comparison to the story they were telling.
Everybody on set, she says, had a story of someone who went to war, but maybe didn't come back. And everyday, she would be told a new one.
The film is peppered with personal mementos slipped on to set by cast and crew, from letters to a personal diary once owned by the production designer's serving relative.
"They were just little personal messages, lovely little things, just for themselves and their family. I think but it was a sign of just how meaningful this was for them as well," Boock says.
For Brown, the connection was not physical but it had just as much resonance. His great grandfather, Charles Grierson, was a second lieutenant in World War I.
"He fought and was shot in the leg at the Somme in 1917 so it's entirely possible he and Archie were on the front line at the same time."
What: Field Punishment No.1
Where and when: TV One, Tuesday 8.30pm
- TimeOut