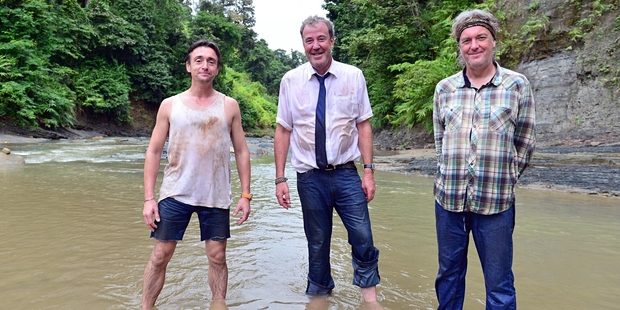 It's said the only two constants in life are death and taxes. Well that was before Top Gear (7.30pm, Sundays, Prime).
The long-running BBC motoring programme has, in its current iteration, been running for 21 series and 167 episodes. That is a truck-load of television.
But this doesn't make Top Gear, as seemingly endless as it seems, a constant. No, the third constant here on Planet Earth is not the show but the long-running list of complaints about it.
The criticism of Top Gear is legion. According to some among the millions and millions who have watched it, it promotes irresponsible driving, doesn't give a fig for pressing environmental issues, has gleefully mocked all manner of peoples including Germans, Poles and Mexicans and is possibly homophobic.
One viewer, actually a rather high-profile viewer, the British comedian and occasional guest on Top Gear Steve Coogan, has called the show lazy, adolescent and a trader in casual racism.
So it's awful then. Well not that awful. None of these countless accusations seem to have harmed the ratings: Top Gear is reportedly the most watched factual television programme on the planet, with mirror programmes made under licence in Australia, Russia, the United States and South Korea.
Personally, I haven't watched it for years. But this week came a new complaint, and it was a familiar one: that Top Gear is racist.
According to news reports from Britain the programme is being sued over comments in the second part of a two-part special set in Burma and Thailand which screened in Britain two weeks ago and screens here tomorrow night.
The offending scene has Richard Hammond and Jeremy Clarkson standing looking at a bridge they will been seen by New Zealand viewers building over the River Kwai in tomorrow's programme.
After the bridge is finished, Clarkson looks across it and reportedly says "that's a proud moment, but there's a slope on it" as a man, presumably a Thai, walks across it. "You're right," Hammond replies, "it's definitely higher on that side."
I will leave it to the British courts to decide what the nature of that comment is, but after watching the first of the Burma specials I've concluded the Top Gear boys still seem to (jokingly of course) subscribe to the same view of the outside world as Uncle Matthew in Nancy Mitford's satirical novel The Pursuit of Love: "Frogs," the appalling Matthew rages at one point, "are slightly better than Huns or Wops, but abroad is unutterably bloody and foreigners are fiends."
(The Pursuit of Love is an inter-war novel and the more I think about it the more the view of the world of the Top Gear trio of Hammond, Clarkson and James May's has a distinctly British inter-war attitude to the outside world.)
Whatever happens in tomorrow night's episode, in the first part (which screened last Sunday) there was certainly no end of sideways winks, fun and guffaws at the expense of the "funny foreigners" as the three drove north through Burma in three beaten-up old trucks. Their accommodation was derided as awful (and to be fair it was, but it was all a jack-up for the cameras anyway), the Burmese pedestrians wander on the roads with no thought for the traffic apparently, while the driving is unsafe ("that would be illegal in Britain" says Clarkson at one point; but doesn't he hate over-zealous "health and safety"?) and the Burmese have a 20-lane highway in their capital but no traffic to speak of. Hahaha etc.
Of course the main schtick of Hammond, Clarkson and May is, and has always been, taking the mickey out of each other.
It is fair to say that if they are taking it out of everything and everyone around them, they are fairly merciless about each other too.
Does that save the show? I imagine the answer to that depends on whether you are one of the many millions who watch it - or one of the many millions who don't.