Dominic Corry wonders just what's next for Marvel Studios.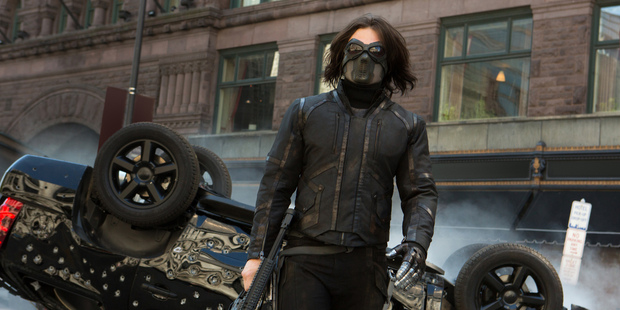 This week sees the release of Marvel Studios' Captain America: The Winter Soldier, which further expands the Marvel cinematic universe in a post-Avengers setting.
It's looking like another winner for the studio, which finds itself in a unique position comparable perhaps only to Pixar - the only thing they haven't done yet is failed.
As a filmgoer dangerously in touch with his inner child, it's incredibly gratifying to see the ambition hinted at in Iron Man's post-credit sequence way back in 2008 continually expanded upon. The future is looking very bright for Marvel Studios.
To clarify for the less nerdy amongst you, Marvel Studios was started by Marvel Comics to adapt properties not under license to other studios (Sony currently has the rights to make films based on Spider-Man; and Fox controls the X-Men and the Fantastic Four).
By believing in the inherent power of the characters as they existed on the page, Marvel Studios was able to make movie icons out of "second tier" characters like Iron Man, Thor and Captain America.
In 2009, Disney purchased Marvel Comics, which gave Marvel Studios considerable corporate backing and access to wider distribution avenues.
Disney have managed this property well, leaving Marvel Studios to do its thing - the company is still as much of a maverick presence in the marketplace as it was before Disney purchased it, with any concerns about corporate homogenisation proving fruitless. So far.
Captain America: The Winter Soldier is the third film in what Marvel Studios is calling Phase Two; everything leading up to The Avengers was Phase One, and Phase Two kicked off with last year's simply wonderful Iron Man III.
While Thor: The Dark World and Captain America: The Winter Soldier don't quite match the unfettered awesomeness of Iron Man III, they make for fine additions to the canon, and each in their own little way creeps towards next year's Avengers: Age of Ultron.
But it's Marvel Studios' other films that are getting me the most excited. The next Phase Two entry, and the biggest shift away from what modern audiences consider comic-book movies to be, is Guardians of the Galaxy, which is released in New Zealand on August 7.
Just as they did with people like Jon Favreau, Robert Downey Jr. and Joss Whedon, Marvel Studios have put their faith in talent that other studios might've considered risky. Director James Gunn came up in the Troma school of all places, and had previously directed only two films - 2008's horror comedy Slither and 2010's dark superhero spoof Super.
Both are fantastic films, but neither screams "big budget studio tent pole movie", which is why it is so refreshing that Gunn got this job. Plus it seems like a slam dunk now, but Marvel Studios were very much ahead of the curve when they cast Chris Pratt in the lead - he's only become more visible since then, and they look like geniuses in hindsight.
They interstellar nature of GOTG is very exciting too - space adventures make up a huge part of the Marvel Comics universe, and I'm thrilled that the cinematic universe is venturing into this arena with full force, as opposed to just letting it play a minor role in The Avengers. Fox should really be getting in on this too - many of the X-Men and Fantastic Four's most iconic tales take place in outer space.
GOTG will lead into next year's Avengers sequel, but I'm currently much more intrigued by the subsequent Marvel Studios production, Ant-Man.
Once again, there is unique talent behind the camera - Brit Edgar Wright, the man behind Shaun of the Dead and Hot Fuzz. But it's Marvel Studios' singular knack for casting that is really getting me excited. Paul Rudd, Michael Douglas, Patrick Wilson and Corey Stoll are all lined up to appear, and this film simply couldn't seem any cooler for it.
Looking even further ahead, Marvel Studios has claimed two release dates in 2016 and one in 2017 for films they're not willing to announce just yet. One of them could be a third Captain America film, which Winter Soldier co-directors Joe and Anthony Russo (Welcome To Collinwood rules!) recently committed to.
Another could be Runaways, a long-rumoured Marvel Studios project. The comic is about six teenagers who discover their parents are super villains. Could be a cool film, if skewed a little younger than other Marvel movies.
Another rumour about those release dates got a shot in the arm by a throwaway line in Captain America: The Winter Solder (minor spoiler alert) - Stephen Strange is mentioned at one point, and it's the first on-screen confirmation that the sorcerer supreme better known as Doctor Strange is headed to the Marvel cinematic universe.
I'm fascinated by how such magical shenanigans could fit into the (relatively) grounded world established by these movies. The original Thor deftly got around such concerns by attributing the "magic" to advanced alien technology. Such an approach probably wouldn't work for Doctor Strange, and I can't wait to see what kind of tone the film will go for.
There have been some interesting casting and director rumours, but the one I love the most has Hannibal and The Hunt star Mads Mikkelsen as a contender - this is truly inspired casting, and once again shows how Marvel Studios thinks outside the box.
Once these films start coming down the pipe, it will be very interesting to see which other characters Marvel Studios decides to tap into. Black Panther is a title that often comes up. I'd like to see the universe built up to point where it could sustain a Thunderbolts movie.
Will we have an Avengers reboot before we see a Quasar movie? Is Wonder Man's destiny truly in Hollywood? Could Planet Hulk ever be a movie? I'm just grateful that such questions aren't entirely ridiculous in the modern movie landscape.
* Which upcoming Marvel movies are you excited about? Which characters do you think they should adapt? Comment below!