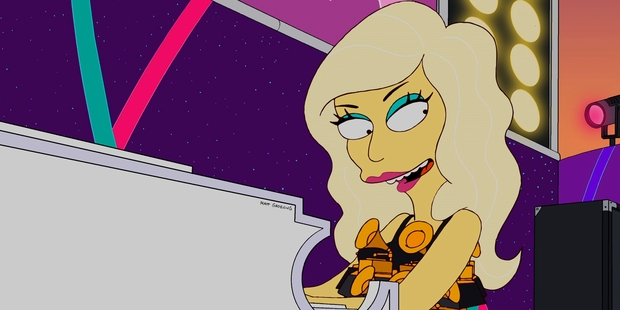 An episode of The Simpsons starring Lady Gaga has proven to be the least popular episode ever among fans.
A graph plotting IMDB scores of every single episode of the TV show clearly shows episode titled Lisa Goes Gaga from 2012 has the lowest average score.
That show, which aired in season 23 of The Simpsons has an average rating of just 4.9 out of a possible 10. The closest competition for worst place came from the flashback episode All singing, All Dancing from season nine, which scored 5.2.
In Lisa Goes Gaga, the controversial singer comes to Springfield to cheer up a depressed Lisa, whose attempts to become popular have backfired.
Lady Gaga is among a long list of musicians and famous guest stars on the series, including Smashing Pumpkins, Red Hot Chili Peppers, U2 and New Zealand's own Flight of the Conchords, who appeared in Elementary School Musical. That episode scored 6.4.
The highest scoring episode was Homer The Smithers from season seven. It scored a rating of 9.1.