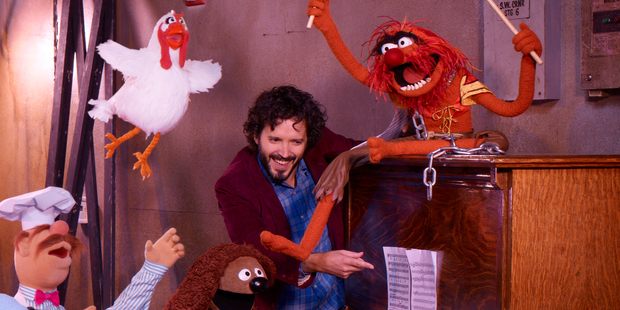 Bret McKenzie has revealed the challenge of writing songs for puppets and over-confident actors.
The Flight of the Conchords funny man has spent four years working on the soundtrack for Muppets Most Wanted - the follow up to the hit 2011 film, The Muppets.
He won an Oscar for Man or Muppet from the first film, but this time around he had to find a way to write something that would work for Miss Piggy's limited vocal range (she is played by a man) in her duet with Celine Dion. The job was no joke for McKenzie.
"I work on these songs for months and do all of the demos,'' he told the Telegraph. "And then often the puppets and the actors make them sound worse. It's always a bit depressing because they kind of go backwards. Miss Piggy is brilliant but Celine takes it through the roof. That was really exciting for me as a songwriter.''
Dion wasn't the only big name to take on one of McKenzie's babies. The film includes cameos by everyone from Lady Gaga to Tony Bennett - as well as big numbers for Tina Fey, who plays a gulag guard, and Ricky Gervais, as a henchman.
"A lot of actors think they're better singers than they are,'' McKenzie said. "It's a matter of balancing their ego and their skill.''
Gervais actually has a 1980s New Wave career behind him - and McKenzie said it showed.
"I'm actually a huge fan of his,'' he said. "I remember the night we were doing Conchords at the Edinburgh festival, and Ricky Gervais came to watch the show. It was such a big deal. But we didn't get to spend too much time together in the recording studio because he's such a good singer. Most actors take a few times but he did it all in half a day.''
McKenzine told Rolling Stone magazine things have come along way since the first movie - not least the trust he has gained from Disney.
"Originally, they weren't so sure about this guy from New Zealand who was saying, 'Oh yeah, let's do all these Harry Nilsson songs for this kids movie!' They response was more like "By Harry Nilsson, you mean Hannah Montana, right?' I really think they wanted something more contemporary-pop-ish. We finally managed to strong-arm them into letting us use a more retro 1970s style."
"For this film, we wrote songs that were a little more self-aware, a little more tongue-in-cheek. Someone described them as 'ironic showtunes,' which I think fits."
- nzherald.co.nz