Much-hyped Xbox One game Titanfall has temendous appeal and plenty riding on its release, developer Vince Zampella tells Chris Schulz.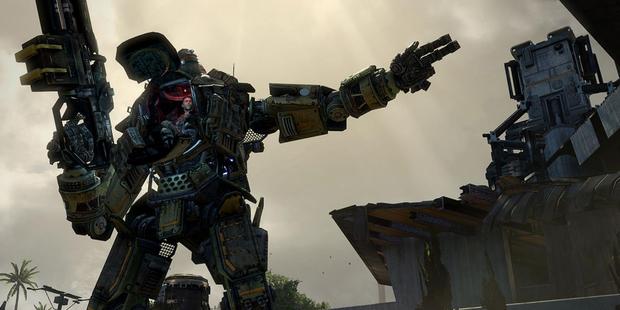 Robots make everything better - especially when they're six metres tall, nuclear-powered and armed with the kind of weaponry that can bring down small buildings.
Welcome to the mechanical world of Titanfall, the hyped Xbox One game that allows players to don three different droid suits and romp around virtual worlds in furious multiplayer battles between teams of parkour-performing humans (Pilots) and Pilot-driven robots (Titans).
If you're imagining a cross between Call of Duty and Guillermo Del Toro's monsters vs machines movie Pacific Rim, you'd be close to describing Titanfall's tremendous appeal.
Gameplanet's second most anticipated game of 2014, Titanfall cleaned up at its E3 announcement last year, winning a record-breaking six Game Critics Awards, including Best in Show, Best Original Game and Best Console Game.
There is plenty riding on its release: with a team of 70 working on it for two years, it's the first game to come out of new studio Respawn Entertainment, and hopes are high that it becomes a must-own Xbox One title that helps push sales of the next-gen console.
But Titanfall has also come with its fair share of controversy: Respawn was set up after its co-founders Vince Zampella and Jason West were fired from Activision, sparking a round of lawsuits, and the game's six-a-side multiplayer restrictions have been criticised by those expecting more from next-gen games.
As Zampella - the man behind Call of Duty's bestseller Modern Warfare 2 - tells TimeOut, it's definitely a touchy subject, and it's one that he's over.
Firstly, why were multiplayer games restricted to teams of six? It seems to have created a lot of fuss among those who thought next-gen consoles would allow for bigger teams.
I've only heard that criticism from people who haven't played the game. Ten thousand people played the game at GamesCom and not a single person said, 'Oh it really feels like it needs more people'. It's only from people who haven't played the game and just have that numbers game in their heads of, 'Oh, next gen has to be more'. That's not what it's about. We're designing an experience that's going to be super-fun. That's what we settled on. I don't know how else to say it. Maybe there'll be people who would like it to be more. Okay, that's understandable. After they've played the game, I'll listen to them complain.
Has Titanfall changed much from its early designs? Is it the game you set out to make?
It's definitely evolved. If you look at old test footage and prototype stuff, it's come a long way. That's pretty normal in development. We actually started before the next-gen stuff was announced. We signed a contract for an unannounced, unnamed, un-anything PS3, Xbox, PC game. We didn't have an idea, we just wanted to make a game. We started kicking around ideas, then we got brought in on the next-gen stuff and it made sense to transfer over. We weren't very far along.
The Titans seem incredibly detailed. How much work has gone into making them?
An artist has to design them, then we have to build them and texture them. Then they go to the animation department where they get rigged and set up to move and they work out how they get destroyed over time. The design team gets in on how things work with weapons. Because they're so integral to the game they're touched by every department. It's been tonnes and tonnes of work.
Is it going to be a harder game than fans of other first person shooters might be used to?
I guess the movement, that fluidity, wall-running, parkour, kind of go-anywhere attitude is a different mindset than what you're used to. In other games, you have to check your corners. Well, now you have to check your corners - and look up. You can be vertically flanked now. And now you don't have to walk in the door and go up the stairs to the window - just double jump up to the window.
What's your favourite thing about the game - what will keep players coming back to it?
It's not just about Titans, in that, "Oh my God as soon as I get a Titan I'm powerful." It's that harmony between players: battles between Pilots and Pilots, between Pilots and Titans, between Titans and Pilots, between Titans and Titans. Depending on your perspective you have to play the game a little bit differently each time. There's differences in combat that have to be very well balanced against each other ... but that interplay, that cat and mouse game between Titans and Pilots, that's the best part.
You've been unveiling the game at hands-on sessions for a few weeks now. What has the feedback been like from players?
It's mostly positive. I can't think of any hands-on sessions where anyone's complained, except maybe, "Hey, why are you making me stop?" Also, people have been saying, "After playing for three hours I'm mentally exhausted ... I need to sit down". And that's not a terrible thing.
Is Titanfall going to live up to the massive wave of hype?
I'll let you be the judge of that. We've done all we can. We've put our hearts in it. I hope so.
What: Titanfall
Platforms: Xbox 360, Xbox One, PC
For fans of: Halo, Blacklight: Retribution, Call of Duty, Killzone
- TimeOut