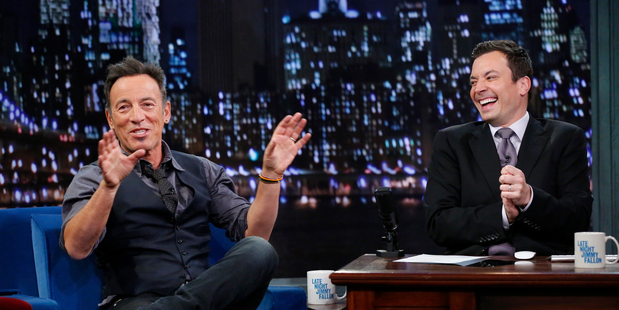 Dear New Zealand television executives,
Please, please, please, can one of you find a way to get The Tonight Show Starring Jimmy Fallon on TV here? It airs at 11.34pm every night on NBC in the US (MediaWorks, you seem to have the closest ties to the network at present, so I'm kind of looking at you) and it seems so sad that we're unable to watch it. I know we can see snippets on YouTube, but it's not the same!
Why should we care about some late night American talk show, you may ask? And why this one in particular? Well, I would like to make a case for Mr Fallon, and his enduring brilliance, so here I present 10 points in his favour.
1. He's friends with Justin Timberlake. And that means Justin will appear on his show whenever he's in town. Which means there will always be more brilliant skits like the History of Hip-Hop, hashtag conversations, dancing tofu, scout camp re-enactments, the History of Dance. JT seems like Fallon's perfect foil - he's certainly not afraid to have people laugh at him.
2. His house band are the Roots. What else do you need to know, really?
3. How many chat hosts can play the guitar AND sing AND dance AND rap well enough to hold their own with the likes of Bruce Springsteen, Will Smith, the Muppets, Carrie Underwood, and Ringo Starr?
4. He's never mean, nor cruel, nor particularly cynical. His thank-you notes segment, his opening monologues, his interviews, his parodies - they all walk the line between honesty and understanding, and he'll always make as much fun of himself as he does of anyone else.
5. There's a chance he's going to introduce a segment called Celebrity Hot Tub. Woohoo.
6. He's very adept at getting stars to leave any serious talk behind. Whether it's playing charades, egg russian roulette, or catchphrase, he's all about encouraging the line of thought that the entertainment business should always be about entertainment, not egos.
7. Lip-sync battles. Who knew that watching people pretend to sing could be some of the most entertaining TV of 2013? John Krasinski started it, Joseph Gordon-Levitt and Stephen Merchant followed, and now Paul Rudd has raised the bar again.
8. No one does an impersonation like a Jimmy Fallon impersonation. He's a master, with an arsenal of phrases and voices that can be employed at a moments notice.
9. It's clear that Fallon has spent many hours watching the best. He may be an excellent mimic, and a quick wit, but he's also a great listener, and always willing to give the spotlight to his guests.
10. He once did a performance as Neil Young, singing a cover of the Fresh Prince of Bel Air theme. Fallon's Neil Young also did a duet of Whip My Hair with the real Bruce Springsteen. He's also impersonated Springsteen - alongside the real Boss impersonating his younger self. So by that logic he might be the only person in the world who could do an impersonation of Bruce Springsteen doing a cover of Lorde's Royals - and that's something I want to see.
- TimeOut