Birthday girl says being pulled on-stage by veteran rocker for Dancing in the Dark is a tough experience to top.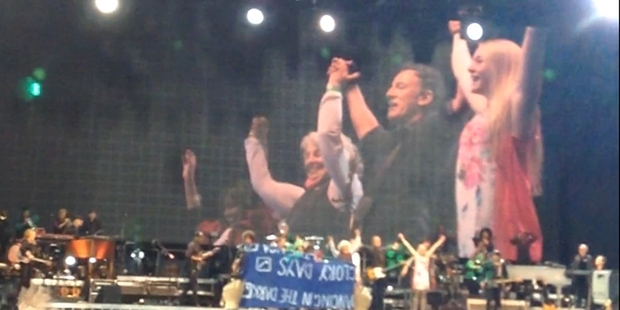 Most woman can only dream of being pulled out of a crowd by Bruce Springsteen and being asked to dance to his 1980s hit Dancing in the Dark.
On Saturday night that dream came true for Kaylah Erasmuson as she became the envy of thousands when she was pulled on stage at Springsteen's concert.
It was a scene which could have been taken straight from the song's 1984 music video when American actress Courtney Cox - who later found fame on sitcom Friends - was pulled on stage by the American rocker.
"I remember the first time I saw him pull Courtney Cox up [in the music video], when she was just a young thing way back in the day, you think 'that would be so cool, imagine that'," said the 19-year-old nursing student.
"It's amazing to think that it actually happened to me. I can't figure it out in my head, I'm still in shock."The Nelson woman, who was standing near from the stage, went to Mt Smart Stadium at 9am on Saturday to get preferential access before returning at 1pm to queue up.
She believes a sign her brother made for her "Dance with me Bruce, it's my birthday!" gained her great present.
"I held it up whenever a good dancing song came on. He noticed it one or two times and then Dancing in the Dark came on."
Ms Erasmuson was one of about six people to be brought on stage during the song.
"I was the last of the few people to be pulled up on stage and I was in complete shock," Ms Erasmuson said.
"It was the most thrilling experience and so much fun."
Springsteen wished her happy birthday before she got on stage and later in the show he gave her a guitar pick.
"I'd have to have a pretty spectacular birthday in the future to out-rank that one," she said. "It was probably one of the best days of my life."
Springsteen earlier opened the concert - his first of two this weekend - with a folk acoustic cover of Lorde's Royals, changing the lyrics to: "Let me be your ruler, you can call me King B".
Later he played his most successful album Born In The USA in full, from top to bottom".
The 64-year-old showed no sign of slowing down . Saturday's 3 hour, 30-song, sold-out show was followed last night by a second concert, also started with Royals.
Close to 80,000 tickets were sold for the two concerts, Springsteen's first in New Zealand in 10 years.
LAST NIGHT'S CONCERT
Auckland woman Lucy Bennett said Springsteen seemed genuinely full of joy on stage and he lapped up the love of the crowd last night.
"As expected, he opened with Royals, which was well-received by the close to capacity crowd at Mt Smart Stadium. The pop song took on a new and deeper sound in the hands of a man who knows his way around his musical instruments and how to work a crowd.
"An early highlight of the expected three-hour show was the title track of his latest album High Hopes. From there it was a mix of old and new, no playlist from one album so far.
"In a moving tribute, he dedicated My City In Ruins to Christchurch, which was met with a roar from the audience. The E Street Band is jammed full of the best musicians you'll ever see.''
Auckland man Stefan Butler, 38, loved Saturday night's show so much he returned for a second helping.
"I just wanted to see him. I met a lot of people last night who said he varies it every night.''
He described Springsteen's cover of Lorde's Royals as amusing. "It got me, it got me completely.''
Palmerston North woman Hayley Childs, 28, left her 13-week-old baby at home for the first time to come out to the show. While her husband was more of a Springsteen fan than she was, she was looking forward to opening act Jimmy Barnes.
"I had to buy the [Springsteen] CD and have it in the car so that I didn't look like a rookie and not know any songs.
''Born in the USA was a particular favourite, she said.
Read a full review of Springsteen's Saturday night show here.