BBC adaptation is keeping fans dedicated, writes Stephen Jewell.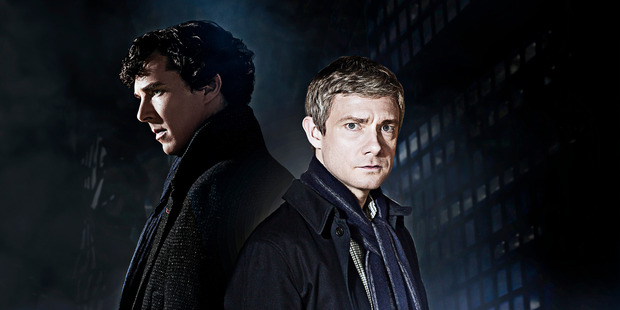 When Sherlock held its debut screening at a boutique London hotel in mid-2010, Steven Moffat had no idea it would quickly become such a global phenomenon. But three and a half years later, devotees of the hit BBC series queued overnight outside the National Film Theatre on the South Bank just before Christmas in the hope of getting their hands on one of the last remaining tickets for the premiere of the first episode from the much anticipated third season of the the Doctor Who showrunner's radical adaptation of Arthur Conan Doyle's famous crime stories.
"From the moment the first episode went out, it was so huge," says Moffat. "People ask if it's a pressure writing Sherlock because it's so successful but it really isn't. It's a pressure writing failures and I've done that plenty of times, which is shockingly dreadful. Writing a successful show is just a joy and knowing the voices of those two guys and that they will do it brilliantly, it doesn't get any better than that."
And while two months have almost passed since Sherlock first made the spectacular return to British television screens, Moffat and his writer and producer partner Mark Gatiss are grateful that the exact circumstances behind his miraculous feat have not been widely revealed on the internet.
"All credit to the newspapers and the fans who were watching while we were filming in London, as loads of people have seen it," he says. "There were crash barriers behind which solemn ranks of Sherlock fans stood and stared at what we were doing and none of them have given it away."
However, Martin Freeman, who plays Watson, believes some dedicated viewers might have figured it out for themselves. "It's funny because Steven and Mark have said that whatever they come up with about how Sherlock survives - finding out the truth of it - is like finding out how a magic trick is done," he says. "It's slightly underwhelming and disappointing as you prefer what is in your head. So there's always the danger of that but you need closure, you need to know how he does it."
Having spent most of the past three years in New Zealand playing Bilbo Baggins in Peter Jackson's The Hobbit trilogy, Freeman appreciated the chance to base himself a little closer to home. "We mainly filmed in Cardiff but that is a lot nearer to where I live than Wellington," he says. "From now on, any job I do - unless it is on the moon - will be a lot easier to get to than Wellington. It was a dream to work in and I had an absolute ball but the travel is a schlep."
For his part, Cumberbatch has become a major Hollywood star in the intervening years. In the past 12 months alone he has taken on such diverse roles as the villainous John Harrison in Star Trek Into Darkness, notorious Wikileaks founder Julian Assange in The Fifth Estate and slave-master William Ford in 12 Years A Slave.

He also appears alongside Freeman in The Hobbit, voicing the titular dragon in recently released second instalment The Desolation of Smaug, although the pair's paths never crossed Downunder.
"I don't feel profoundly different as a human being, coming back to Sherlock," he says.
"I definitely feel more comfortable with the character than I did with the second series as it seemed a bit quicker to get back into being him. But it's always a struggle because, of course, I'm not him. And as far as fame and fortune - or good fortune - is concerned elsewhere, it didn't really affect what we were doing, although the crowds were a bit bigger from the start."
And while you have to admire the audacity behind Moffat and Gatiss' explanation for Sherlock's lucky escape, the twists and turns don't end there, with the arrival of John Watson's wife-to-be Mary Morstan, played by Amanda Abbington.
"The principal thing is that the repercussions of Sherlock's return are dealt with very quickly in Arthur Conan Doyle's original stories," says Gatiss. "But we felt that there would be more to it than that as John is not just going to forgive his friend for playing such a terrible trick on him. That was the beginning of it and then there's the 120-year-old spoiler in the form of Mrs Watson."
Sherlock screens 8.30pm, Saturday, TV One.