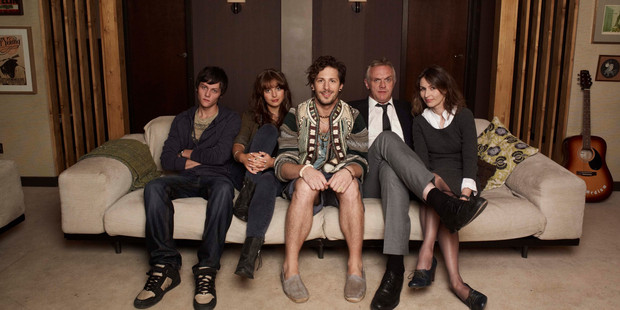 There is something terribly, terribly old-fashioned about UKTV's latest Pom-com, Cuckoo. It's a suburban sitcom. It's a comedy of manners. It's about the generation gap.
The action mostly happens in the lounge, or the bedroom, or the kitchen. Nobody hugs, nobody learns.
It really could have been made at any point in the long history of British television comedy.
Yet, despite the overwhelming sense of deja vu, there is a bit to like in this short sharp series which began on Thursday (9.30pm) and will end five episodes from now.
For a start, the cast is excellent.
We haven't seen a lot of frighteningly tall stand-up comedian Greg Davies on New Zealand TV. But for fans of The Inbetweeners - the British original, not the awful American adaptation - he will always be Mr Gilbert, the terrifying, sarcastic and aggressive head of sixth.
Helen Baxendale, too, has been little seen here lately (some will remember her from Cold Feet, or as one of Ross' girlfriends on Friends, but not me), though she was excellent in the thriller Kidnap and Ransom, which screened here a couple of years ago.
The big star here is Andy Samberg, an American stand-up and actor who has an Emmy and a Golden Globe for his work on Saturday Night Live.
So, a talented cast. The situation too is the right side of fun.
Samberg is that eponymous Cuckoo, a hippie-dippie American guru-cum-pseud-cum-bum who lands bang in the middle of a typical middle-class British family.
As the first episode opened Ken (Davies) and Lorna's (Baxendale) bright young daughter Rachel (Tamla Kari, who appeared in The Inbetweeners movie) arrives home from her gap year in Thailand.
Rachel is supposed to take up a place at university. Instead she arrives at the airport with Cuckoo, her new husband who's an appalling New Age bore who claims to be "part teacher, part visionary, part firebrand, part friend".
Ken is appalled. Lorna, like Rachel, thinks Cuckoo - real name the rather more prosaic Dale Ashbrick - is a bit of all right. Rachel's younger brother, a surly teenager, isn't much interested at all. The episode concluded with Ken attempting to pay Cuckoo to go away, a scheme that backfired when the latter used Ken's 10,000 quid bribe to buy a hot jacket-potato van. Yes, it's all very silly.
There were one or two reasonable one-liners: "Once a woman enters her 40s, her food is her love-making"; "I'm not really an early morning sort of person. I think it's because I have so many profound thoughts that my brain needs time to regenerate".
But I won't lie to you: this is not British comedy at its very best. It's more like a half hour of comfort TV. Which is no bad thing. It's important that in this age of self-consciously, self-important Event TV such as True Detective and House of Cards that life on the rest of the box carries on as normal.
- TimeOut