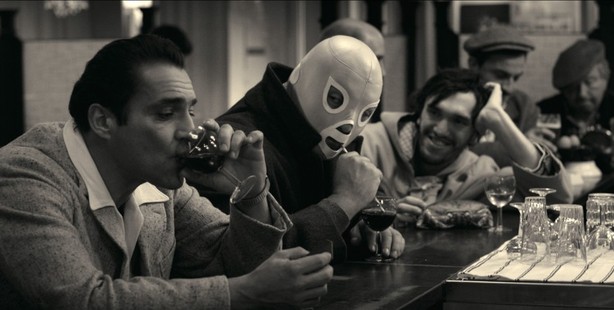 As stated in the French Film Festival preview I did for last Saturday's Weekend Herald, my number one pick for the now-underway festival is the ultra-stylish noir throwback Our Heroes Died Tonight.
The film stars two of the most exciting French actors working today - Jean-Pierre Martins (seen recently in The Gilded Cage) and Denis Ménochet (the farmer from Inglourious Basterd's lengthy opening scene) as Simon and Victor, a couple of ex-Legionnaires in 1960s Paris who make money as masked wrestlers in the 'Catch' circuit.
Reluctantly performing as the bad guy, the gentle Victor can't bring himself to go down in a fight as instructed, and the two pals find themselves indebted to local gangsters.
The black and white film exists in a hazy conception of 1960s Paris heavily informed by the 'Nouvelle Vague' (New Wave) French cinematic movement of the same era. It's bad-ass and heartfelt at the same time, and undoubtedly one of the coolest French films ever made.
I recently had a chance to talk to Ménochet and Martins, along with the film's writer/director David Perrault, in Paris. I began by asking Perrault what inspired him to make the film.
"I had the idea film when I saw a black and white picture of a masked wrestler in a café in Paris," Perrault told me. "I was interested in the idea of the masked hero and its universal mythology, as well a very French mythology. And then I did some research on the wrestler who appeared in the picture and I found out he was very popular at the time and I didn't understand how someone so popular could be so unknown now. So I was interested in putting into parallel the mythology of cinema and wrestling aswell. This was the starting point for the movie. One of the main things is the naïve idea of the hero. And Denis' character embodies this, he has something childish about him. But he also has this very heavy past with the Algerian War so I was interested in the confrontation between these two aspects."
Both of the lead actors sink entirely into their roles - what lead to their casting?
"It was a little mystical, because when I finished writing the script I just knew it was them. It was a long process but it became an obsession for me. I knew I was right when I saw them together, it just worked - there was real chemistry I knew would show on screen. I was right not to let go. I saw Denis in Basterds, and he had this magnificent screen presence. And I saw Jean-Pierre in La Vie En Rose."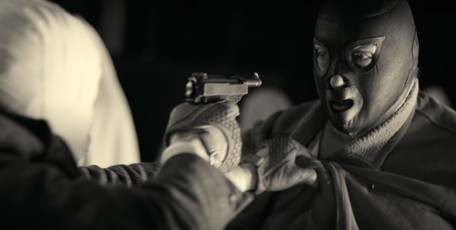 I asked the actors if they were familiar with this era of French wrestling, and the style known as 'catch'.
"Not really," offers Menochet. "Jean-Pierre was much more passionate about it. I was more interested in the relationship and the masks."
"Yes I love catch, the show it represents," adds Martins. "It's perfect mix of game-playing, humour, sports. So I do appreciate catch - it's simple but well-made. The wrestlers are very strong and know how to embody good or bad guys. But I didn't make the film just because I like catch. It's not the most important part in the film, there's much more to it."
Another cinematic antecedent for Our Heroes Died Tonight is the dark 'film noir' classics of the 1940s and 50s.
"Yes this is a film noir," confirms Perrault. "We feel the characters are doomed or condemned from the very start, and the title itself represents that. So there is this strong friendship which condemns them."
The concept almost demanded to be shot in black and white.
"I wanted to show the melancholic and mythological aspect," says Perrault. "So it was perfect to shoot it in black and white because this whole idea of the white mask against the black mask. Colour would've added a grotesque element. It could've made it absurd and kitch."
I ask Perrault if any specific films influenced Heroes.
"Lots of films. The film is a mix of many different things which allows it to become something else. It's a mix of Hollywood films; French classics; popular French films as well. Films like those made by David Lynch and David Cronenberg - Dead Ringers."
I take this opportunity to suggest to Martins that his already strong resemblence to Marlon Brando is amplified in an early scene in the movie.
"Thank you! I don't think there was anything intentional about this resemblance, but it's a moment in the film when he's at peace with himself. Maybe when I'm in love I look like Brando?"
"Yeah it's about the whole fantasy that you can have in cinema," Perrault adds. "Like how some people say Denis looks like Robert Mitchum. Each person projects his own expectations and ideas regarding the mythology of cinema."
Ménochet is proving the least forthcoming of the trio, so I find myself resorting to the stymied journalist's perrenial fall-back question: Which actors, if any, does he take inspiration from?
"I don't really have any references," is his response. "Anthony Hopkins. I don't 'do' Anthony Hopkins, I just admire him. And Richard Burton. All those guys. For inspiration, I watch what actresses do. Actors always do actors, but if you watch what actresses do, you can keep it and transform it and people won't know where you get it from."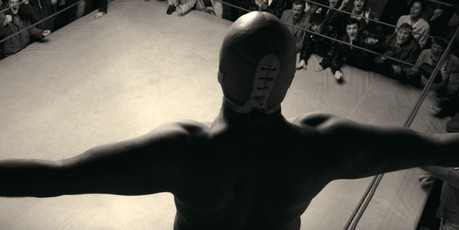 How did he go about capturing Victor's childlike quality in the film?
"I based it on Lenny from Steinbeck's Of Mice and Men. And the relationship with Jean-Pierre, it was like I was trying to eat him the whole time. Therefore it goes in many directions. There's a scene where we eat chicken, it's almost like a couple's scene. It's a friendship, a romance. A bromance."
One of the most amazing sequences in the film involves a mysterious enforcer known only as 'The Fin' - he makes a huge impact in a short amount of screen time, and really shakes the movie up. Think Don Cheadle in Devil In A Blue Dress. I ask Perrault what inspired The Fin.
"I wanted to have a bigger-than-life scene in the film because it's something you see mostly in American films and very rarely in France. The idea was that the character comes in and takes up all of the space. We didn't know who he really was, if he was dangerous or not. So I wanted the audience to go on a ride with the character and laugh, and then be terrified, never knowing what's coming next. Pascal Demolon, the actor who plays The Fin, has this kind of Jack Nicholson quality."
Was Parrault considering the French audience primarily when he made the film?
"I wanted to make, at the same time, a very French film with a bistro and all these other classic French elements, while having a universal language to speak to a large audience. The idea was to make it so French, it would become universal."
The heretofore reticent Ménochet pipes up with an appropriate final word: "Cinema has no country."
Go and see Our Heroes Died Tonight at the French Film Festival! It's amazing! Further info here: frenchfilmfestival.co.nz.