Dominic Corry gets all lovey dovey and sizes up some of his favourite big screen romance moments.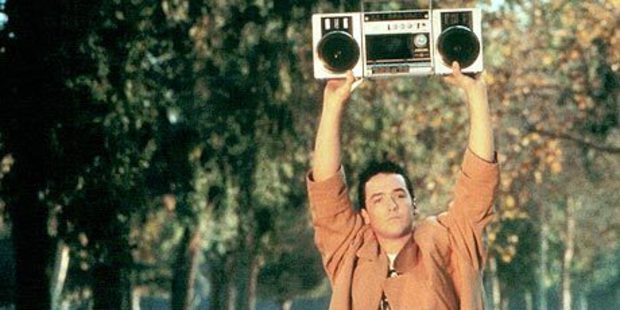 What is cinema if not romance incarnate? The medium is particularly adept at evoking the pain of romantic longing and the joy of romantic fulfillment. And vice versa.
My favourite romantic scenes in movies don't usually involve grand romantic gestures, because really, who can relate to those? I love it when films evoke epic romantic emotions inside smaller moments.
To celebrate Valentine's Day, I am going to present my top 10 romantic moments in movies. Some of these are traditionally romantic, others qualify under a more lateral definition of the word. A few grand gestures have slipped in. I'm not made of stone.
10. The Ghetto Blaster Declaration in Say Anything
Had to get this one out of the way - it's bit obvious I know, but the moment still sings after all these years.
John Cusack's laconic kickboxer Lloyd Dobler expresses his love for the troubled Diane Court (the radiant Ione Skye) by playing Peter Gabriel's In Your Eyes on a ghetto blaster held above his head while standing outside her house. Was this the last time a romantic moment in a Cameron Crowe movie didn't feel entirely contrived? Well, no, but it sometimes seems that way. See number 5. And Jerry Maguire still gets to me.
9. Where Is My Mind in Fight Club
Having realised the true nature of their relationship, Fight Club's previously-confused narrator (Edward Norton) is finally able to come together with Marla Singer (Helena Bonham Carter) in a conscious frame of mind, just before the pair are apparently about to perish in a collapsing building. He takes Marla's hand in his, and explains "You met me at a very strange time in my life" as the Pixies' immortal song rises on the soundtrack. Has there ever been a more appropriate metaphor for the socially-accepted insanity that is falling in love?
8. The Kiss Not Taken in Sideways
A memorably excruciating scene in a film filled with them, the gargantuan empathy generated here marks it as a touchstone for anyone who ever struggled to step up to a romantic moment. Who couldn't relate to the awkward tension in the air when poor old Miles (Paul Giamatti) fails to muster the will to kiss Maya (Virginia Madsen) while they're sitting together under the night sky, despite the entire universe pointing him specifically in that direction. A great example of a seemingly anti-romantic moment that stirs up a genuinely romantic response.
7. The Meet Cute in Sneakers
In the finale of one of my favourite early '90s thrillers, our titular team of security experts find themselves in a prime bargaining position with a bunch of government agents whom moments earlier had them at gunpoint. Each member lists their demands individually (clean record; a winnebago with a burgundy interior; a European holiday), and when it comes to the most youthful amongst them, Carl (River Phoenix), he simply asks for the phone number of the female government agent brandishing an Uzi. "You can have anything in the world, and you want my phone number?". It's a quick moment, but it projects superlative romantic uplift.
6. Extra Vinegar in Miami Blues
In George Armitage's hugely underrated 1990 black comedy/drama, Alec Baldwin plays Junior, a violent criminal who steals a detective's badge and shacks up with a young prostitute named Susie (Jennifer Jason Leigh). When the real detective (the great Fred Ward) informs Susie of Junior's recent murderous activities, she finds herself torn, and decides to test Junior by putting waaaaay too much vinegar in a pie she is making for him. When Junior sits down to eat, he visibly grimaces at the taste, but assures Susie that her food is delicious and happily eats every last bite. It's pretty much the only nice thing Junior does in the whole movie, and is all the proof Susie needs that he really does love her. In the context of the film's cynical world-view, it's a powerfully romantic moment.
5. The Uncool Conversation in Almost Famous
Cameron Crowe couldn't settle on a title for Almost Famous for the longest time, at one point he was going to called it 'The Uncool', which only further mythologizes this conversation between Phillip Seymour Hoffman's Lester Bangs and Patrick Fugit's William Miller. This scene was cited by many upon Hoffman's recent tragic passing, and it's a wonderful example of the humanity that underscores all his characters. The culmination of the conversation, in which Bangs says "The only true currency in this world is what you share with someone else when you're uncool" - is one of the most romantic statements ever uttered in a film.
4. All of All The Real Girls
The second feature from indie-director-turned-studio-comedy-guy David Gordon Green (Undertow; Pineapple Express; Your Highness) is a low-key drama about a small town lothario-of-sorts (Paul Schneider) who reconnects with his best friend's all-growed-up younger sister (Zooey Deschanel, before she got too annoying) and falls head-over-heels. Green's low-key, Linklater-meets-Malick aesthetic provides a great tonal framework for this unconventional love story. The total helplessness of Schneider's character rings very true, as does the inevitable unattainability of Deschenel's. The way the film presents love in all its unadorned glory stands in marked contrast to most other supposedly romantic films. Plus it introduced the world to Danny McBride (as a character named Bust-Ass, no less), so it deserves to be celebrated for that alone.
3. Chicken Sex in Midnight Run
The relationship between grumpy bounty hunter Jack Walsh (Robert De Niro) and deadpan mob accountant Jonathan Mardukas (Charles Grodin) is this classic action comedy is the most beautifully-realised ode to male friendship in cinema history. About two thirds of the way through the movie, the pair find themselves travelling in a train carriage, and manage to stop bickering for a moment. The Duke makes a subtle gesture of goodwill by casually stating that he would like to have sex with some chickens the pair previously encountered, and the heretofore entirely humourless Jack goes with it, responding in kind. This tiny shift in their dynamic opens up the film's dramatic possibilities, sending it ably on its toward the heart-wrenching conclusion.
2. The New Madeleine Emerges in Vertigo
Love is obsession - no filmmaker believed this more than Alfred Hitchcock, and he never believed it more than in his 1955 masterpiece Vertigo. Hired to protect the suicidal Madeleine Elster (Kim Novak), heights-averse former cop Scottie (James Stewart) instead falls in love with her, then can only stand back helplessly as she throws herself to her death. Wandering the city distraught, he comes across Judy, a shop girl who bears something of a resemblance to Madeleine. Scottie asks her out, then demands she change her appearance to replicate Madeleine's. When Judy emerges from the bathroom (about half-way through the above clip), her transformation complete, the look on Scottie's face speaks volumes about the obsessive (and possessive) nature of love . It's darkly tragic, but insanely romantic, in an appropriately twisted sort of way.
1. The Subway Finalé in Crocodile Dundee
The time for being cynical about Crocodile Dundee is over. I recall having a burdensome over familiarity with the film at the time of its 1986 release, but recent re-viewings have seen me enraptured by its old fashioned charm. The grand romantic finale in a Manhattan subway station is just the kind of over-the-top moment I should find repellent, yet it kills me every time. Sue (Linda Kozlowski) has chased Mick (Paul Hogan) to a crowded subway platform to stop him from leaving. But she can't get to him through the crowds, and requires the help of a big Caribbean dude with a bandana and a construction worker who looks like Luis from Sesame St to get her message of love to Mick. I dare you to watch this and not well-up.
* Agree/disagree? What are you favourite romantic movie moments? Don't read too much into these being pretty much all '80s movies. Films were simply better back then. Comment below!