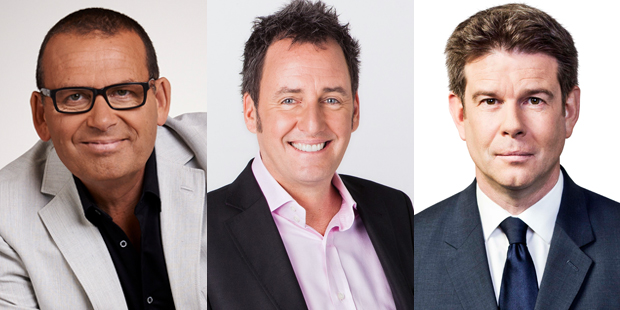 And we're back.
One of my obsessions over the break has been watching a brilliant British show called Gogglebox in which couples, families and friends sit around watching TV and saying the sorts of things you say when doing so. Things like "That's s***" "She's a b****" "OH MY GOD" and "Why is this on the news?"
Like the Royale Family without a script, Gogglebox is hilarious and also moving. I thought it would be a great idea to subject the return of Seven Sharp, Campbell Live and Paul Henry to the same process, for about five minutes. Then I remembered how much actual work was involved in this sort of thing.
Finding the right talent is the hardest part.
I'd put together something similar back on the TV show Havoc. We assembled a cross-section of society to watch and pass judgement on the Pamela Anderson and Tommy Lee sex tape, which like Tommy, was big at the time.
The results were rather good from memory, although luckily no recorded evidence remains. But at the heart of the idea is the simple notion that there's gold to be found in the unscripted mutterings of ordinary, judgmental, illogical and sometimes stupid people. People like you and me, not the polished automatons who stick to the script. That's always been part of the appeal of Paul Henry, who would have last night had viewers muttering things like "I love him", "I hate this smug F***nut" and possibly even, "He's gone soft!"
The Paul Henry Show. (TV3, Weeknights 10.30pmish)
I'd gone into the show with low expectations, possibly coloured by recently being exposed to his latest book in which tries to be outrageous but barely makes it to lame, and not the funny kind of lame, more the grumpy rich old man kind. Actually it's the kind that makes the master of grumpy rich old men, Bob Jones, seem like Shakespeare crossed with David Sedaris.
Luckily for Henry this is a TV show rather than a book reading. He's proved himself as a bankable TV talent and holds the trophy for being the only New Zealander to make Breakfast TV nearly worth watching.
He's also the country's poster boy for political incorrectness.
Best of all, he's expected to be fishing for complaints and courting controversy.
Janika ter Ellen, who's come dressed as Betty Draper, is on hand to read the news and laugh every time Henry says something. A story about the Pope releasing a dove being attacked by a crow and a seagull gives him his first chance to work some of the old breakfast magic, but he's not relaxed enough yet for the uncontrollable laughter.
The initial stiffness soon gives way to the more familiar confidence. David Cunliffe is the first interview and it's solid enough, if a little rushed. Cunliffe comes across well.
Naturally things are even more chummy with John Key who arrives to explain his game of golf with Obama. "He was great fun."
In a fun segment Henry showed Key some pictures and asked some questions. The first was a picture of Peter Dunne, "Do you trust this man?" asked Henry.
"Yes," said Key.
Then came a picture of Winston, "He looks a lot older than that picture" joked Key, before the face of Kim Dotcom loomed, "Definitely not!" Then came Len Brown, a pet target for Henry on his Radio Live stint. "Do you trust him?" asked Henry, "Yeah I do" replied the PM adding "may as well just get on with it."
A flying start.
Heard from the couch:
• "I wonder which minority he'll insult first?"
• "Someone at TV3 definitely has a thing for blondes."
• "Cunliffe really does look like a cat."
• "Those PH letters on the shelf remind me of those awful EAT letters people have in their kitchens."
• "When is he going to insult an ethnic minority?"
• "Key can't name more than 4 native birds!"
• "You'd think with all that money he could have come up with something better than that." (In reaction to the Kim Dotcom video they played at the end of the show)
• "He didn't even make fun of people with disabilities."
• "He's on the Snickers. Can't wait for him to get fat."
Seven Sharp. (TV1, 7pm Weekdays)
The shuffling of the deck chairs on Seven Sharp kept us amused last year but the announcement of the arrival of Hosking was finally something that made sense. It's all very well being laid back and relaxed and all but if a big story breaks, you need a grown-up with the requisite interviewing skills to step up. The show came with the addition of Hosking and Toni Street, to replace Alison Mau and all those other people.
They have also ditched the god-awful set and gone back to basics.
Immediately you notice the energy is better, the pacing has pace. They begin by showing us what's coming up at the very top of the show rather than launching in with the mindless wittering of last season.
But if the packaging is slicker the contents remain the same. Solid magazine stories as per, but where's the beef? Will Hosking be allowed to tackle anything meaty? Judging by the amount of time he spent talking about Macklemore in the first instalment, maybe not.
But it is election year.

From my couch I heard the following outbursts:
• "Mike Hosking sounds like someone doing a Mike Hosking impersonation."
• "Toni Street is a perky nana isn't she? Is she a Christian?" (Followed by prolonged discussion about types of 'Christians' and unprintable comment about a weather presenter who is "definitely a Satanist")
• "This is way better, thank God they dumped that ugly set."
• "They end up in Africa you know." (The old sets, not the hosts.)
• "Hosking hates Cunliffe eh?"
• "Is it spelt eh or aye?"
• "Nice!" (Reaction to Jesse Mulligan calling David Cunliffe fans 'cunnies')
• "This would make a great Breakfast show."
Campbell Live. (TV3, 7pm Weekdays)
Against the arrival of Henry and the re-booting of Seven Sharp with Hosking, John Campbell's return was always going to be more of a business-as-usual affair. But as the default 'serious' daily current affairs show, there's still plenty left to prove.
While Seven Sharp spent a lot of time on Lorde, it had to rely on their reporter Joanna Hunkin in L.A to reheat some factoids. Campbell, meanwhile, scored a live cross with Lorde producer and mentor Joel Little, who gives good interview.
Then we head off to Christchurch for a live cross with a new venture, a restaurant that delivers sliders to its customers via a pneumatic system, like the ones in old department stores. The big story of the night is a real beauty, an "exclusive" in which some unscrupulous bastard is outed by hidden-camera specialist Tristram Clayton. The sting uncovers a dodgy "jobs for visas" immigration scam where $45,000 will 'possibly' buy you a job.
Part three of the show was an interview with David Cunliffe in a playground. John grills him about Labour's election promise launched at the 'State of the Nation' speech.
The "Best Start" package offers people with young kids an extra $60 a week and is naturally welcomed by a couple with a young child that JC and DC corner in a park.
Later, Campbell promises to cover the Christchurch rebuild this year "because it's important."
Heard from the couch:
• "John Campbell sounds like somebody doing a John Campbell impersonation."
• "People who prey on immigrants are the pits."
• "Cunliffe does actually look like a cat." (Followed by prolonged discussion, which lead to the conclusion that he is a British Shorthair)
• "Wow, good use of a GoPro on that pneumatic slider thingy. They used to have those at George Courts"
• "F*** you're old." (Followed by a prolonged discussion that included the words "age is just a number". I may have left the room crying. Transcript ends.)