Director David O. Russell's acting dream team heads back in time for his acclaimed scam movie. Michele Manelis reports.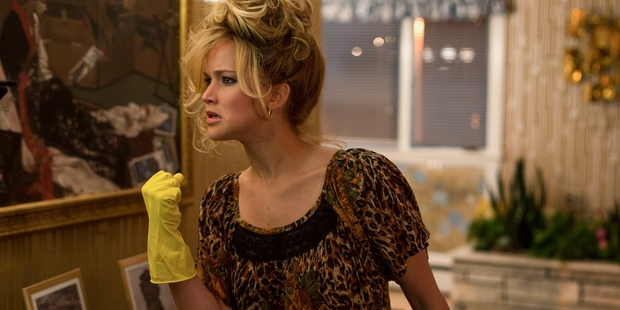 Anyone who endured the era which gave us classic rock, disco and incomprehensible fashion trends, or those who merely marvelled at the big hair, glittery Spandex and unflattering perms from a safe distance, will find the 70s-set American Hustle a dose of deliciously nostalgic bad taste and alluring corruption.
Starring such A-listers as Jennifer Lawrence, Christian Bale, Bradley Cooper, Amy Adams and Jeremy Renner, this fictionalised account of the Abscam sting operation of the late 70s and early 80s which involved politicians, conmen, the FBI and the Mafia, is one of the front-runners at the upcoming award season - it's up for seven awards at Monday's Golden Globes and is likely to figure prominently in next week's Oscar nomination announcement too.
There's little mystery to how David O. Russell assembled such a cast. He directed Lawrence's Academy Award-winning performance as best actress in Silver Linings Playbook while her co-star, Cooper, earned a nomination for best actor. Likewise, he steered Bale towards his Oscar-winning supporting actor performance in 2011's The Fighter, and Adams to an Oscar nomination for supporting actress.
"He's kind of an actor-whisperer," explains Lawrence, 23, of working with Russell for the second time. "I wasn't crazy about the era of the 70s, not exactly the height of fashion, but of course I wanted to work with David again. My character is a drinker and she's absolutely crazy, it was a lot of fun. For all of us, we're playing characters unlike anything we've ever done before."
Without question, Russell, 55, is on a hot streak. "My career has been leading up to this film. I feel like American Hustle is the third of three movies for me that really began a kind of film-making and a kind of story that started with The Fighter (2010), and continued in Silver Linings: Playbook (2012). I'm very grateful for because it focused me on members of my own family from Brooklyn, Queens and the Bronx. They're very rich characters with a great passion for life."
Born in New York, Russell began his career as a feature film director-writer-producer on 1994's offbeat Oedipal tale of Spanking the Monkey, in 1994, and followed with Flirting with Disaster, which had Ben Stiller and family on a roadtrip to find his biological parents. Although widely acclaimed and starring George Clooney, his Gulf War satire Three Kings (1999) struggled at the box office and his return to quirky comedy with the existentially themed I Heart Huckabees largely confounded the few who saw it. Russell has described the latter as his "midlife crisis movie".
"I went through a period where I think I was losing my direction," he says. "It's hard to keep your inspiration fresh and I was feeling lost for a while. But then I went through the divorce and dealing with a bipolar son meant that I started to look at characters and love them in a way that I previously wouldn't have looked twice at. I was guided to these characters ranging from The Fighter onwards, and I adore all of them."
Although American Hustle is presented as an ensemble, it is very much Bale's movie. His transformative performance based on convicted conman Mel Weinberg, a role that necessitated his gaining 23 kilos and sporting an astoundingly unattractive comb-over and facial hair.
"He's a hell of a character. I like roles where you tread the fine line of whether it's going to succeed or be a complete failure, and I have certainly done my fair share of abysmal embarrassments," says Bale.
Like his co-workers, Bale's admiration of Russell was a big selling point. "I love working with David although we butt heads at times but we really enjoy it. There's an honesty in it and there's no sulking allowed, we just bounce straight back from it and it makes for a real vibrancy on set."
Shot in Boston - production had to be suspended for a day in the wake of the Boston Marathon bombing - the film has Cooper playing an FBI agent who orchestrates the sting operation based on the 1978-1980 case which saw a congressman and government officials jailed on bribery and conspiracy charges after a fake Arab sheikh offered them money in return for political favours.
But for Cooper the role was all about the hair. "I made the stupid choice of giving my character curls, so that was an interesting three-hour hair-curling process before my workday began. You know, men did that back then, even baseball players did it," he laughs. "I loved it. We were in heaven on that set with all those outfits and the music, and I don't mind a bit of polyester and silk."
Adams, who plays Bale's con-artist partner and who poses as a British aristocrat, is up for Best Actress in a comedy at the Golden Globes and she turns in an inspired performance.
"No one has seen Amy Adams like this," says Russell. "She was as glamorous and as raw as she's ever been. There was a certain type of woman like her in the 70s - full of confidence, impeccable taste, and who was just incredibly sexy. I think she's luminous in this role."
Adams says of her 70s wardrobe, a decade where no dress could be considered too low-cut or too shiny, and of course, sans bra: "When I signed on to the film, David didn't say to me, 'It's going to be a boob show.' And it wasn't until I saw the storyboards that I knew I'd have to take a deep breath and embrace the era which was all about female empowerment," she says. "My character was someone who was caught up in the idea that women are sexual equals to men. Roe vs Wade had happened, the birth control pill was out, and women could be sexy and smart."
Sting in its style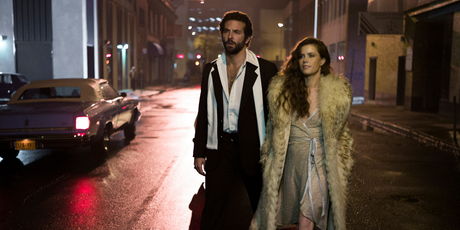 From Christian Bale's burgundy velour blazer to Amy Adams' plunging sequin halter dress, American Hustle is a cinematic romp through the over-the-top styles of the 1970s.
Set in New York and New Jersey in 1978, the film tells the story of a pair of con artists (Bale and Adams) forced to work for a cocky FBI agent (Bradley Cooper) bent on bringing down powerbrokers and politicians. This decadent world of power, crime and big money comes to life through ostentatious fashions and outrageous hairdos. All the characters are reinventing themselves, and it shows in their clothes.
"They had ideas, they lived large and they took risks," costume designer Michael Wilkinson says of the 70s' styles that inspired his designs. "Clothes were less structured, had less underpinnings; it was like people didn't give a damn."
Although the Australian-born Wilkinson says his childhood was drenched in American pop culture, "I approached this as a research project, just like you would study about the Greek ruins or outer galaxy."
He scoured Cosmopolitan magazine, along with advertisements, movies and TV shows of the era. Goodfellas and Atlantic City were particularly influential films.
"And Saturday Night Fever from 1977. That had the most pertinence to Bradley Cooper's character. He's a guy from the Bronx, and he lived life as a black-and-white moral shooter working for the FBI, and wears a cheap polyester suit that doesn't fit him so well."
The character ups his fashion game after meeting the dapper con-couple.
"He ends up in a silk shirt and silk scarf, which are pop culture references," Wilkinson says, "and then he wears a leather jacket to the FBI."
The designer relished Halston's vintage vault, to which he was granted access for the film, and he dressed Adams in authentic pieces from the 70s.
"The lines [of clothing silhouettes] of the late 70s, with designers like Halston, were reinventing the wardrobe of women," he says. "It was about being comfortable in your skin and walking tall."
Hair is so prominent in American Hustle that it's practically another character. Lead hairstylist Kathrine Gordon studied old issues of Playboy and high school yearbooks from the 70s for inspiration. She and Bale worked together to create his character's elaborate comb-over, complete with fuzzy, glue-on hairpiece. The film opens with a scene of its careful construction.
"I came up with this idea to stuff it," Gordon said of the comb-over she cut into Bale's real hair. "And then David O'Russell rewrote the script, and I taught Christian how to do it on camera."
Adams wears styles reminiscent of disco parties, Studio 54 and ads of the era. Jeremy Renner, who plays a New Jersey politician, has a fluffy bouffant. Jennifer Lawrence, an unhappy wife in the film, wears bouncy, sex-kitten updos whether she's going out or not.
And Cooper rocks a tight perm: he's shown wearing curling rods in one scene.
Wilkinson especially loved playing with fabrics, colours and prints for Bale's charming con-man.
"I'm really proud of Christian Bale," the designer says. "It shows the possibility of an expression of personality in menswear. He explores his character in his clothes and he's a man of the world. He mixes prints."
What: American Hustle, starring Jennifer Lawrence, Christian Bale, Bradley Cooper, Amy Adams and Jeremy Renner. Directed by David O. Russell.
When: Opens at cinemas on January 23
- TimeOut, AP