Once the biggest star in British pop, Robbie Williams is making a comeback bid with a new chart-topping solo album. He talks to Andy Welch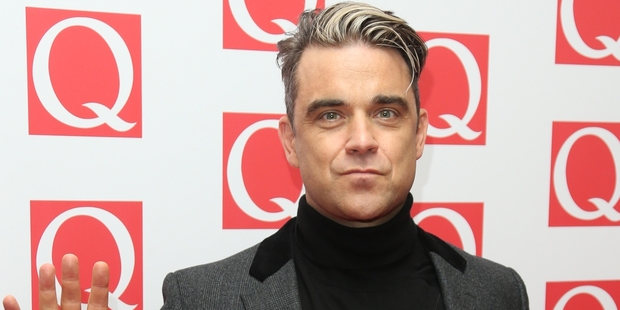 Robbie Williams is a member of Take That, and one of Britain's biggest-selling solo artists. His latest album, Swings Both Ways, went straight to the top of the British charts last month and is out in New Zealand now.
He chats about the joys of his new family life, of being middle-of-the-road, and his hopes of beating band-mate Gary Barlow's album sales ...
Q: Have you been enjoying yourself lately?
I've been having some of the best weeks ever. Unbelievable. The sales are just blowing my mind, I can't believe how this new album has caught people's attention.
Q: This is the follow-up to Swing When You're Winning, in 2001, your biggest-selling album. Why didn't you just do another swing record straight after that?
I'd get bored. I wasn't tempted at the time. I don't think I've ever done too many things in a row that are similar. I came back with Reality Killed The Video Star with Trevor Horn, then went to do Progress With Take That, then Take The Crown, a very pop album, and now this swing again.
I change things around, do different things, and I'm at a stage when everything has to be different and have a purpose. People are used to me, so I have to recapture their imagination. And mine, too.
Q: Do you write swing songs, or write them normally then arrange them as swing songs?
Writing is my hobby, so there's no genre I won't trouble. I might write, for want of a better expression, a Britpop song one morning, then something from a musical in the evening, the day after that, a country song. I don't think about what style I'm writing, it just comes out. I've written about 100 songs in the past 18 months to two years, so musically they're all over the place depending on what I've been inspired by or been interested in.
Q: The sales are going through the roof. How much does that still mean?
More than anything, and more than ever. The first time it all took off, there was an intense spotlight, which made enjoyment difficult. The thing that I was doing for my living caused all sorts of mad stuff to happen, so I was a bit ungrateful and took it for granted. Now, my life is a lot different. There's space for me in the world to do whatever I want to, whenever I want to, and I don't get any grief. Now I'm at a point in my life when I'm very grateful, so it's really great to have a No 1. Really great.
Q: You do sound happy. . .
My life is very different, there's the wife, the baby and it turns out everything I was running away from has turned me into a man. Who knew? Stuff's really good, and I can't believe I'm getting into my 25th year in the business, and I'm still a bit of a force. It'll be a good Christmas at our house this year.
Q: This album is also a landmark - the 1000th No1 in the UK. Is it significant?
It's a nice bit of synchronicity, and nice that it hasn't gone unnoticed, but I don't know what it means, really.
Q: Frank Sinatra's Songs For Swinging Lovers was the first No1 in 1956, so it shows the enduring appeal of swing music at least?
It is an enduring genre, yes. These days, with people taking their clothes off and doing drugs and being cynical in whatever way possible to get attention - and good luck to them - I think there is a market for middle-of-the-road entertainment.
Q: Gary Barlow's album was out the week after yours. Do you feel in competition?
I've always said I want to sell a million-and-one records, and I want Gaz to sell a million. I am in competition with everybody, absolutely everybody. When we're together, we're best of mates, he's wishing me the best for this record, I'm wishing him the best for his, and what's good for us all individually is good for Take That. It's honest. I love him to bits, but I want to sell more.
Q: You performed at London's Palladium recently. How was that?
It was an entertainment dream come true. It really, really was. I could feel myself making the sort of show that I used to love watching when I was 10, round at my gran's house. Something about it felt like I'd gone full circle, and I'm now in the place that I'm supposed to be. The tour next year - will it be similar to that palladium cabaret show? Yes. We're going to the UK in June and July, and it'll be that sort of thing, high on entertainment, low on credibility.
Q: Is credibility overrated?
It is. Credibility doesn't pay the bills.
- AAP