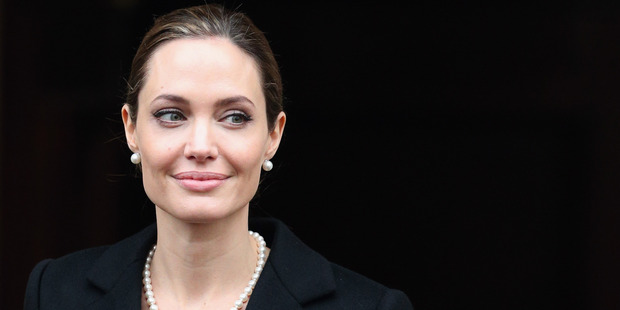 What do you buy your multi-millionaire A-lister fiancé who has everything?
In Brad Pitt's case, according to a British tabloid, that'd be a heart-shaped island. Obviously.
The Hollywood actor will be turning 50 on December 18, and per a headline-hogging yarn in The Mirror, Angelina Jolie is planning quite the romantic gesture for her hubby-to-be's milestone birthday.
Let's hope Pitt doesn't read the Mirror, otherwise, spoiler!
The tab claims that Jolie, 38, reportedly forked out a cool US$20 million (NZ$24.4 million) for Petra, an 11-acre heart-shaped island located 50 miles to the north of New York City, and which includes two homes based on designs by Pitt's favourite architect, Frank Lloyd Wright.
The actress supposedly visited the island last week, and it was love at first sight.
"As soon as Angelina heard the island was on the market she arranged a viewing. She was really impressed," a so-called "source" dished to the newspaper.
"The house is perfect for romantic getaways or as a family retreat. It's very private. And Angelina knows the fact the island is in the shape of a heart will mean so much to him."
Built in 2008, the 5000-square-foot main house on the island boasts "vast expanses of stone, cement, mahogany and skylights," reports the Mirror, and together with the 1200-square-foot cottage - and obligatory helicopter pad - would be a "perfect getaway" for Brangelina and the brood.
Sounds lovely.
"The fact he [Pitt] could now live in a house designed by one of his idols will make this his best birthday present ever," added the source.
Feast your peepers on a video showcasing the island with a hefty price tag here.
But here's the rub on Jolie's reported birthday splurge, folks. It's cobblers. Sorry, Bradley, no lush island for you.
The daughter of Petra's owners tells E! News that the report is not true and the island is still up for sale.
"It is not true," Donna Massaro told the website, adding, "It is still for sale. We are open to show Angelina Jolie and Brad Pitt the island but they have to have lunch at my cafe first."
It's not the first time that Jolie's name has been linked to budget-busting gift giving.
Back in December 2011, rumours were rife that the star, who is currently in Australia while she directs her new film, Unbroken, had gifted Pitt with (wait for it) a waterfall.
According to the Daily Mail, Jolie splurged on a waterfall in California, as well as its surrounding land. The grand gesture apparently served as both Pitt's 48th birthday and Christmas presents.
The idea being that he could build a dream home on the site in the vein of Lloyd Wright's Fallingwater, which Brad and Ange visited in 2006.
"Brad has always loved Fallingwater and his first trip there was unforgettable," a source said at the time. "Angelina wanted to get him something incredibly special and, because she knows how much he loves architecture, she thought this would be perfect."
NOTABLE NUGGETS
And finally ...
* JRR Tolkien biopic set for silver screen.
* Beastie Boys fight use of Girls in toymaker's viral video.
* Listen: Britney Spears' new album Britney Jean now streaming on iTunes; singer says she is so "in love" with boyfriend of nearly nine months, David Lucado.
* Pink and Carey Hart sued by paparazzo after nasty exchange.
* Brittany Murphy's mother rejects claim her daughter was poisoned.
* Find out what Kim Kardashian thinks of Seth Rogen and James Franco's Bound 2 parody.
* Calm down, internet: Jessica Biel speaks out on Twitter after she's noticeably absent from the American Music Awards.
* Kanye West rants (in glorious autotune) about not being treated like a "god" (Warning: Explicit language).
* Clint Eastwood's daughter wants to annul week-old marriage.
* Billy Ray Cyrus buys daughter Miley a sporty new ride for her birthday.
* Listen: Check out the full version of Beyonce's brand new song God Made You Beautiful
- Rumour Has It