Jennifer Lawrence happily talks about her Katniss role. Just don't mention haircuts, says Leena Tailor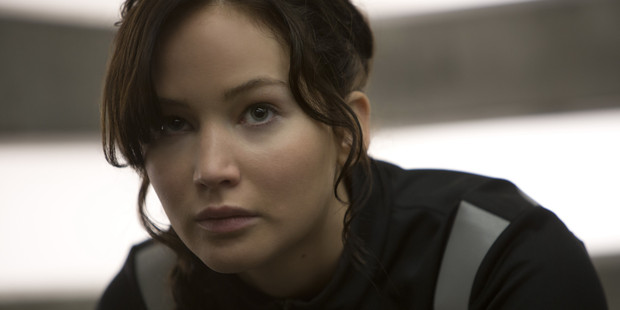 No one will forget the moment Jennifer Lawrence tripped over her Dior Couture dress as she walked up to accept her first Academy Award, laughing off the fall after Bradley Cooper and Hugh Jackman rushed to her rescue.
Just a few hours later the Kentucky-born actress was on a plane to Hawaii to film Catching Fire, the second instalment of The Hunger Games franchise, which helped propel her to the mainstream. Despite the book-based film series revolving around violence and war, the shoot would again present gown issues for Lawrence as she donned a wedding dress for 12 hours a day.
"Well duh ... we've all seen what it's like when I try to walk in a dress," she laughs, responding to jibes about her falling over during filming. "The wedding dress was incredible ... and so perfect for the situation.
"But I'm not good with big dresses - and stairs - so that didn't help."
With her humour as candid and her answers as unhinged as the day she became an Oscar-winning actress, Lawrence, 23, adds not much else has changed in her life since receiving the highest accolade in film and becoming one of the most sought-after actresses in Hollywood.
"Obviously my career has benefited from the Academy Award and I'm so grateful for it, but I'm pleased to say nothing in my personal life has changed.
"I've never found anything about Hollywood enticing. Nothing makes me happier than my couch ... and I'm too stubborn to change.
"[Career-wise] I've been working so much that I haven't been reading as many scripts, but just to have people I admire or filmmakers I love know who I am, it's like, 'Wow. That's incredible."'
Since making the transition from indie films such as Winter's Bone to blockbusters, it's roles such as Tiffany Maxwell in The Silver Linings Playbook - which earned her the Best Actress Oscar - which have helped Lawrence ensure she's not pigeon-holed as a teen franchise star or known only as Katniss Everdeen.
Not that she would mind.
"I knew this was a character that would follow me for the rest of my life, but I knew it was a character I would be proud to be known for.
"That being said, it is very dominating and very big so every time we would wrap, in-between I would do as many passion projects and characters that were as different as I could think of."
Katniss herself is a changed woman in Catching Fire, which sees her and Peeta (Josh Hutcherson) returning to the Hunger Games arena to fight fellow victors, while a rebellion brews against the oppressive Capitol.
With Katniss suffering post-traumatic stress, director Francis Lawrence - who comes from a music background, having directed videos for Beyonce, Britney Spears and Aerosmith - says the idea of exploring the consequences of war was something which drew him to taking over the reins from the first movie's director Gary Ross.
"I was really interested in the change in the characters from having gone through the first games, partaking in and witnessing violence and how that damages people.
"We start to see the damage in people because of violence. In the next film, we go to war, so we'll really see the consequences and loss from that."
The movies also highlight celebrity culture, with the brutal games broadcast nationwide like a reality show, heightening Katniss' idol status.
Lawrence, who next reunites with Bradley Cooper in American Hustle, easily relates to her character's discomfort with public scrutiny - the fact that her haircut made global headlines still has her flabbergasted.
"I need a break from talking about my hair. I didn't read any of the comments ... even hearing about it is just so stupid ... I can't handle that much stupid in one day!"
The Hunger Games: Catching Fire is screening now.