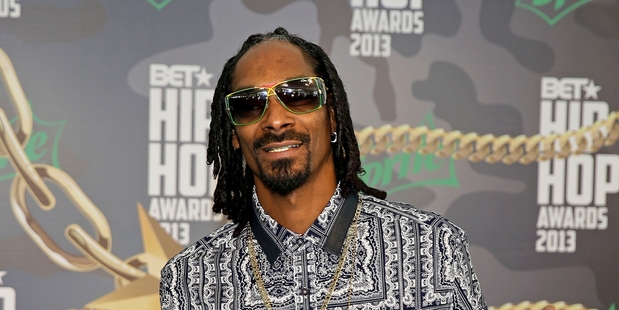 The Powerstation had better make sure their sprinklers are working, because the Big Day Out has just announced Californian legend Snoop Dogg will be playing one sideshow at the venue, on Thursday January 16, next year (the night before the festival).
Setlists from recent gigs show he has been playing a greatest hits-type set, including Gin & Juice, Drop It Like It's Hot, as well as a few new tracks from his Snoop Lion reggae phase, so fans can be sure of an entertaining night.
Tickets will be on sale from Friday November 29 through Ticketmaster.
Another BDO act, Mudhoney, have also announced a sideshow. The four-piece Seattle grunge veterans will be celebrating the release earlier this year of their ninth album Vanishing Point, and fans can expect a combustible show at the Kings Arms on Thursday January 16.
Not to be outdone, Laneway Festival has also announced a sideshow in Wellington starring three of its acts.
Underground hip-hop fans will no doubt be thrilled to hear that the exuberant trio of Odd Future's Earl Sweatshirt, mischievous Detroit rapper Danny Brown, and Run the Jewels - the collaborative project of El-P and Killer Mike - will be playing a show together at the James Cabaret on Tuesday January 28.
Tickets will be available through Dash Tickets from next Tuesday.
For fans of classic hits, there is another exciting concert announcement today: superstars of the 80s Lionel Richie and John Farnham are joining together in a double bill for three New Zealand concerts, with the tagline "All the hits, all night long".
It's a dream-come-true for Farnham, while Richie has said he's looking forward to sharing the stage with a man who "pours his heart into a ballad and gives everything to an anthem".
They'll be performing at CBS Arena in Christchurch on Thursday March 20, at the Bowl of Brooklands in New Plymouth on Saturday March 22, and at Vector Arena in Auckland on Sunday March 23. Tickets go on sale through Ticketek for Christchurch, and Ticketmaster for New Plymouth and Auckland, next Friday, November 29.
Also announced earlier in the week, was the return of Elvis Costello. He'll be coming back to New Zealand on Sunday April 27 to perform at The Civic in Auckland with his backing band the Imposters.
Costello and the Imposters were here earlier this year, but he has since released an acclaimed new album Wise Up Ghost - a collaboration with the Roots - so fans can expect some new additions to the setlist.
And last in the line-up, but certainly not least, is Erykah Badu.
The fiery Grammy-winning neo-soul star, who was last here to perform at Splore in 2012, will return on Thursday April 10 to perform at The Civic. If her Splore performance was anything to go by, it will be a "can't miss" show.
Follow @nzherald_ent on Twitter for all the latest entertainment news.
- TimeOut