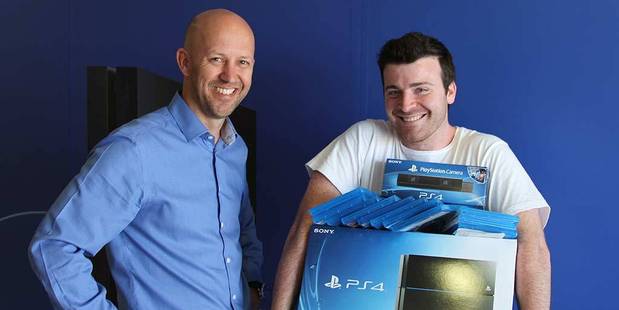 Ari Blair says becoming the country's first Playstation 4 owner is "very nice".
Blair, an Auckland chef, beat out 5000 other entrants in TimeOut and nzherald.co.nz's competition to become New Zealand's first owner of a Playstation 4 console.
The hyped next generation home entertainment machine isn't released in the country until November 29.
Playstation offered TimeOut readers the chance to win the console two weeks early in a November 7 competition.
The South Auckland resident said he only entered the competition once and "didn't really expect anything of it".
He was surprised to receive a call from PlayStation New Zealand's director of sales and marketing, Dave Hine telling him he was the winner.
Blair, a Playstation 3 fan who planned on purchasing the new console, snuck out of work to collect his prize on Monday, and has since become the envy of every gamer in New Zealand.
One of his workmates proved to be particularly jealous of his "very flash" console.
"This guy I work with was quite upset at me - he didn't believe me, he thought I was having him on ... so I logged on and sent him a message from the console.
"He's excited and keen to come around to have a go on Fifa 14."
Blair's prize pack included the PS4 console, a camera, the games Killzone: Shadow Fall, Drive Club, Knack, Assassin's Creed IV, Injustice Ultimate Collection, Fifa 14, Battlefield 4, NFS Rivals, and Lego Marvel Super Heroes, a 12-month subscription to PlayStation Plus, and blu-ray copies of This is the End, The Lone Ranger, Elysium and season five of Breaking Bad.
- nzherald.co.nz