Dwarf movie star Warwick Davis teams up with Ricky Gervais and Stephen Merchant in new mockumentary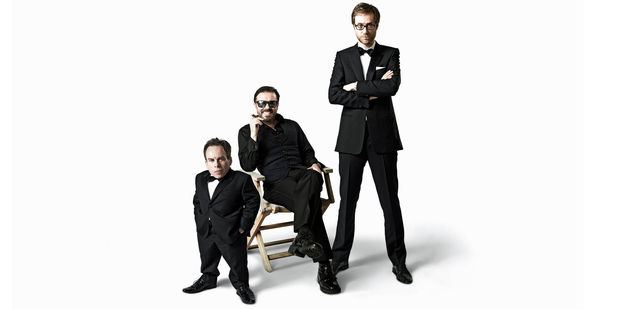 If we're not doing up our houses on television lately, then we seem to be getting our lives back on track. Still, almost anything's better than the endless servings of food shows.
In the doing-up-houses department, Prime has a new local series unpromisingly called The Kiwi Dream (Friday, 7.30pm). If Kiwis dare to dream, I hope they dream of wilder things than home renovation.
And if they do dream of doing up houses, then this show's not going to shake them awake.
Fronted with a bubbly Australian sort of ebullience by Evie Ashton, The Kiwi Dream promises six weeks of close attention as lucky Evie transforms her 50s Karaka Bay bungalow - lucky her - with only a dozen or so experts to help her.
So, no, we're not exploring unknown TV territory here and yes, the experts do include Sally Ridge, and there is a dizzying level of product placement, but the show's not as nail-bangingly boring as it might have been.
And, good heavens, in her role as the series' interior designer, Sally Ridge actually seems faintly useful - well, certainly more useful than the landscaper, Pascal, who shrieked, at the sight of the overgrown grounds, "Good Lord, it's so eclectic''.
Several of the tradesmen sounded scripted too, though they dropped their lines like loads of timber. Still, they had Evie's bedroom and her to-die-for en-suite all done and looking very nice indeed by the end of episode one.
After all the bathroom envy, more cynical viewing seemed called for and, thankfully, TV One provided just the thing later on Friday night with the launch of a new British mock-documentary series, entitled, promisingly, Life's Too Short (11.05pm).
This turned out to be a show about a desperate actor trying to get his life back on track - not unlike the recently launched The Life and Times of Temuera Morrison, which follows the famous local actor as he tries to kick-start his faded career.
Life's Too Short is a little smarter and weirder, being the brainchild of short-person movie star Warwick Davis and those droll trolls of UK TV comedy, Ricky Gervais and Stephen Merchant, all of whom feature in the show.
Davis plays his slightly adjusted self, down on his luck after notable roles in Harry Potter and two Star Wars films, prepared to do almost anything to, yep, get his life back on track.
He used to be, as he put it, "the go-to dwarf'' for the big movies, but now he's running an agency, Dwarves for Hire, while refusing to face the fact his wife has kicked him out of the house and that the choice of Gervais and Merchant as his mentors might be ever so slightly counter-productive.
As is sometimes the case with Gervais and Merchant, there's a danger of sinking under the icy weight of their twisted take on funniness, but Davis gives things a warm and cuddly touch.
His angle on the world is the opposite of his mean mentors - all charm and smiles, blissfully, perhaps stupidly, determined to see himself as a winner, despite it all, "a sophisticated dwarf about town".
Life's Too Short comes with the bonus of guest spots by famous friends of Gervais. Last Friday, it was Liam Neeson, wanting advice on transforming from towering grimness to a career in stand-up comedy.
"I'm a funny guy, aren't I?"
And you can't say no to that.