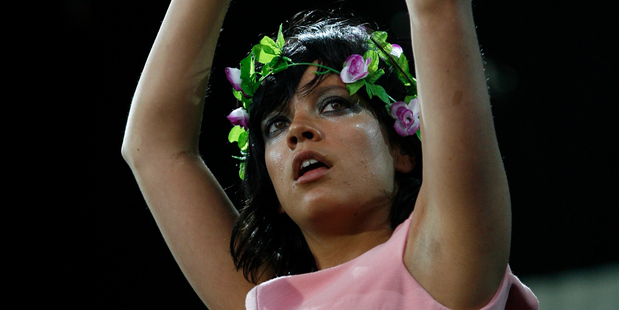 In her first interview since she returned to pop music, Lily Allen has revealed how close she came to having extensive plastic surgery to get rid of her "mummy-tummy", refuelling the debate over body image and the objectification of women in the media.
"Nobody's immune to the pressure to look thin," she says.
Shortly after giving birth to her first child, Allen, 28, visited a surgeon for advice on liposuction, but was advised that she should reshape her entire body - thighs, belly, ankles, knees and back. "I walked out with lines drawn all over me," she recalls.
She booked the surgery, but cancelled when, four days before the operation, she discovered she was pregnant again.
Her admission follows the furore over the video for her new single, which opens with Allen on an operating table undergoing liposuction while a male music executive berates her for letting her body go. "I've had two babies," she says from under a hospital gown.
The song, Hard Out Here, takes direct aim at some of the most controversial topics in recent pop music, including Robin Thicke's video for Blurred Lines.
"I suppose I should tell you what this bitch is thinking, you'll find me in the studio and not in the kitchen," she sings. "You should probably lose some weight, because we can't see your bones ... It's hard out here for a bitch."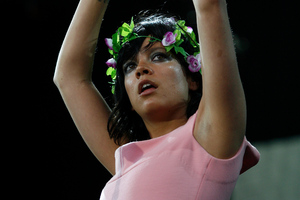 The video is pitched as a satire of today's sexy music promos, with Allen drifting into a world of bikini girls and suggestive banana consumption from the anaesthetist's table, but it has drawn criticism for the juxtaposition of Allen and her non-white dancers.
"Singer attacks sexism with racist and sexist video", says a headline in The Root, an African American online magazine. "To twerk or not to twerk may be the zeitgeist question," wrote journalist Ellie Mae O'Hagan, "but whatever answer you come up with, you're still telling women how they should present their own bodies".
"What I see is the black female body, anonymous and sexualised, grinding away to make the rent," said British columnist Suzanne Moore.
Allen responded to the criticism in a tweet saying it had "nothing to do with race". The video had been "meant to be a lighthearted satirical video that deals with objectification of women within modern pop culture ... The message is clear".
Only Allen's "insecurities" kept her from dancing in her knickers alongside them. "I actually rehearsed for two weeks trying to perfect my twerk, but failed miserably," she said. "If I was a little braver, I would have been wearing a bikini too."
Allen says she intended the song as a message to two titans - the first being the men who have controlled her career. "In the music industry, women have always been controlled by male execs, told to do the Kate Moss thing. Keep your mouth shut, or people will laugh at you," she says.
The second titan was Britain's Daily Mail newspaper, which, in 2010, a year after she had publicly discussed her bulimia, published a graph charting "the ups and downs of her ever-changing figure". She first spoke out against the newspaper later that year when, three weeks after she lost a child six months into pregnancy, she objected to the Mail's use of her miscarriage as a hook for a gossip story about wedding plans.
Allen has revealed how a Mail reporter contacted her minutes after she gave birth to her first child, in November 2011. "The placenta was still in me," she says. The timing of the call will again cast the spotlight on British press intrusion and the media's invasion of privacy.
- Observer