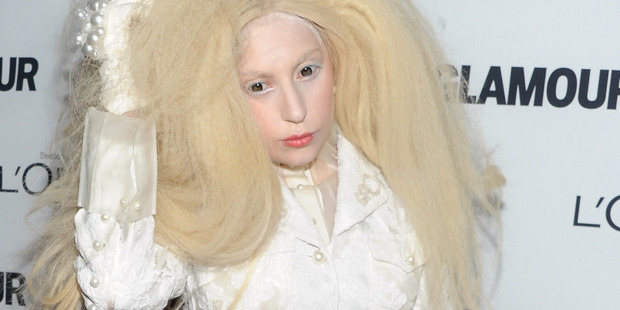 Sticks and stones ...
Lady Gaga has opened up about her ongoing "feud" with pop matriarch Madonna, and explained why her friendship with former BFF Perez Hilton hit the skids.
During a confab with Howard Stern on his radio show this week, Mother Monster dished a few nuggets about the well-documented discord between her and Madge.
Swift recap: When Gaga released her single Born This Way back in 2011, it kicked off a bit of a stink. The song, critics charged, sounded stunningly similar to Madonna's 1989 hit Express Yourself.
Madge later fanned the flames after she performed a mashup of Born This Way and Express Yourself during her MDNA tour last year.
Gaga shared her thoughts on Madge's decision to cover her music during a recent interview with Attitude magazine.
"I have to be really honest, I was completely kind of floored that Madonna was singing my song on her stage every night!" she told the mag.
"I mean, Madonna's ... she's Madonna. I looked up to her for a long time. I'm not quite sure what her intention was - to do that in the show, but I don't really care," she said.
"I think playing into the gossip of the tabloids and, I guess the fodder of the competition, that's just not what I'm about. She chooses to use her voice the way she chooses to use hers and I choose to use mine the way I use mine."
'...ONE DAY I WOULD PISS OFF MADONNA!'
Rather than packing a sad about Madge's apparent diss, Gaga said she was happy to ruffle the singer's feathers.
"All it meant to me was that Madonna Ciccone was singing my song on her stage and I'm 27! And as a punk-rocker from New York, I've basically been hoping that I would become so good that one day I would piss off Madonna!" she said.
During a lengthy sit-down with Stern on Tuesday, the 27-year-old singer didn't hold back when probed by the host about her Madonna beef.
"There's not so many ways you can interpret it," chimed Gaga when Stern suggested jealousy was behind Madge taking thinly veiled potshots at her.
"To me honestly I think she's more aggravated that I'm not upset that she doesn't like me. Because I don't care that she doesn't like me. No, I don't care," she shared.
On the subject of her public falling out with gossip blogger Hilton, the ARTPOP singer went on to say the proverbial hit the fan back in 2011.
"I don't really care anymore. It's so ridiculous at this point. It's such nonsense," she said of her spat with Hilton, who was once one of Gaga's most vocal cheerleaders.
"The whole thing is really rooted in Madonna, that's the sort of centre of it and nobody's really said that or admitted to it," Gaga explained.
"It's silly. There's always this pissing match, 'Did she take her torch?' [and] 'Is she the new her?' 'Is she going to outlast her?' ... There's this thing with some people that I'm a threat to the throne," she said.
"And I don't want your f***ing throne, no thanks. And I have my own and I don't actually want a throne at all, because I don't view myself as a queen. I view myself as one of my fans, and that's it."
Gaga then explained why her long-time friendship with Hilton ended.
"What happened was we were doing an interview...and in the middle of the interview he started asking me really terrible questions," Gaga told to Stern.
"He was being very negative about Born This Way and we had had a lot to drink. He was supposed to be my friend and I felt betrayed, so I started crying. My friend had to come in and pull the camera out, they wouldn't turn the cameras off."
She continued, "He apologised, but I sort of felt like it was like, 'But I'm Perez Hilton so I'm allowed to treat you this way.' I looked at him and said, 'Just because you are who you are, does not mean that our friendship doesn't mean anything when the cameras turn on. So, now I see who you really are.' And I was done after that.
"And he's just mad that I don't want to hang out anymore. I don't want to be around fake people. I really believed, when I first met him, that he wanted to change. I really believed that he wanted to bully people less on his site and that he wanted to move into a more positive space. I was really there for him and I really supported him."
'IF YOU HATE ME, HATE ME FROM OVER THERE'
Gaga accused Hilton of harassing her during a Twitter spat back in August, after fans alerted her to Hilton's presence at her New York apartment block.
According to sources at the time, Hilton was apartment shopping in Manhattan and, "unbeknownst to him", one of the units he inspected was located in Gaga's apartment building.
"I freaked out so much about it because I have no rights," she said. "My sister [Natali] was sleeping there and it made me scared and upset. And then he lied and told everybody that he wasn't stalking me, but that next day - after I asked him to leave me alone - he put an offer in on two apartments in the building!" Gaga told the radio host.
"Why do you need to live in my apartment? There's only one reason: to try to hurt me, or harass me, or blow yourself up," she said. "If you hate me, hate me from over there. Continue to fire away on your blog and your Twitter."
And, sure enough, Hilton fired up his laptop and took to Twitter the moment he caught wind of Gaga's interview with Stern.
"@LadyGaga So you called ME fake on the @HowardStern this morning. Ha! Thanks for the laugh! Have you looked in the mirror lately??? xoxo," he wrote.
"@LadyGaGa And I was the one who pulled away from u after I realised what a real-life vampire you are! It's been your M.O. your whole career!"
He added, "@LadyGaGa Keep talking about me, though. I love the press!" and linked to a Vine video of him flipping Gaga the bird.
Followed by: "@Madonna So @LadyGaGa told @HowardStern she doesn't want your "f*****g throne". Good. She'll never get it! You're Madonna. She's Yoko Ono!"
Check out Gaga talking about Madonna and Hilton below (Warning: Contains swearing):
Listen to the full interview (where Gaga discusses boyfriend Taylor Kinney, Miley Cyrus, drugs, fame and more) below:
NOTABLE NUGGETS
And finally ...
* Joan Rivers lashes out at Jennifer Lawrence in Twitter rant after the actress threw shade at the comedienne's Fashion Police show.
"It's funny how Jennifer Lawrence loved @E_FashionPolice during Awards Season when we were complimenting her every single week... But now that she has a movie to promote, suddenly we're picking on all those poor, helpless actors," Rivers wrote.
"WAIT! It just dawned on me why Jennifer Lawrence fell on her way up to the stage to get her Oscar. She tripped over her own arrogance." Ouch.
* Emma Thompson reveals she's forgiven Helena Bonham Carter for affair with Kenneth Branagh.
* Watch: Miley Cyrus covers Lana Del Rey's Summertime Sadness.
* First look: Cameron Diaz as Miss Hannigan in Annie remake.
* Nah, Justin Timberlake doesn't think he's cool.
* David Beckham poses in his smalls again for H&M.
* Kate Hudson says she can't afford those red carpet dresses she wears.
* George Clooney reveals favourite prank to pull on co-stars.
* Zac Efron breaks his jaw after slipping in puddle.
* Jennifer Lawrence shoots down that ridiculous Star Wars rumour.
* Watch: Angelina Jolie is wicked in the first trailer for Maleficent.
* Fifty Shades of Grey's Dakota Johnson and Jamie Dornan cuddle up for first mag cover; film's release date moved to 2015.
* Kim Kardashian shares new pics of baby North West.
- Rumour Has It
entertainment blogs