Tim Winton's Australian anthology film The Turning has inspired movie blogger Dominic Corry to name his five favourite films from across the ditch.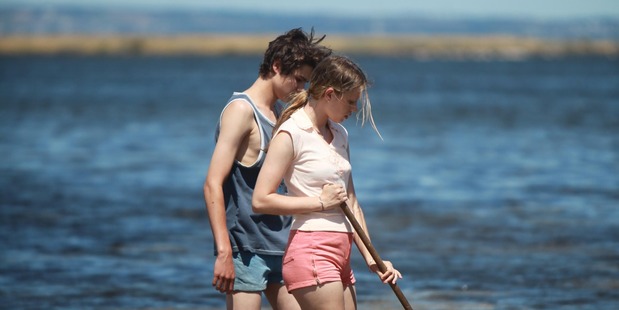 Watching the fantastic new Australian anthology film Tim Winton's The Turning got me thinking about how much I love Australian movies.
We make a lot of great films in New Zealand, but Australia make more, and are leagues ahead of us in terms of having a tangible cinematic identity to tap into. There's a visual lyricism almost inherent to Aussie cinema that New Zealand's relatively small and nascent film culture lacks. Still, there are plenty of things we do better than them, so maybe it evens out.
To celebrate the release today of Tim Winton's The Turning (it only screens for two weeks, so don't dawdle!), I am going to cite my five favourite Aussie films.
1. Picnic At Hanging Rock (1975)
This film simply oozes the lyricism I mentioned above, and remains one of the most haunting movies ever made in any country.
On St. Valentine's day in 1900, a class from a prestigious girls boarding school in rural Victoria undertakes an excursion to the (real) titular rock formation. As the poster tagline goes, "some of them would not return".
The film has long benefitted from the misperception that it was based on a true story. Even if you watch it knowing it's fiction, the tale still projects a real-world creepiness that many similar stories fail to achieve.
Director Peter Weir (Gallipoli; The Truman Show) deftly taps into a variety of powerful forces - repressed teenage sexuality; Australia's troubled history; the eerieness of a hot summer day in the country.
Picnic At Hanging Rock's refusal to offer traditional resolutions to its mysteries greatly enhances its supernatural power. It's almost impossible to imagine a comparable film doing something similar these days.
See also: Walkabout (1971); The Cars That Ate Paris (1974); The Last Wave (1977).
2. Two Hands (1999)
This crime thriller starring the late Heath Ledger isn't the most artistically ambitious Australian film ever made, but I see it as the most enduringly enjoyable film to come out of the country.
Ledger plays a young Sydney bouncer recruited by local gangster Pando (Bryan Brown - never better) to do "odd jobs", who then raises the ire of his new boss by losing a pile of cash on his first day.
Lumped in with the more financially successful Lock, Stock and Two Smoking Barrels at the time of its release, Two Hands is - unlike Guy Ritchie's break-out film - far more interested in its characters than stylistic excess.
That's what makes it such fun to revisit. Brown's stubbies and jandals-sporting gangster is a hilarious response to the overt posturing of most movie bad guys - the scenes of him playing chess with his flunkies make this film a winner alone. And both Ledger and co-star Rose Byrne's performances betray their future stardom.
I was sure Two Hands would inspire a Kiwi riff on similar matters when I first saw it, but the closest we came to that was Stickmen (2001), which was more of a Lock, Stock-wannabe.
Writer/director Gregor Jordan never made anything this good again (he re-teamed with Ledger for 2003's Ned Kelly), but his 2001 black comedy Buffalo Soldiers is worth a look.
See also: Dirty Deeds (2002); The Hard Word (2002); Chopper (2000); Animal Kingdom (2010).
3. The Road Warrior aka Mad Max 2 (1981)
The second film to feature Mel Gibson's iconic post-apocalyptic bad-ass upped the ante considerably on its scuzzy predecessor and set a standard for automobile action that has never been topped.
George Miller's hugely influential movie could be fairly described as one big long action scene, but it packs a decent emotional wallop aswell with the plot strongly evoking the "hero's obligation" dynamic of some of the better westerns.

It's amazing how many movies have since tried to replicate the aesthetics of The Road Warrior, and I'm struggling to think of any that have done it any justice. They all seem to forget how awesomely weird this film is, what with the feral kid and that dude in the gyrocopter.
Australian genre cinema's (perhaps inevitable) obsession with fast-moving cars and wide-open spaces can be traced to this film, which is undoubtedly the best action movie movie ever made outside America.
Director George Miller finally got around to filming a new Mad Max movie recently (in Namibia!), starring Tom Hardy in the title role. I simply could not be more excited for this movie.
See also: Road Games (1981); Razorback (1984); Wolf Creek (2005): Not Quite Hollywood (2008)
4. Crocodile Dundee (1986)
This massive box office hit isn't remembered nearly as fondly as it should be - its mainstream success appears to have harmed its legacy among film lovers, and my friends always think I'm joking when I talk about how much I love it. I revisit Crocodile Dundee with persistent regularity and my affection for it grows every time.
The fish-out-of-water storyline (rugged outback man goes to Manhattan) feels like the plot of a movie from Hollywood's Golden Age, and the rest of the movie wholly lives up to that classic feel.
The jokes; the emotions and the set-pieces are all pretty obvious, but sometimes obvious is good.
I consider the final scene of this movie to be the most uplifting romantic finalé in the history of cinema. If you disagree with me, I expect you to lay out a clear argument. And if you can watch the scene in question without welling up, then you are truly made of stone.
See also: The Castle (1997); The Dish (2000); Kenny (2006).
5. Moulin Rouge! (2001)
I'm not generally much of a musical fan, and I must admit I haven't watched this since it was first released, but I'll never forget the the chest-swelling exhilaration I felt when I saw this at the movies.
For all his dazzling skills as a visual filmmaker, what fascinates me most about writer/director/circus ringleader Baz Luhrman is how he harnesses the power of popular music.
Moulin Rouge! is the only film I've seen that successfully transposes the uniquely intimate intensity experienced while listening to a pop song that you love into cinematic form. All of Luhrmann's films have amazing soundtracks, but Moulin Rouge! is the only one where what we see fully complements what we hear.
It's all the more amazing an achievement when compared to the recent run of 'jukebox' movies (Mamma Mia!; Rock of Ages), none of which don't come close to the power of this film.
See also: Strictly Ballroom (1992); Romeo + Juliet (1996); The Great Gatsby (2013).
For the record, I also have great affection for Love and Other Catastrophies (1996); Lantana (2001); Japanese Story (2003) and Wish You Were Here (2012).
Agree? Disagree? What are your favourite Aussie movies? Am I wrong to be afraid to watch Bad Boy Bubby? Comment below!