Mikey Havoc has been a rock singer, a TV celebrity, a bFM stalwart and an under-employed broadcaster pondering what to do next. He's now had the night show on Radio Hauraki for the past year and says he still misses TV.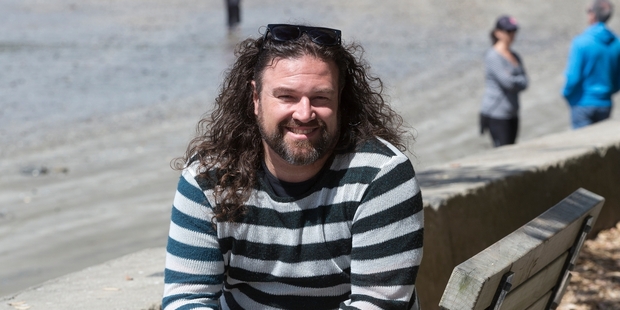 1. Your bFM boss once described you as a "big noisy mess". Has much changed?
You'd have to ask him. I'd be kidding myself if I thought I could try and make people think one thing or another. The best thing about what I do is that I don't ever have to pretend to be anyone other than the person I am. Genuine sounds good on air and ages well. And Big Noisy Mess has to be more fun than Tiny, Quiet and Tidy doesn't it?
2. Do you miss TV much?
I loved making the telly that I made, with the people I made it with.
Creating stuff that people really liked from ideas we came up with was such cool fun. I'm really proud of that work. The best TV I ever made was Jeremy [Wells] and I trying to make 10 of our friends laugh. It's probably greedy to want to make more, but I do. Television in NZ right now? Oh dear.
3. Did you fall out with Newsboy?
Yes, but I don't want to talk about that. It's in the past and we are friends again now. I'd like to work with him again. Am I hard to work with? I'm just who I am and I think I do good work and I'm into it. I don't know if I made that many enemies but I think some people don't get me. Maybe that's how it works across the board.
4. How would you describe your childhood?
Noisy, colourful, confusing, awkward, beautiful, lucky, fun, family, music, fireworks, North Shore, swimming, adventures, beaches, boats, scary, spacies, Sesame Street, school, dreamy and at one stage my cousin and I invented a language which consisted of weird noises - yep it freaked mum out for a bit. I spent most of my childhood in that pohutukawa tree [on Takapuna Beach] right there. My dad was the World OK dinghy [yacht racing] champion, Clive Roberts. Best in the world and although he passed away when I was 5 and my brother was 2, I remember him being really cool. My mum is simply awesome and she brought up my brother and I, making us into who we are today.
5. What did you learn from your mum?
Manners cost nothing. Don't swim too soon after eating. That if you tolerate endless band practices in the garage of loud noisy teenage music that you don't like yourself, upsetting the neighbours, you might just end up awfully proud one day. I've been shifting mum all weekend. She's moved out of the family home that we have lived in for ever and ever, into a retirement home. I've been living with her, getting the house ready for sale. I'll probably go flatting now.
5. Your dad was killed by a drink driver. What effect did his death have on you?
It's not something I can put into words. When you see it put in print it's never how it is. It feels different every moment you think about it.
6. You had a year out of broadcasting before joining Hauraki last year. Do you worry this job may end some day?
Having been on radio for 17 years which I truly loved, I made the conscious decision to leave and see what else was out there for a change and to challenge myself. I wasn't unemployed - the first people who called me were NewstalkZB and Radio Live and I was the cover host for Live which was an amazing experience. The worst thing about not being in full employment is not having somewhere to play out ideas on a daily basis and having no money sucks too. I haven't worried about it ending. That would be terribly fatalistic and uncharacteristically pessimistic. Radio is an underrated, amazing medium. I'll always love it no matter how it treats me.
7. Were you depressed?
Maybe I was a bit . . . without knowing it. Maybe a little bit unsure of the future. It wasn't that long after my marriage break-up - it was the first time in years I had thought of the future by myself. And of course it sucks. Of course at the end of 17 years at a radio station it was going to be a bit sad not to be doing it every day. I don't think it was massive clinical depression. It was a year to reflect and take stock and I don't regret it one bit. That's when the Hauraki thing came up and the timing was perfect.
8. When was the best time of your life, thus far?
Personally - my wedding day.
Professionally - the It's In The Bag show we made for [festival] AK03. Four nights, 8000 tickets sold. Most satisfying ever. I have been very fortunate to have had so very many fantastic experiences doing what I do over the years. I've been lucky to have done some crazy amazing shit.
9. Have you stayed friends with (former wife) actress Claire Chitham?
Yes. It's really nice. But I don't see why it's relevant to anyone. Yes, we did two women's magazine stories. Two. Yes, one was just before we broke up. You don't know before you separate. You don't go "oh, we're about to separate so we should do a shitty story because that will make it easier". Anyone that really believes those stories is having a laugh though, seriously.
10. What is your favourite high-brow pursuit?
Who defines high-brow? Kinesiology is mind blowing. I am fascinated with life, the universe and people. The science of why music makes us feel the way we do. I also have an obsession with perfumes and the science of scent. Today I'm wearing Comme des Garcons II.
11. Is Radio Hauraki different to bFM?
I'd never experienced commercial radio because everything about it was wrong to me. But they asked me to just come and to do what I was really good at and so I have and it's been incredibly satisfying. I've been so giddy on rediscovering the music thing again, to go "here's what I think people want to listen to". Apparently I'm the only commercial DJ in New Zealand who gets to choose everything he plays. I like being able to say to people, "I really like this song and I think you will too". People appreciate that you are taking certain risks and I like to always thank them for tuning in.
12. Will you always be Havoc or will you one day return to Roberts?
I would have thought Havoc might have gotten old by now but Havoc seems to work for people. I am Michael Roberts but it's nice to have Havoc. Same person in the end.