Sky TV's Laura McGoldrick doesn't just like cricket – she loves it, as Louise Smith finds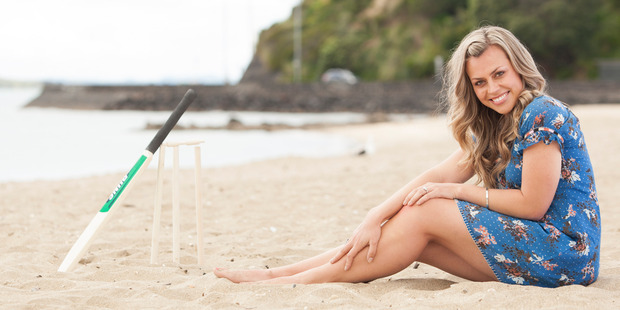 Pakistani cricketer Shoaib Akhtar sits firmly ensconced in the official Guinness World Records as having bowled cricket's fastest ball. Right there in print it says, "161.3km/h, fastest electronically ball ever bowled. South Africa. 2003."
"But," quips 24-year-old Sky TV presenter Laura McGoldrick with a raised eyebrow, "I reckon New Zealand batsman Craig Cumming faced a faster one from Brett Lee in Napier in 2005. Craig's one of our commentators; we often like to remind him of that 'fastest ball'."
And there it is, out in the open, a healthy, confident and somewhat fierce knowledge of a sport that is known globally as the gentlemen's game.
So why does this well-groomed, feisty young woman from Christchurch question such a fact? Well, the thing is, McGoldrick genuinely knows her cricket.
Asked if she's ever been known to be wrong about her Wisden Cricket Almanack-type nous: "No, not too often. Depends who you ask. I am very much a purist of the game. I really do love it," says the long-time host of Sky TV's The Cricket Show.
"I was always at the cricket. Always. My brothers played, my mum managed people who played,
I kind of realised the game wasn't that bad so I enjoyed learning about it. Only downside was I didn't run the Jandal look as often as I should have so I ended up with pretty bad tan lines from the shoes and socks.
"It's the tradition, the history and the immense amount of pride when cricketers wear their whites and their blazers. I never got to experience real camaraderie in a team sport and that's what appeals."
It's clear McGoldrick possesses her own sporting prowess, herself a bit of an all-rounder.
Her petite physique is seriously fit - she runs (today she competes in the adidas Auckland Marathon), she boxes, she dances and she's learning how to play golf "on camera", part of her duties as host of ANZ Golf World, a gig she took over when long-time host Phil Leishman died in February.
"It was a huge honour to be asked to do the show, considering the legacy Phil created. He had talked to me about it before he got really sick. I go to places to film now, like Gulf Harbour, and I seriously feel his presence because I know he spent so much time there."
Yes, there's a strong connection to Leishman. He was her godfather and McGoldrick, even as the smallest of girls, would niggle at him about how to do television.
"A great mentor in life. From the outset, all I wanted to do was entertain and he could see that. Act, sing, dance, sport, it didn't - and still doesn't - matter what to me."
After leaving Rangi Ruru Girls' School in Christchurch, McGoldrick sought the bright stage lights of Auckland and did a year's stint at drama school. Then former New Zealand cricketer Chris Harris offered her a job in England, working for a charity cricket team.
"You know, old, rich Englishmen who fancied themselves as great cricketers but never made it. Our team would play against them and they liked to have a Kiwi or an Aussie run the shop."
When she returned, she did segments for the campaign Push Play, aimed at inspiring New Zealanders to become more active. It was a fun and quirky take on a waltz with then New Zealand fast bowler Shane Bond - "he should still be playing" - which saw McGoldrick catch the eye of a cricket producer from Sky.
"Who's that girl?" was the question, and the answer saw McGoldrick bumped right up the order and made co-host of The Cricket Show, alongside former New Zealand opening batsman Mark Richardson. "And it's all just gone along from there."
She's squirmy about the attention she receives from male fans. There's been many a "Marry Me Laura" sign go up in the crowds so a walk around the boundary ropes can be fraught with, shall we say, comments. "Yep, smile and wave, smile and wave. Enjoy ya chips, boys. It's part and parcel of the job."
One charming bloke, in the form of New Zealand opening batsman Martin Guptill, did ask McGoldrick to marry him and he was met with a resounding yes. The pair met during an interview for The Cricket Show and have been dating for a few years. Guptill recently proposed in Hawaii.
Days start early for McGoldrick. She climbed on board the Hauraki Breakfast crew with Martin Devlin in January so adheres to those crazy breakfast radio hours. Up at 4am, bed by 9pm. "There's no hands or facial expressions in radio either, so that's been an interesting medium to learn." The hours can tie in well with cricket. She laughs about going to the gym for the first session of day's play: "You can time the treadmill with test cricket. Start with the workout at 10.30, then home for lunch and an arvo of cricket."
She'll watch the game all through the night, not just the Black Caps, any team. Bumble (David Lloyd), Beefy (Sir Ian Botham) and Smithy (Ian Smith) are her favourite cricket commentators and this aspiring broadcaster confesses to a few secret, microphoned overs in her living room. "If I'm by myself, yeah, I'll commentate. How else am I going to get any better?" she protests.
There's a much-treasured black Chanel handbag she requested for her 21st birthday which doesn't make it out of the box often - "maybe the New Zealand cricket awards" - and while we're on the subject of fashion, McGoldrick pops up with the sportsperson she'd most like to meet: David Beckham.
"I respect what he did in his sport. He is so cute with his daughter and I'd get to meet a Spice Girl. I was a big Spice Girl fan."
And it's not only pop royalty that appeals, McGoldrick is a self-confessed royalist. "I'd wait at the airport if William, Kate and George came. I love it. Me, Mum and Nana. I am big on it. I have shots of me standing beside Diana's dresses at Althorp House, my favourite is the foxy Versace she came out in, with the sapphire, just after the divorce from Charles, it was like ... Camilla who?" She's even afraid to list her top three movies, just in case the recently released Diana makes the grade. Nonetheless it goes Wedding Crashers, Mama Mia and Titanic.
Auckland is home for now, "just for work," she says, as though saying it out loud might seep an inch of the Cantabrian out of her. Family ties to Christchurch are strong. She gets telling-off texts from her grandma down there. "Don't you ever throw a golf club on the golf course again."
There's a firm assumption her mother would disown her if she got a tattoo "and what about when they go wrinkly, just eewww" and the fact she sits with her brother on the couch for days on end to watch golf's calendar highlight, The Masters.
As the thrilling aspect of the West Indies and Indian cricket teams touring here this summer are bounced around the room - "Chris Gayle, coolest man in cricket, wears more jewellery than I do," - there's a collective body bounce to the much-used jingle "I don't like cricket, oh no, I love it ..." So, who sang that song? Hang on, it looks like McGoldrick is stumped. "Oooh, ooohhh, I know, I know," but after three guesses, she's out. Ask her again though and she'll have remembered. You can be sure of that.
[English band 10cc sang Dreadlock Holiday, with the infamous "I don't like cricket," lyrics].
The Cricket Show screens Saturday nights on SKY Sport. See skytv.co.nz for details.