Emmy-winning former Seinfeld star, Julia Louis-Dreyfus, is finally making heading into movies in a role opposite the late James Gandolfini. She talks to Kaleem Aftab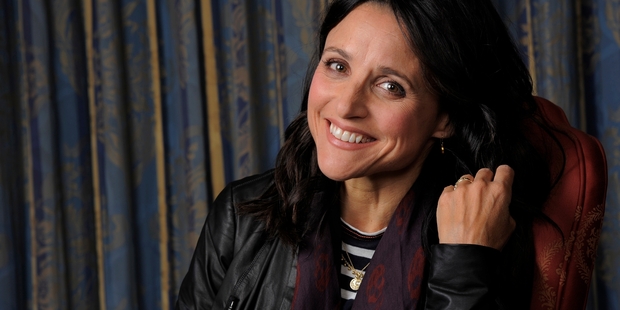 Julia Louis-Dreyfus is remarkable in so many ways that it's difficult to know where to start: the nine years on Seinfeld; her brilliant performance as a vice-president on hit TV series Veep; her record-breaking number of Emmy nominations (and four wins, the latest last month); then there's the fact that, at 52, she is breaking all preconceived notions about the career trajectories of actresses by landing her first major cinematic leading role in Enough Said.
But, if you asked her, none of the above would compare to the experience of raising two sons for the best part of two decades.
She's infectious. Within minutes of arriving in a Toronto hotel room, she has me hanging on her every word. In Nicole Holofcener's Enough Said she plays single mother Eva, a massage therapist whose daughter is about to leave their LA nest for university. At a party she meets Albert - James Gandolfini in his last role - who is also divorced, and, separately, Marianne (Catherine Keener).
When she starts dating Albert, she discovers Marianne is his ex-wife.
Holofcener is well-versed in making films with strong female characters, yet the timing of Gandolfini's death meant it was the male star who grabbed production headlines. Holofcener says the film was already completed when the Sopranos star died on June 19 in Italy, but he had not seen it.
Louis-Dreyfus was driving on the freeway in LA when she heard about the death of her co-star. She says about her screen love interest: "I think he was a bit reticent [about starring in Enough Said] at first, not because he didn't want to do comedy, but he definitely felt undeserving of the part, which is ridiculous. He would make jokes with Nicole, saying, 'Feel free to call Clooney if you want! What am I doing getting the girl?' But that made him ever-more loveable and the character was very close to who he was."
Having got through the difficult discussion on her recently deceased co-star, attention returns to her performance. She cracks a joke that she is similar to Eva, because they have the same yoga pants, before getting more serious. "My children are now 21 and 16 and when we made the film I had just gone through the landmark moment in my family's life of taking our eldest son to college."
How did she react? "I cried a lot and I cried in anticipation," she reveals. "You find yourself doing really weird things. There is a kind of denial that sets in that is bizarre. Both my sons go to the same school, went to the same school, and when they sent me the bill for tuition for one son, I was thinking, 'I haven't got the bill for my other son' - I kept on waiting, because I didn't want to write two cheques, and it's only when I picked up the phone to say, 'hey, I haven't got it' that I realised that I'm not going to get it."
What experience has taught her about parenting is: "It's just a series of separations. First they sit up, then they crawl and then they walk out of the room. It's a metaphor in a way."
She is the daughter of French billionaire businessman Gerard Louis-Dreyfus, and her mother Judith was a writer and special needs tutor. They divorced when Louis-Dreyfus was young. Her stepfather was a Project Hope doctor who would move the family around the globe, to Sri Lanka, Columbia and Tunisia. On her upbringing, she just says, "I was born in New York City and moved to Washington DC aged 8."
Her move to LA was not meant to be permanent. "I went kicking and screaming to Los Angeles. I moved to Los Angeles in 1986 because I wasn't getting work in New York - I was getting some work, but there was more work to be found in Los Angeles at the time. I remember saying to my boyfriend, who later became my husband [producer Brad Hall], 'Okay, I'll move here, but not permanently - and I'm definitely not raising kids here!' I think the joke's on me."
Yet there have been other aspects of her life that she has been more in control of, particularly the balance between her work and home life. She explains away the lack of movie roles by stating, "To be honest, I haven't been really seeking that much work in cinema because I was doing so much work in television that was demanding on my schedule nine months of the year. When I would have downtime I wanted to be at home because I had both my boys during the Seinfeld run, so my time was precious to me, and the idea of running off to do a movie, although appealing on one level, was untenable. So now I'm doing Veep, which is 10 episodes a year, my calendar has opened up."
She won her fourth personal Emmy last month. It was her second win for Veep, which was created by The Thick of It scribe Armando Iannucci and has the actor playing a frustrated US vice-president who laments missing out on the top job.
The second season has screened in the New Zealand and a third has already been commissioned. It's clear she loves the part, and when I ask if she'd like it to run on for ever like Seinfeld, she retorts, "Seinfeld did not run for ever."
Yet despite the protestations, she suggests that it's nice this job seems to have a definite time limit. "Well, Seinfeld went on for nine years. I don't think you can be vice president for nine years."
Comedy is her metier. She's an alumnus of Saturday Night Live, that great American school for humourists, appearing in 59 episodes between 1982-85. Her first major TV role was on Day by Day playing the materialistic, childless neighbour Eileen Swift. The 1990s were largely taken up by playing Elaine Benes, the best friend and sometime-ex of Jerry Seinfeld. It took some years for her to shake the Seinfeld legacy, but she did so with a bang in 2006, producing and starring in five series of The New Adventures of Old Christine, playing a neurotic gym-owning single mother. To many she'll forever be Elaine from Seinfeld. But to Louis-Dreyfus it's ancient history.
When she accidentally catches repeats of the show while channel surfing she thinks, 'Oh God, that was a long time ago'. "That is my reaction. It's like looking at a high-school yearbook."
Who: Julia Louis-Dreyfus
What: Enough Said
When: At cinemas on November 28
Follow @nzherald_ent on Twitter for all the latest entertainment news.
- TimeOut / Independent