After a tumultuous few years that included a hiatus, Nine Inch Nails return with a new album and a fresh determination. Chris Schulz talks to Trent Reznor.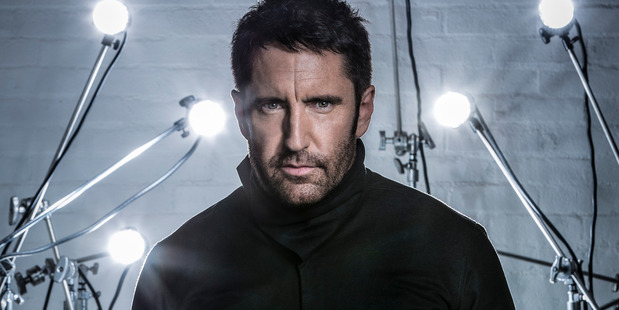 You expect Trent Reznor to be intense. After all, this is the guy who wears clothes in various shades of black, launches regular attacks on the music industry and has been awkwardly open about the "terrible addictions" that nearly killed him after an overdose in 2000.
The 48-year-old Nine Inch Nails frontman still has occasional moments like that - he recently told Soundwave promoter A.J. Maddah that his bill "sucked" after a Twitter spat erupted between the two.
But there's a new, mellower side to the married father-of-two. A prickly interview subject in the past, Reznor now laughs regularly, tosses in wry asides about his age and jokes of fans turning up to his current tour: "It's not quite the Eagles' audience just yet."
Nine Inch Nails becoming a nostalgia act is, Reznor admits, his "biggest fear". But he even manages to joke about that.
"I know it has to happen at some point," he tells TimeOut down the phone, midway through an American tour. "But [it's not yet] about, 'Let's go see Nine Inch Nails because I loved them when I was in college - let's wear Hellraiser outfits.' When that moment comes I've gotta not be on stage - hold me to that please," he laughs.
Perhaps the best sign of Reznor's relaxed attitude is his upcoming New Zealand tour with Queens of the Stone Age, a two-date trek in March with shows in Christchurch and Auckland.
Each night the headliner will be decided by the toss of a coin - a game of chance the Reznor of old would have baulked at.
"I just read about that today," Reznor says. "I have no preference - the coin toss is a pretty funny one, so I'm up for it. I think the idea of playing with Queens, sharing the bill, is wildly exciting. They're one of my favourite bands in the world. I'm just looking forward to seeing them every night."
Last time Nails performed here in 2009, it was an intensely claustrophobic, fiery show that ended abruptly without an encore. Reznor isn't sure what kind of set Nails will perform this time around.
"We just did a festival run ... that felt greatest hits-ish/aggressive-ish. But we're in the middle of a tour in the US that has quite a different flavour. It's a fair amount of familiar songs and a lot of new album stuff and it's more of a challenging, fan-driven kind of set. That's really exciting to me right now, so we'll just see how that plays out and make a decision about what feels right to bring down to you guys.
"I'm also mindful not to try to be the self-invoking guy that bums everybody out with the new album that they don't want to hear ... You have my word it will be the best it can be."
Listen to excerpts from TimeOut's interview with Trent Reznor:

After Reznor pulled the plug on Nine Inch Nails in 2009, this is a tour many thought would never happen. Reznor seemed content spending his downtime starting a family, crafting the Oscar-winning soundtrack for The Social Network and working with his wife on so-so side-project How to Destroy Angels.
So it was a surprise to see Reznor cement Nails' return with this year's new album Hesitation Marks - a solid return to form that contains occasional moments of abrasion but seems positively upbeat compared to his brutally bleak output in the 90s.
Hesitation Marks still has the Nails feel of old, but it's backed by an electronic soundscape and includes the upbeat pop-punk of Everything, the Timbaland bump and grind of Satellite, and a bizarre trumpet breakdown in Black Noise.
Reznor admits he was surprised by how accepting fans were of Nails' new incarnation.
"Hesitation Marks feels much less like a victory lap and more like a new seed in the garden," he says. "It feels inspiring to me - it doesn't feel like I'm just trying to rehash stuff I've done better in the past when it meant more.
"I was surprised how aware people were of it. It felt bigger, more momentous, than the past few things I've done. For the most part, the spirit of reinvention and looking forward versus looking backwards was picked up on.
"I don't see rioting in the streets or uproar. That feels pretty good to me."
When he called time on Nails, Reznor says he was sick of being stuck on what he calls the "treadmill" of making an album, touring it, then making another album.
The catalyst for the band's return was Reznor finishing the How to Destroy Angels' record and realising he wanted to be the "dictator" again.
"Nine Inch Nails is the hardest thing for me. It's more about me trying to be as truthful to how I am and what I have to say. I'm attempting to be as honest as I can be as an artist [while standing] in the middle of the stage that I created with this script that I wrote. But that can get exhausting and I can tire of that, which is what happened at the end of 2009. I wanted to play different roles ... and I was stuck at the top of a pyramid."
He believes the current line-up has three albums in it "before something bad happens".
"What I've tried to do is build something that's robust enough that it can stay exciting and not feel like it's locked into a play that you have to perform every night.
"When I said I didn't want to tour any more five years ago, it really was because there were things I wanted to try and never got around to trying because I was always doing a record and touring.
"I wished Nails could do a few more things, and what I've built now can do a few more things."
When it comes to the song Satellite, which Reznor describes as "the offspring of New Order, Joy Division and the Cure", he says he debated its inclusion until the last minute.
He decided that, if it made him feel uneasy, it was a good reason to do it.
"It'd be easier not to have it on there. This is why it needs to be on there. I never want to feel too comfortable and get relaxed.
"I feel like I need to push myself and I feel a real wave of creativity that's set in for the last 10 years really that comes from being sober. I'm aware of how finite time is, how finite my career could be. I appreciate it more than I did in the past. I quit f***ing around."
What: Nine Inch Nails, Queens of the Stone Age with Brody Dalle
Where: March 19, Vector Arena, Auckland; March 22, CBS Canterbury Arena, Christchurch
Out now: Hesitation Marks, Nine Inch Nails' eighth studio album
Essential listening: The Downward Spiral (1994), The Fragile (1999), With Teeth (2005), Year Zero (2007)
Follow @nzherald_ent on Twitter for all the latest entertainment news.
- TimeOut