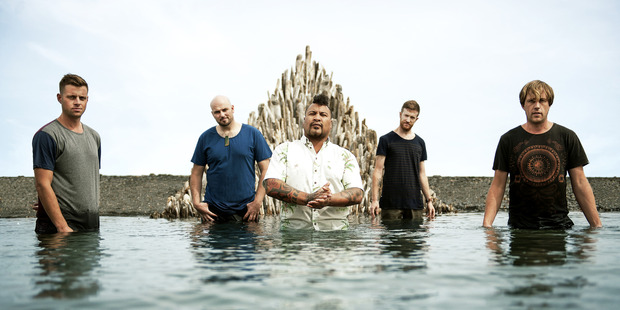 Shapeshifter have scored six nominations at this year's New Zealand Music Awards.
The nominees for this years New Zealand Music Awards have been announced at a ceremony at the Pullman Hotel in Auckland this evening, along with the recipient of this year's NZ Herald Legacy Award, Shona Laing, who will be inducted into the NZ Music Hall of Fame.
Shapeshifter and Aaradhna lead the nominees list, with Shapeshifter up for six awards, and Aaradhna up for five.
But Ruban Nielson's band Unknown Mortal Orchestra has four nominations, as does Lorde, and The Phoenix Foundation and Fat Freddy's Drop are up for three further awards each on top of the technical awards they picked up this evening, so at this point it's hard to say who will have the best chances on November 21, when the final awards ceremony takes place at Vector Arena.
Lorde's debut album Pure Heroine was released after the cut off date for this years awards, so she is nominated for Best Single, Breakthrough Artists, Best Video and People's Choice awards, but will have to wait until next year to be eligible for the album categories.
Lorde will however be performing at the awards, along with Aaradhna, Titanium, Jamie McDell, Iva Lamkum, and awards co-host Jamie McDell. Plus there will be a tribute performance for Shona Laing from Ruby Frost. The event is open to the public and tickets will be $25, available through Ticketmaster.
The announcement that Shona Laing would be this year's Legacy Award winner, and the first female to receive it, was met with resounding approval. Her four decade career, which included hits such as 1905, Drive Baby Drive, and Glad I'm Not A Kennedy, make her a worthy recipient, and she'll be celebrated at the November 21 ceremony also.
Also presented last night were the winners in three technical NZ Music Award categories, and the finalists for the annual Critics Choice Prize were also announced.
Lee Prebble, Brett Stanton, and The Phoenix Foundation were collectively awarded the trophies for Best Engineer and Best Producer for their work on The Pheonix Foundation's fifth album Fandango, while Gina Kiel and Harry A'Court were awarded the trophy for Best Album Cover for their work on the Fat Freddy's Drop album Blackbird.
The three finalist spots for the Critics Choice Award, which is chosen by a panel of critics, and earns the winner a $10,000 NZ On Air grant, were given to solo RnB act Janine and the Mixtape, indie rock four-piece Paquin, and solo multi-instrumentalist project Sheep, Dog & Wolf. They will each perform a set at the Kings Arms on Wednesday November 6 to determine who will win the prize.

THE FULL LIST OF NOMINEES:
Mentos Album of the Year
Aaradhna - Treble & Reverb
Fat Freddy's Drop - Blackbird
Shapeshifter - Delta
The Phoenix Foundation - Fandango
Unknown Mortal Orchestra - II
Vodafone Single of the Year
Aaradhna - Wake Up
Lorde - Royals
Shapeshifter - In Colour
Stan Walker - Take It Easy
Unknown Mortal Orchestra - So Good At Being In Trouble
Steinlager Pure Best Group
Fat Freddy's Drop - Blackbird
Shapeshifter - Delta
The Phoenix Foundation - Fandango
Spotify Best Male Solo Artist
Lawrence Arabia - The Sparrow
Unknown Mortal Orchestra - II
Willy Moon - Here's Willy Moon
Spotify Best Female Solo Artist
Aaradhna - Treble & Reverb
Iva Lamkum - Black Eagle
Jamie McDell - Six Strings and a Sailboat
Westpac Hotpoints Breakthrough Artist of the Year
Jamie McDell - Six Strings and a Sailboat
Lorde - The Love Club EP
Willy Moon - Here's Willy Moon
Best Rock Album
Beastwars - Blood Becomes Fire
The Datsuns - Death Rattle Boogie
Villainy - Mode. Set. Clear.
The Edge Best Pop Album
AnikaBoh&Hollie - Peace of Mind
Jamie McDell - Six Strings and a Sailboat
KidsOf88 - Modern Love
Best Alternative Album
Lawrence Arabia - The Sparrow
The Phoenix Foundation - Fandango
Unknown Mortal Orchestra - II
Best Urban/Hip Hop Album
@Peace - Girl Songs
Aaradhna - Treble & Reverb
P-Money - Gratitude
Best Roots Album
Fat Freddy's Drop - Blackbird
Latinaotearoa - Sondido de Latinaotearoa
Soljah - Aotearoa
Best Electronica Album
K+LAB - Space Dirt
Shapeshifter - Delta
Sola Rosa - Low and Behold, High and Beyond
NZ On Air Best Music Video
Joel Kefali - Royals (Lorde)
Nick Dwyer - In Colour (Shapeshifter)
Thunderlips - Frankenstein (Randa)
Numa Trust Best Maori Album
Kirsten Te Rito - Te Rito
Maisey Rika - Whitiora
Ngatapa Black - I Muri Ahiahi
Best Gospel/Christian Album
Edge Kingsland - Edge Vol.2: Due North
Go Stop Go - Go Stop Go
Strahan - Posters
Best Classical Album
Gillian Whitehead - Arapatiki
Helen Webby - Pluck
Michael Houstoun - Lilburn
Vodafone People's Choice Award
Shapeshifter
Aaradhna
Lorde
Stan Walker
Titanium
Critics' choice finalists
Sheep, Dog & Wolf
Janine and the Mixtape
Paquin
TECHNICAL AWARD WINNERS:
Best Album Cover: Gina Kiel & Harry A'Court - Blackbird (Fat Freddy's Drop)
Best Producer: The Phoenix Foundation/Lee Prebble/Brett Stanton - Fandango (The Phoenix Foundation)
Best Engineer: Brett Stanton/Lee Prebble/The Phoenix Foundation - 'Fandango' (The Phoenix Foundation)
NZ HERALD LEGACY AWARD
Shona Laing