The role of a strong, stroppy older lesbian in Cloudburst was a gift for 82-year-old Olympia Dukakis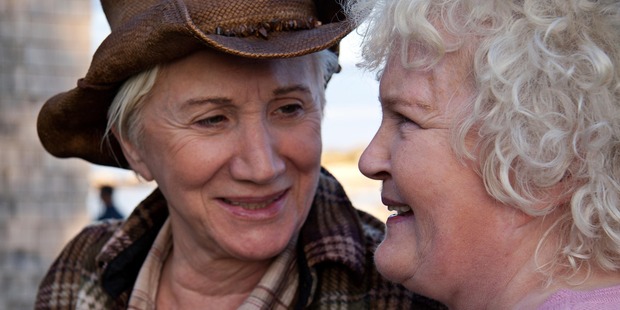 Cher may have been the star of Moonstruck, but Olympia Dukakis was its beating heart. Her soulful and heartfelt performance as Rose Castorini, the mother of Cher's Loretta, earned her the 1987 Oscar and Golden Globe for best supporting actress.
Her energy apparently undimmed in her 80s, Dukakis stars opposite Irish actress Brenda Fricker (also an Oscar-winner in 1990 for My Left Foot) in Cloudburst, which opens in cinemas next week.
They play Stella and Dotty, a lesbian couple from Maine who have been together for 30 years and who drive to Canada to get married, to head off Dotty's daughter's scheme to put her in a nursing home. (Same-sex marriage, outlawed in Maine when the film was written, became legal on December 29 last year).
Dukakis is a revelation in the role - profane, curmudgeonly, tough as nails and utterly in love with Dotty. It would have suited any older actress' hunger for a decent part, but the politics were also important to a woman who comes from an impeccably liberal background: her cousin is Michael Dukakis, the Democratic presidential nominee in 1988, who lost to George Bush senior.
(In 2008, he told a television interviewer that he "owed the American people an apology" because "if I had beaten the old man, we never would have heard of the kid, and we wouldn't be in this mess".)
When TimeOut called Olympia Dukakis at home last week she was just about to head off for a three-week shoot of another film.
Q: Sounds like you're busy.
A: I keep pretty busy. This summer I did [Brecht's] Mother Courage at Shakespeare & Company [a highly regarded theatre company in Massachusetts]. I keep my oar in, as they say. I like keeping busy - but not too busy, you know. I like to do plays. Movies are hard because in this country, parts for older women, if they are any good they usually go to English actresses. We are inundated by that.
Q: So you must have seen this role as a gift.
A: It's a fabulous role. Most characters in movies of that age are either neurotic or welded to their grandchildren. This character is terrific. Stella is really confrontational and she's got a real mouth on her.
Q: She certainly does. How did you feel about dealing with some of those lines which were - shall we say, not the kind of words you expect from an 80-year-old woman?
A: They were great. They're not really the kind of things you say in polite company but I got right into it, and came up with a lot of stuff myself.
Q: So was the character more important to you than the wider politics about gay and lesbian marriage?
A: No, the politics was important to me, too. The politics is very timely. Older lesbians, like older gay men, came from a time when they felt really shunned and degraded. They were not welcome into life - they were not supposed to be part of life. So the younger lesbians don't really know about that. Here they are now, they can actually get married [in 10 of the 50 states]. There are many parts of the country here where it's not legal - it's such a mess here, such a mess. It's been passed by the Supreme Court but the Governor of New Jersey wants to outlaw it, even though the court has said that it is not constitutional [to do so].
It's just political showboating, like what's been going on with the shutdown.
Q: The film has not had a very wide release in the US. It has been confined to film festivals, mainly gay and lesbian film festivals. How do you feel about that?
A: Don't get me started. The producer put money into the film and then didn't want to sell it to any distributors. They sold it to [woman-skewed cable TV channel] Lifetime who cleaned it up - we weren't going to do it or help them do it - and then they showed it at 11 at night and 3 in the morning.
Q: It is reminiscent of the fate of the Liberace biopic Behind the Candelabra, which was made by and shown on HBO because the studios thought it was "too gay". Do you think that, 20 years after Tom Hanks played a gay man with Aids in Philadelphia, the pendulum is swinging back to a new conservatism?
A: I don't know. It's a specific group of people, I think. It's playing in major theatres in Australia. It's been very successful in Canada and in festivals. I don't feel like we're going backwards. Everything is moving us forward.
It's just a fight, tooth and nail, for everything. I'm just glad I was able to be part of it.