Tom Verlaine of vintage New York art-rock outfit Television talks to Russell Baillie about the band, coming to New Zealand this month for the first time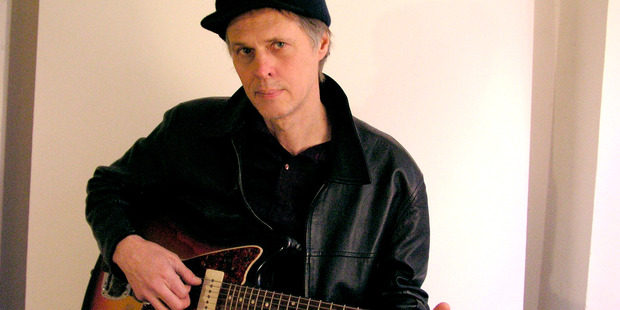 Underground rock legends don't come much more subterranean or legendary than Tom Verlaine. He was ... well, is the singer-guitarist in Television, the influential New York band whose 1977 debut, Marquee Moon, is one of the great rock guitar albums.
The record endures possibly because its expansive, twitchy songs don't do the usual rock guitar things and its bone-dry production makes it hard to place in any particular period.
On that album Verlaine and fellow guitarist Richard Lloyd played swirling counterpoint solos that were often longer than an entire song by supposed contemporaries such as the Ramones.
Verlaine, who was born Thomas Miller before taking on the French symbolist pseudonym, sang like an introverted Mick Jagger, his lyrics a scattering of images, highbrow jokes ("I fell right into the arms of Venus de Milo ...") and shadowy noir.
All of which helped make Television the arty odd-men-out of New York's punk/New Wave era, a scene hardly short of eccentrics.
But, unlike Blondie or Talking Heads, with whom they shared the stage at Lower Manhattan rock venue CBGBs, they didn't go on to bigger things. CBGBs, which finally closed in 2006, is now getting a revival of sorts in a movie depicting the club's 70s heyday, which is released in the US this week.
Debbie Harry, Patti Smith, Iggy Pop and Joey Ramone are all portrayed in the film, but Television are relegated to one song on the soundtrack. You suspect Verlaine - who told the New York Times in 2006 his epigram should be: "Struggling not to have a professional career" - wouldn't have it any other way. He reminds that he and his bandmates had a profound influence on the famous venue - they insisted the stage be shifted up one end of the room, away from the bar in the middle.
On the phone from his New York apartment, Verlaine, now 63, offers a dry chuckle when asked if it was actually as cool to be a part of those early CBGB years as rock history and the movie might suggest.
"You know, I have no idea. I mean, to us it was the only place we could get a show ... the other clubs, you would walk in and say 'Can we audition?' and they would say 'do you have a record label?' You'd say no, and they would say 'actually the labels pay for the ads in the papers, so we really need someone to pay for ads'. So we stumbled on that place. It was great, here's a place we can actually play and it wasn't far from where we lived. We all lived a 15-minute walk away from the place."
Sad to see it go?
"Not really ..."
Still, Verlaine is embracing his past. The Television of himself, Lloyd, drummer Billy Ficca and bassist Fred Smith split after 1978 second album Adventure. They re-formed to release a self-titled reunion album in 1992.
In the past decade they have been playing together occasionally, though Lloyd - with whom Verlaine often knocked heads - left for good in 2007. But now Television - with Lloyd replaced by Jimmy Rip, a seasoned session player who first played with Verlaine in his 1980s solo years - is coming to New Zealand to play for the first time. Which for fans, especially those of us who would have Marquee Moon as a desert island disc, will be the rock nostalgia trip of many a year.
Some of their Australian shows have the band in play-the-classic-album mode. But in Auckland Verlaine says they will be mixing up songs from all over the band's haphazard history.
He doesn't mind staying faithful to the originals, however much the temptation has been to take those solos into a different orbit.
"We could do things for us that might be more fun. But when it comes down to it, it's not really fair to play cover versions of our own songs. I thought we should get these right and especially get the tempos right because it's really crucial with those tunes, it's really easy to play them too fast.
"When I listened to the record this year I thought we've been playing See No Evil too fast for a couple of years, and slowing it down the slightest bit is what that record had. It's much, much better. You can hear each part better. We try to play them like the record. The solos aren't like the record always but ... it actually feels better to get that right rather than it does messing around with it too much."
See No Evil, which is Marquee Moon's opening track, has been here before - Blondie, whose Chris Stein almost became a member of Television precursor the Neon Boys, covered it at the Civic 10 years ago, a fact that mildly alarms Verlaine when he's told.
"What? Really? They must have got a good guitar player."
Well, you didn't let Chris Stein into your band ...
"No, he didn't think we were commercial enough."
Funnily enough, he was right. ..
"Well, yeah. But Debbie is the real genius in that band. She has a really cool voice ..."
Verlaine could write a book about his adventures in the business of rock 'n' roll and he's had offers to do just that. Going out solo in the 80s, he bounced from major label to major label while putting out a steady stream of underappreciated albums. "That was kind of the nightmare years. It was all a lot of nasty, sleazy stuff."
He had a further unhappy time after signing to US indie label Thrill Jockey to record again in 2006. It turns out the label didn't have much sway in Europe where it seems much of Verlaine's loyal cult following resides.
Although his guitar-playing has been regarded as cinematic he's barely ventured into soundtracks, preferring esoteric projects such as live performances accompanying avant-garde silent experimental films by the likes of Man Ray.
He's also been a occasional collaborator. Most famously, he was producing sessions for Jeff Buckley when the singer-songwriter drowned in 1997. They had met the previous year when both were guesting on an album by Patti Smith, Verlaine's one-time girlfriend. She once described his playing: "Tom plays guitar like a thousand bluebirds screaming."
Verlaine, though, acknowledges his approach to the guitar has long been unconventional. He says part of it was having switched from piano and saxophone and translating his classical and jazz instincts from those instruments to the fretboard.
It also had something to do with the instruments and amplifiers he preferred back then - cheap surf-rock guitars such as Fender Jazzmasters and Jaguars plugged into smaller clean-toned amps and speakers, rather than fuzz monster Marshall stacks.
"To this day I can't play a Beatles song, I can't play a Jimi Hendrix solo. I can't play any of that stuff. I can play a blues song but I can't really play any blues licks. I know what they are but I never find myself playing them. I think if there is a difference that might be one of [them]. Because so many guitarists come to guitar playing along to their favourite records."
These days, the likes of Marquee Moon and its epic 10-minute-plus epic title track has become one of those tracks for aspiring guitarists to get to grips with. That's something that Verlaine finds both curious and heartening.
"It is odd. This guy just sent me a link to a really young band - they must be somewhere between 18 and 20 - doing a version of Marquee Moon, with a girl singer. The vocals are really odd. They are really impressive because they have learned these parts really well. There is something super-energetic about it. It was kind on inspiring to see it ... it was charming."
Who: Tom Verlaine of Television
Where and when: Powerstation, Auckland, Thursday, October 24