Yep, there's something about Harry. Our 30-something mum and media maven Jaquie Brown admits a secret crush on boy band One Direction.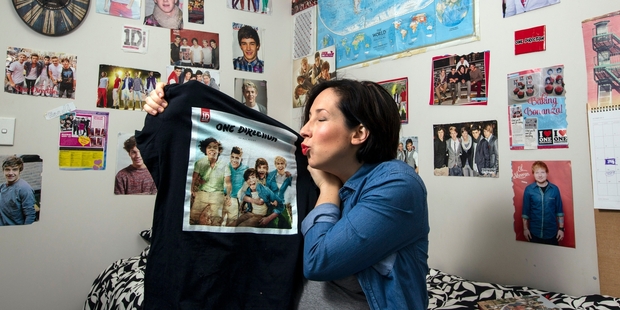 I have a secret shame. I love the UK boy-band One Direction. There. Said it. It's out.
Mind you, It's not a shame, it's a celebration! I love those five hot young lads. I'd give each of them the specific time of day, if you catch my drift. Especially that Harry Styles.
In my wild imagination I'm running my fingers through his glossy curls as we snuggle on a rug sipping some kind of hot beverage and laughing about the weather or puppies. Oh I'm so dirty.
It's not that I'm completely obsessed. I can walk past a poster of them and not squeal ... most of the time. And when left alone with pictures of them I most certainly do not kiss them or rub them upon my person. (I've learned from experience that the ink stains).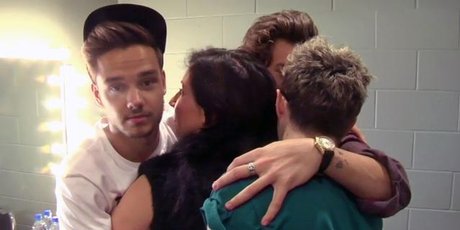 None of my friends can understand my love of One Direction, they think I've lost the plot. Perhaps I have. I did find myself at their movie This Is Us leaning forward and asking the young girls seated in front of me if they were going to the concert.
When they told me they weren't because sadly they couldn't get tickets in time, I took great pleasure in telling them I was going and I was also going to be meeting them. I actually gloated, to some 12-year-olds. Who am I?
But I can't lie to you, I've felt these feelings before. I was 10 when I entered into a passionate and one-sided romance with all of the members of American boy-band New Kids on The Block. My bedroom walls were plastered with posters of them, their eyes would follow me around the room and watch me get into my pyjamas every night. Stop looking Jordan! No, don't.
I cried at their concert and threw a pair of my knickers at them because that's what I'd read you were meant to do. It didn't matter that they were cotton and had a picture of a toadstool on the front, or that I was 278 rows back so they just ended up hitting the ear of the chaperoning dad ahead of me. I was there, in the same stadium as them. We were breathing the same air!
It was natural to fall for boy bands when you were a 10-year-old. It was a rite of passage. The only problem I seem to have now is that boys in boy bands have stayed the same age while I, on the other hand, have continued to get older. I'm well aware that the maths is all out of whack on this one.
I sound like an anomaly in my love of One Direction don't I? A lone swimmer fighting my way upstream against the surging teenaged waters. A weirdo, over-aged fan-freak. But no, I am not alone. I was reassured to read in an article from the UK's Daily Mail that 46 per cent of British One D fans are 36 and above, and 15 per cent of them are over 55! Yes, I will have that One Direction lunch box and beach towel for Christmas please Santa.
So who are they and why are they like catnip to so many?
Here is the obligatory blurb for you fact hunters.
The boys were initially individual contestants on the UK X Factor in 2010. Clever old Simon Cowell sensed that if they formed a group their sound would be able to heal sick animals and mend broken bones from 50 feet away (Read: will make him millions of dollars). So he did just that. But despite their popularity on the show, they didn't win X Factor instead coming 3rd. But, from the show they had an already made fan base and through the sheer unwavering lust of of those hormonal teenaged fans and the power of Twitter, within a few months the lads were famous around the world before they'd even released a single. Unheard of.
It helps that they can actually sing (regardless of who wrote the songs) and it certainly doesn't hurt that they all are stupidly ridiculously I can't look-at-you-too-long-or-my-pants-will-melt good-looking.
To the younger fans each member of 1D is the boyfriend they hope to have one day. That's standard. To the older fans it's nostalgia, perhaps the boys remind them of boyfriends they used to have, or make them think about who their own sons might grow up to be. But blah blah blah Jaquie Brown, stop over thinking it. What are they like? Yes back to that little thing. Meeting them!
I wade through the heaving crowds of (actually already crying) girls outside the Arena and am ushered into a tiny room where Niall, Liam and Harry are waiting. Waiting for me!
I launch into my first question: "Guys we only have 10 minutes, I'm sure you're sick of questions by now so here are your options. We can either do this interview, or we can cuddle."
It was a risk but they went for it and soon I found myself in a full-on cuddle with them. Our bodies were actually touching! What is happening to my life?
I try to focus. I tell them we're in the midst of electing a new mayor and what would they do if they were mayors of Auckland. We decide, as a group, to pump One D music into every lift in Auckland, put waterslides down Queen St and thanks to Niall, a new maternity wing, just for me as I am six months pregnant, bless.
The time evaporates, as does my line of questioning. It's a blur of talking about Liam's red knickers being stolen by a fan last week, remembering what life was like before they were famous (they can't remember) and me thinking I just cuddled One Direction.
The lasting impression I've left with is they are cheeky, charming and extremely polite, and handling fame well. You know what, guys? That's what makes you beautiful.