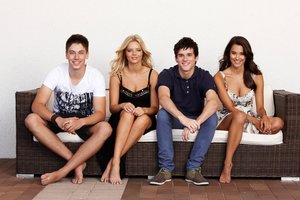 A storyline from the Aussie soap Home and Away has breached broadcasting standards.
The Broadcasting Standards Authority (BSA) has upheld the complaint against the episode, which was classified G and broadcast at 5.30pm on TV3 in April this year.
The storyline involved the date rape of a teenage girl and the authority upheld the complaint as that storyline went beyond what was acceptable for its rating and time slot.
"By its very nature, the concept of rape, and specifically the combination of sex and violence, is highly disturbing, likely to cause alarm and distress for viewers of all ages and therefore unsuitable for children and inconsistent with the G classification.''
The BSA said the show should have been preceded by a warning, however no penalty was imposed as the show had shifted channels and TV3 had accepted the decision drew a clear line for what was acceptable for a G-rated programmes.
The BSA has also ruled on a complaint about a Close Up item based on a school newsletter objecting to gay marriage.
The complaint was made by Pompallier Catholic College - who the Close Up piece was focused on.
Close Up claimed the principal suspended a teacher and students who opposed the comments in the newsletter were ``threatened''.
The college said the item was unfair because it suggested the teacher was suspended merely for holding a different opinion to the principal, and said it was inaccurate to claim students were threatened.
The school said they told the show's producers prior to the show airing that they could not comment on the suspension or provide the suspension letter for privacy reasons.
The BSA has since reviewed the suspension letter and said it was directly related to the teacher's support for students who opposed the principal's comments.
However, the authority said it was misleading and unfair not to make reference to additional reasons for the suspension like challenging the order and authority of the school.
"The failure to provide context around the reasons for his suspension created an unfair impression of the principal and the college.''
The BSA also found the item was misleading in stating unequivocally that students were threatened in relation to setting up a Facebook page.
The authority said while students may have perceived the principal's exercise of authority and his request to remove the Facebook page as threatening, it was clear from a guidance counsellor's report that the request to remove the page was not a threat.
The authority did not order for a statement or apology as the essence of the story was reflected in extensive coverage by other media at the time and Close Up was no longer on air.
- APNZ