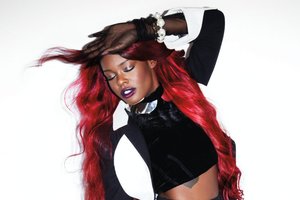 American rapper Azealia Banks has thrown another public tantrum, storming off stage just 90 seconds into her Melbourne show on Saturday night.
Fans are demanding refunds from the Listen Out Festival after Banks walked off stage. She was the headline act for the festival.
But YouTube footage showed Banks had every right to leave the stage after she had to defend herself from a can being thrown at her head.
The unpredictable pop star did the same thing in Sydney earlier in the week, stopping her show just 15 minutes into her set.
Previously at Splendour in the Grass in 2012, she played for only 25 minutes of her set. She then refused to take the stage for an Adelaide show for Future Music earlier in 2013, citing sound problems.
"Sorry to all the festival-goers in Melbourne !! See ya tomorrow in Brisbane," she tweeted minutes after vacating the stage at the Sidney Myer Music Bowl.
The Listen Up Festival also featured Disclosure, Duke Dumont, John Talbot and Rufus.
Banks has hit the headlines since her explicit debut single 212 captured proved a hit in 2011, but has failed to deliver her long-delayed debut album Broke With Expensive Tastes.
It is due for release in 2014.
- Noise11