Wealleans mines his layered colours to extraordinarily powerful effect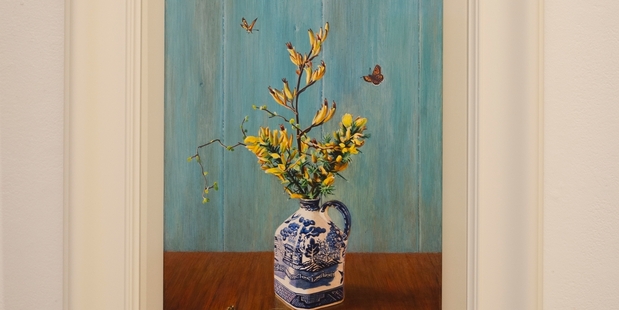 Rohan Wealleans' show at Ivan Anthony creates a world of his own. It is a world of paint, not a painted world.
For many years now he has poured layer on layer of paint and allowed it to set as a vivid system of strata. Then he has mined these layers to make or adorn his images.
This technique is now his familiar idiom but the variety of uses he explores has never been as extensive as the present show, Mindstorm. It ranges from minimalist geometric abstractions to the expressionist adornment of found objects to remarkable colour photographs of women in body paint wearing his special jewellery of paint.
The first found object encountered in the lobby is a canoe hung vertically on the wall. Its shape and the gaping maw of the paddler's seat suggest an exotic idol. The feeling is reinforced by the way the creamy white paint with which it has been covered is pitted with small excavations that reveal layers of colour with a core of brown at the centre.
It is an idol that has been re-painted by generation after generation as idols often are, but it is also battered by worship and time. This large work is matched by an even bigger piece in the next room.
This is an immense spider appropriately named Black Widow, with trails of white dots that approximate a web, and it rests on a chaotic territory of pieces of paint. Sometimes there are strips where each coloured layer is more than a centimetre thick. It is a vast menacing object.
Yet in the same room, little balls of paint crowded with tiny outcrops of paint are done with infinite care and mounted on trading cards. Each ball is surrounded by delicate petals and colour to match the subject of the card. There are nearly a dozen, each unique. The amount of work involved in their making is mind-boggling. The abstractions are made of small rectangles of paint like a mosaic but their surface is much more irregular than ceramic tiles. The colour combinations, notably in the blue and violet of Future Boogie Woogie with its hints of Mondrian's last paintings, are particularly effective.
It would not be a Wealleans show if there were not some effort to shock. His photographs, which occur throughout the show, are startling. They show two women: one naked and the other pregnant but partly clothed. Their body paint is vivid green and purple and body parts are loaded with the artist's special adornments. The effect is given extra piquancy by the poses, like Victorian portraits taken with a painting in the background. Props such as handsome daisies and hydrangeas sit in a lavatory bowl. The women are given speech balloons with almost nothing in them. Neither is any sense joyously revelling in the richness of the setting.
Whether the image or the technique dominates, a general feeling of unease pervades the show and underlies the invention and the splendour. That edgy feeling, too, is typically Wealleans.
There is very little that is uneasy in the paintings of Pamela Wolfe at Artis Gallery. Her work in recent exhibitions has concentrated on paintings of flowers - mostly roses spectacularly enlarged to emphasise their colour and form. This makes for paintings of great impact and charm. At times the colour is luscious, notably in the dark cream roses in Honour.
Generally in the past her flowers have loomed large against dark backgrounds but in this show the most arresting paintings are those with a clear light background. Several paintings have hints of the temporary nature of the beauty of flowers. Such a work is Blemish and, even more powerfully, Momento Mori.
Deepening the concept of a painting outwardly simple and visually charming is demonstrated in the work of Hamish Foote, who shares this exhibition. His works are small, detailed and painted with the precision of a botanical illustration.
Under their outward charm he addresses issues such as the introduction of plants that are outwardly attractive but, in our environment, noxious.
He makes the point about how much is introduced into New Zealand by putting plants into blue and white Chinese vases against a background of skilfully painted representations of matchlining and mahogany tables.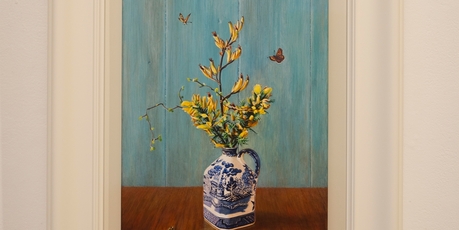 The paradox is beautifully illustrated in Habitation, by the golden beauty of gorse - a declared noxious weed - looking graceful in its Chinese vase alongside a monarch butterfly and a spiky weta. There are places where the gorse is protected because it provides a habitat for endangered weta.
These lovely accurate paintings successfully challenge traditional assumptions of what is good and bad about our native flora.
At the Melanie Roger Gallery Stanley Palmer paints coastal landscapes showing spectacular headlands reaching into the sea, notably on Great Mercury Island. Sea, sky and cliffs are very capably rendered. A close look shows that some have our own picturesque features on them in the remnants of the terracing of Maori pas where Europe would have a castle.
At the galleries
What: Mindstorm by Rohan Wealleans
Where and when: Ivan Anthony Gallery, cnr East St/Karangahape Rd, to October 19
TJ says: Wealleans uses his solid pieces of paint as mosaic and adornment in works of striking invention and power.
What: Inflorescence by Pamela Wolfe and Hamish Foote
Where and when: Artis Gallery, 280 Parnell Rd, to October 20
TJ says: Flowers painted on a large scale in rich colour are matched with small, deft paintings of New Zealand flora that explore paradoxes between introduced and native plants.
What: Recent paintings by Stanley Palmer
Where and when: Melanie Roger Gallery, 226 Jervois Rd, to October 19
TJ says: Stanley Palmer continues his usual style showing the strength of coastal landscapes. There is an accompanying exhibition of cast glass by Layla Walter.