Be it pop-up hospitality or local goodwill, we won hearts and minds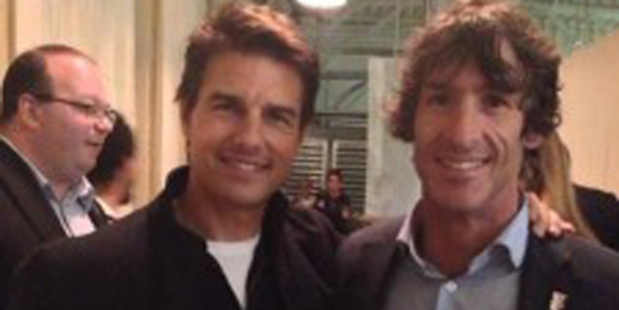 So, we lost the Auld Mug and failed to wipe the smirk off Larry Ellison's face (though, botox may be to blame) but we have plenty to crow about. We're proud of our team and our nation's effort. Here's 12 things we nailed in San Francisco.
1. Avoided capsizing
It could have been all over 12 days ago.
2. Making celebrity pals
We took Tom Cruise cruising and made him speechless. No easy feat. And he didn't jump on the tramp tarp like it was a couch.
3. Sightseeing
The Barkers (Dean, Mandy and the kids) biked across the Golden Gate bridge. TV3's Hilary Barry and Michelle Pickles turned to comfort eating at an American diner. MIKATE (Mike Hosking and wife Kate) hit the shops, and the cocktails, and a tiki tour around the city admiring the homes of the rich and famous.
4. Good sportsmanship
Dean, Dalts and the boys conducted themselves with dignity off the water. Not so Oracle skipper Jimmy Spithill, who took to Twitter to post the message, "There's no I in just beat the f*****s". The ginger whinger made few Kiwi friends.
5. Patriotic fervour
San Fran's been heaving with Kiwis showing their support. "Go New Zild" was the catchcry. But this week the disappointment was too much. Annabel Fay, daughter of 1987 team backer Sir Michael Fay, summed it up with a one-finger salute. The other side of the Pacific was awash in red sock fever, too. People talked "the Cup" EVERYWHERE. The country was spellbound for 21 days. Lounges, offices and RSAs were transfixed on the telly. Shed 10 was packed. Dave Dobbyn came with his trusty guitar to sing the unofficial theme song Loyal (a not-so-subtle musical ode to Russell Coutts et al who weren't). Our boys sailed on the water, but our job was willing them to win.
6. Martin Tasker trending on Twitter
Okay, so he had (self-diagnosed) laryngitis. And had been reporting from San Fran since July. But was that an excuse to turn curmudgeonly commentator? Twitter didn't think so. We preferred Tasky with a live mic and a blushed face. "I've got to do that Jewish woman," he was busted broadcasting when he didn't think he could be heard. He meant an interview with Israeli journo Shimrit Berman, but we sniggered like schoolboys.
7. Armchair experts
A gybe, a tack, a lay line - we know the terms now. We know foils and wing sails, too. And code zero, port entry, prestart, upwind leg, tidal relief, stable flight, and the frustrating time limits. Oh, those 40 bloody TV coverage minutes!
8. Bruising a billionaire
It became our favourite national hobby: taunting Larry Ellison, the botoxed billionaire bankroller of Oracle USA. Our David campaign against his Goliath coffers. We tagged his garage door in flags and duct tape. We chortled when he played the postponement card. We were chuffed when his team's cheating was exposed and penalised. We were proud when the local paper declared "Team NZ is a lot more San Francisco than Larry Ellison will ever be". His Ukrainian model girlfriend, Nikita Kahn (the namesake of his Malibu restaurant), has been tanning herself on board his megayacht Musashi, but we waved our flags knowing that he spent hundreds of millions of dollars and hubris to beat us.
9. Hospo tourism
Pop-up Kiwi eatery Waiheke Island Yacht Club won the tastebuds of locals in San Fran and have extended their licence until December. They've cooked 1.3 tonnes of Kiwi lamb. Tom Cruise, Jeremy Renner, Gavin Newsom and the Prince of Denmark have dined there. Alas, Oracle sailors, under lock and key, had no chance of getting a touch of "Suzie" toxin.
10. National priorities
The Prime Minister changed his programme to watch Team NZ race. He snubbed a meeting with Malta at the United Nations and stayed in his hotel room to tune into the yachting. A UN Security Council seat was on the line, but national pride was at stake.
11. Making Mallard AWOL
We don't know how much his publicly funded junket has cost us - yet - but on the bright side, Trevor Mallard was out of sight and lying low. David Cunliffe breathed a sigh of relief when wielding the demotion axe. And Tory MPs made more gags than John Key on a Manhattan street.
12. Being the small fry
Jimmy Spithill claimed little guy status in the news conferences because Oracle were fighting from behind, but Team NZ was the real underdog in this competition. A campaign scraped together from private donations, sponsorship funds and taxpayer dollars, and representing a nation of four million people with a GDP smaller than that of Colorado - against the fifth-richest man in the US. It was a battle of the budgets. "Like Ferrari versus Ford," said All Black coach Steve Hansen yesterday watching from Argentina. We made headlines and won hearts.
Smalley's show delayed
Newstalk newbie Rachel Smalley is in Beirut this week with World Vision talking to Syrian refugees. She's joined by New Zealand's Next Top Model judge and photographer Chris Sisarich. Smalley's show, Early Edition, has been delayed on Newstalk. "She will start at the station in a couple of weeks, and when she's ready the show will begin," chief content officer Dean Buchanan told The Diary.
But she'll have competition across the airwaves. RadioLive has responded with their own show in the 5am-6am timeslot, First@Five with James Coleman.
Meanwhile, TRN colleague Stacey Morrison, from Classic Hits breakfast, was unlikely to take a role on Seven Sharp, Buchanan said. "As far as I know there's no chance Stacey will do it. She's a mum of three kids and working both ends of the day is tough work. It's Ali Mau's show."
As to rumours that Martin Devlin is exiting Hauraki to make way for Fletch and Vaughan, Buchanan says: "That's pure rumour and speculation."
Hola from Argentina
Meanwhile, in other sporting news, the All Blacks (remember them?) are preparing to play the Pumas in Argentina. The team are going through their usual training ritual of pumping weights and tweeting selfies. Sam Cane and Julian Savea have taken to playing rugby league on PlayStation to beat jet lag, Beauden Barrett, who's been linked to a home renovator, snapped teammates jogging around a Buenos Aires park and Israel Dagg has been tweeting home ... in Spanish! Aaron Cruden, too, has been quick to adapt to the local culture. He chowed down on a meat platter the Mad Butcher would be proud of.
"Meat sweats are on the way." Try work sweats. National pride is at stake - again.
Stork talk
Simon Mannering wasn't the only new dad this week. Celebrity chef Simon Gault and his wife Katrina welcomed a daughter yesterday. And New Zealand's Got Talent judge Cris Judd and his wife Kelly celebrated the arrival of their baby girl, Vivienne Lee. The women's rags will be foaming at the mouth (and the wallet) over coverage.
KO before the ring
Mike Puru is out of the celebrity boxing match against Temuera Morrison. He got a hammering in a sparring session on Sunday, and on Wednesday announced he was out to the count with a fractured eye socket. A ring-in is yet to be selected. Contenders, step up.