What was meant to be a one-off project led to the formation of Scottish trio Chvrches, writes Lydia Jenkin.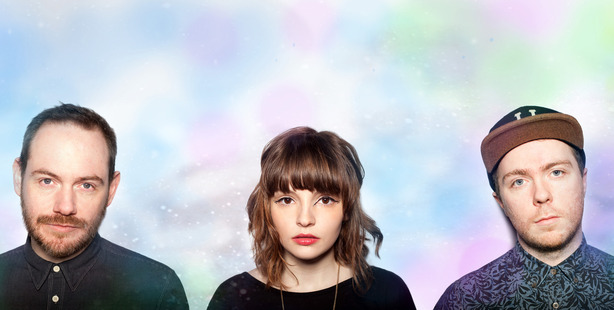 Interviewing a musician who previously worked as a freelance music journalist (and did her masters degree in journalism, with a dissertation about the portrayal of women in media) sounded like a slightly daunting prospect, initially.
But it turns out 25-year-old Lauren Mayberry, one-third of rising electro-pop trio Chvrches, is delightfully obliging and polite, sounding just the right combination of pretty and staunch, as her mellow Scottish brogue comes down the line.
"Being on the receiving end of interviews is kind of weird, because it's not a conversation. It feels quite self-absorbed to talk about yourself all day, but it's part of the gig, and I think we'd be complaining if no one ever wanted to talk to us."
The Glaswegian band, who have just released their debut album The Bones Of What You Believe, are halfway through an international tour, having found themselves in growing demand since they began posting songs online in May 2012.
"Playing in different places and getting to see and meet people who care about the band is awesome," Mayberry says enthusiastically, "because we're very aware that this is a band that was born on the internet.
"Before any labels or press or anyone wanted to talk to us, kids were finding stuff on the internet and passing it on to their friends, and that's why we eventually got signed. So it's great to be able to play shows for them."
Indeed, Mayberry and her bandmates, Iain Cook and Martin Doherty, weren't intending to start a new band when they first met up. They all had projects of their own on the go - Mayberry played keys and sang for Blue Sky Archives, Cook was playing with Aereogramme and a later incarnation, The Unwinding Hours, as well as composing for TV and film, and Doherty was playing keys for The Twilight Sad.
Then Mayberry turned up to help Cook and Doherty (who went to university together) with a demo, and the three liked the sound they created.
"We didn't sit down to make a band, and go, 'Right, you're the singer, you're the guitar player, you're the drummer", it was more like we all went in as three people who wanted to write together, and Iain had been collecting a lot of vintage analogue synths, so we started writing on those rather than the guitar. I think that kind of informed where the sound went after that."
That, and their mutual enjoyment of an array of 80s electro-pop heroes.
"We all love Cyndi Lauper and Whitney Houston, and things like that. But then we also all enjoy Depeche Mode and the Cocteau Twins, and bands like The Cure."
They temper this pop penchant with a harder edge, though - more doubtful than joyful, more sharp than pretty.
"What's important is that there is the light and the dark. Like a song that sounds sonically very upbeat can have a darker lyric, or perhaps more aggressive production; we never want it to be too cute. I'm not really in the business of writing 'la-la-love you' chart pop songs - I think for me it has to mean something, and if it's bit more raw or more punch-in-the-guts than would necessarily be associated with pop songs per se, I think that's probably only a good thing."
Mayberry is also keen to assert that she doesn't see herself as a frontwoman - the band works in a very equal way.
"We are a three-part writing and decision-making team, it's definitely not two producers and a girl who sings the songs."
They're also conscious that fans want something more than a laptop band when they see Chvrches in a live setting.
"We're very aware that with certain kinds of electro music, it would be easy enough to just have a laptop on stage and push the space bar, and then just stand there, but I don't think that's something we were interested in. You need to have some sort of engaging live performance, people actually playing stuff, so we wanted to focus on creating something like that."
They don't have a live drummer, or even a drum machine (even though Mayberry was a drummer in her previous bands) - they're all triggered through keyboards or sample pads - but it means Mayberry is free to get lost in her vocal performance, while Doherty and Cook energetically multitask.
"I don't remember ever thinking to myself, 'I really want to be the singer and be the front-person and be the centre of attention,' when I got into music. That's not something that comes naturally to me as a person - for me my voice is more of a writing and communication tool, and I suppose that's because of the instruments I grew up playing - you know, drums, keyboard, piano. So yeah, I think it's a bit different for me, but it's going okay and I'm really enjoying it!"
Who: Rising Scottish act Chvrches
What: Debut album The Bones Of What You Believe
Where and when: Performing at Laneway Festival 2014 in Auckland, Monday, January 27 at Silo Park
Follow @nzherald_ent on Twitter for all the latest entertainment news.
- TimeOut