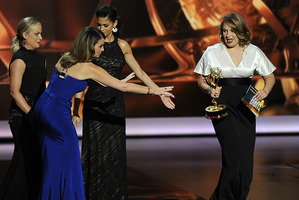 Merritt Weaver is getting praise for delivering what may be the shortest acceptance speech in Emmys history.
The Nurse Jackie actress won Best Supporting Actress in a Comedy at the awards ceremony in Los Angeles this afternoon.
Her entire acceptance speech was: "Thank you so much. I gotta go. Bye."
Weaver was considered an outsider in the category, which was packed with big names such as Jane Lynch, Jenna Krakowski and Modern Family stars Julie Bowen and Sofia Vergara.
She told reporters she left the stage after realising she was going to cry.
The 33-year-old said she wished she had thanked Nurse Jackie star Edie Falco.
However, her short and sweet effort was a hit with Emmys host Neil Patrick Harris.
"Merritt Wever, best speech ever," he said.
- nzherald.co.nz