Sandra Bullock and George Clooney do a Major Tom in their latest movie, a cosmic space drama in 3D. Helen Barlow reports.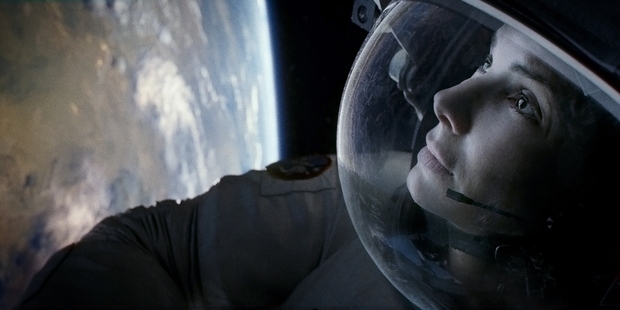 Alfonso Cuaron's existential space movie Gravity 3D has been hailed as a cinematic breakthrough for its ability to send audiences into high orbit in a way no other film has.
Positioned alongside stranded astronauts Sandra Bullock and George Clooney, we feel as if we are flailing around in zero gravity and marvelling at Earth below.
Clooney has the supporting role in this artful film and was happy to play second fiddle to his old friend.
"There were only two parts and Sandy got the other one and I thought this was the only one I could get away with. I didn't want to spin around in my underwear - it just didn't look right for me," he joked.
Bullock's astronaut-medical role of Dr Ryan Stone was initially offered to Angelina Jolie (who turned it down) and Natalie Portman (who dropped out due to pregnancy).
It's certainly a giant leap for funnywoman Bullock from her most recent role in buddy comedy The Heat.
Clooney and Bullock play astronauts whose orbiting shuttle is hit by space junk.
"In our research we came up with the Kessler syndrome where, because of the density of stuff in space - spacecraft, satellites etcetera - there's a high chance that if two of them collide they would create a chain reaction and create more debris," explains the film's screenwriter Jonas Cuaron, the son of the director.
"The characters have to navigate through that. Our aim was to keep you on the edge of your seat but while juggling bigger themes."
The debris becomes a metaphor for the characters' adversities, explains Cuaron snr, noting that Bullock's Ryan Stone is also grappling with the death of her daughter. "You have a character who is drifting through life and with the acceptance of death comes the possibility of rebirth and having a new knowledge of yourself, an evolution."
Tethered together as they float aimlessly while hoping to find refuge in a space station, Clooney's Kowalsky, leading his final mission, banters with Bullock's rookie as their oxygen supply drains away. In scenes inside the spacecraft Bullock strips off to reveal a taut physique, reminiscent of Sigourney Weaver's Ripley from Alien. Only Bullock's character had to tumble around to depict weightlessness.
"We really didn't know how to do this because it had never been done before," Bullock says of acting for almost a whole movie recreating zero gravity.
"So before we shot I felt might as well get core strength because internally I didn't want to fall apart. I also wanted Ryan to look a certain way. I don't want to say androgynous but I wanted to lose everything that was feminine and motherly about her. I wanted her body to be a machine. I wanted to execute what she had to execute, so there was a lot of training. But it was worth it."
Bullock's early background helped a great deal, she says. "My parents were opera singers so I am very musically motivated. Alfonso gave me boxes of musical scores and we'd create a soundtrack for each scene. I wouldn't talk to anyone; I'd just hear sounds. It helped that I'd trained as a dancer because we were operating at a very slow speed - and I'm fast," she chuckles.
Clooney had to adjust as well. "We'd move much more slowly than we'd normally move, but at the same time we had to speak fast so it was the trickiest thing. I got to this shoot late, after a few weeks, and when I walked in I was like, 'I can't do this! You guys are nuts!' I'd be sitting there watching Sandy and she'd be blasting it. It took me a couple of rehearsals to evolve from moving normally into this speaking-fast, moving-slow rhythm."
The greatest challenge of the film though was grappling with the technology, which helps create the film's scary atmosphere.
"There was a giant piece of machinery I think they used to build cars with that would come flying towards you at 40mph [65km/h]," Clooney explains animatedly.
"The great challenge was not to not react when this 4000-pound [1800kg] machine came flying at you and would stop this close."
Bullock inevitably was stuck in a box. "George and I rarely had time together, but if I could hear his voice I felt better, if I could see a piece of his body, I felt better. I was so grateful for any kind of human contact, even if it was someone's breath. You realised how we take that for granted. It was an amazing physical and emotional journey."
Bullock only has kind words for Clooney. "George and I have known each other 20 years since we both got out of college," she says. "He's the exact same person he was then."
Clooney of course has also become a dedicated humanitarian - one who has funded his own satellite monitoring the troubled border between North and South Sudan.
"'We want to keep an eye on some of the atrocities that are going on there. We want not just accountability, but we want to make it more and more difficult for people to act without any ramifications.
"It's been incredibly successful since now the attacks only happen at night or under cloud cover. So we're going to switch that up to infrared. It's our job to try and shine a light on those places as much as possible."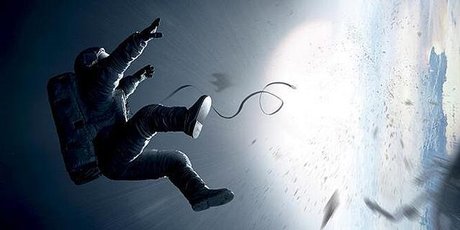 DIRECTOR IS IN WITH A LONG SHOT
It's the 13-minute shot heard round the world.
Festival audiences in Venice and Telluride have been floored by the lengthy opening shot of Alfonso Cuaron's 3D space odyssey, Gravity, which plunges movie-goers into space and leaves them reeling in weightlessness. When the film premieres on Sunday at the Toronto International Festival, the lore of Cuaron's balletic beginning is sure to grow.
"It's the idea of trying to create a moment of truthfulness in which the camera happens to be there just to witness, and respecting that moment in real time," Cuaron said in a recent interview.
Beginning with Y Tu Mama Tambien and up to their last film, the gritty science-fiction thriller Children of Men, the Mexican director and his long-time cinematographer, Emmanuel Lubezki, have been renowned for their propensity for long, unbroken, beautifully choreographed sequences. A four-minute uncut scene in Children of Men captured a playful conversation scene in a car suddenly ambushed in a forest by dozens wielding clubs and guns, and then carried on through the escape and beyond. For this, Cuaron built a track inside the car for the camera to move forward and backward.
The shot at the start of Gravity similarly moves from banality to mayhem, ending in uncertainty. Astronauts Sandra Bullock and George Clooney are repairing a space station and bantering breezily with their Nasa dispatch in Houston (voiced by an unseen Ed Harris). In a cascading storm of satellite debris caused by an asteroid, the space station shatters and the astronauts are stranded in space.
Cuaron and Lubezki capture it all seamlessly with a camera floating around the characters, moving variously into close-up and wide shots. It is, as Cuaron calls it, "a continuous moment".
"We feel like sometimes the language of close-ups and intercuts abstracts the characters from the environment," says Cuaron. "We wanted the environment to be as important in weight as the characters."
Variety hailed the shot as having "completely immersed us in the beauty and majesty of a dark, pitiless universe". The Hollywood Reporter called the film,"the most realistic and beautifully choreographed film ever set in space".
There are several other minutes-long takes in Gravity of startling uninterrupted clarity, but the opening shot is the one cinephiles will drool over. Considered bravura feats of film-making prowess, long takes are the stuff of film-making legend with famous practitioners including Orson Welles (Touch of Evil), Alfred Hitchcock (Rope), Martin Scorsese (Goodfellas), Robert Altman (The Player) and Michelangelo Antonioni (The Passenger).
Cuaron doesn't like to draw attention to his long takes, which have been roundly inducted into that cinematic tradition. The director, who claims not to know how long the first shot of Gravity is, fears turning into what he calls "Look, Mama! No hands!" film-making.
"That's something I worry about sometimes," he says. "If it catches the attention of people, I'm not sure it works."
Advances in digital technology have opened up new realms for long takes (the 2002 film Russian Ark was made in one 96-minute Steadicam shot), but Cuaron had particular challenges operating in simulated zero gravity. He and visual effects supervisor Tim Webber created what they called "The Lightbox": a large cube surrounded by LED lights inside of which Bullock and Clooney were rigged to mimic weightlessness.
It was complex work, trying to stay faithful to the reality of movement in space. But Cuaron wanted an immersive experience, partly inspired by documentaries of astronauts on the moon like For All Mankind films that didn't have the luxury of cutting to a close-up.
Instead, Cuaron's camera at times drifts into the perspective of Bullock's engineer character and then floats away "almost as if you're another astronaut following the journey," he says.
Though Cuaron revels in such choreography, even he was surprised by the size of the task. What he expected to be a simple chamber piece with just two characters ended, as his collaborators often reminded him, taking four-and-a-half years.
What: Gravity 3D directed by Alfonso Cuaron and starring Sandra Bullock and George Clooney
When and where: Opens at cinemas on October 3
Follow @nzherald_ent on Twitter for all the latest entertainment news.
- TimeOut / AP