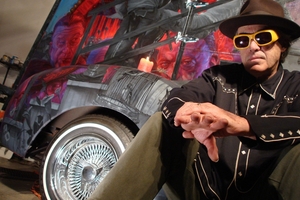 After his excellent but demanding concept album trilogy (Chavez Ravine, My Name is Buddy, I Flathead), then two political albums (Pull Up Some Dust, Election Special), Cooder's mainstream audience might have tuned out.
This live album recorded two years ago - his first in 35 years - may be the commercial corrective because it has an easy familiarity with well-known covers (Crazy 'Bout an Automobile, The Dark End of the Street, Sam the Sham's gimmicky Wooly Bully) alongside Spanish soul (Volver Volver sung by Juliette Commagere, who appeared with him here four years ago), irony (the white man's complaint on Lord Tell Me Why), a nasty and updated treatment of Woody Guthrie's Vigilante Man, blues (Goodnight Irene) and lively accordion from guest Flaco Jimenez.
There's spontaneity here (Cooder caught saying to Jimenez off-mic, "Go ahead, Flaco" before a solo), an audience whooping with enjoyment, a 10-piece Mexican brass band backing Commagere and flashes of wry Ry humour.
So this is the album long-time fans may actually want to return for, because the dozen songs touch on most aspects of Cooder's long career, and showcase that exceptional guitar playing.
Stars: 4/5
Verdict: Masterclass in pop, Tex-Mex rock, Spanish soul and guitar-playing.
Click here to buy Live in San Francisco.
Follow @nzherald_ent on Twitter for all the latest entertainment news.
- TimeOut / elsewhere.co.nz