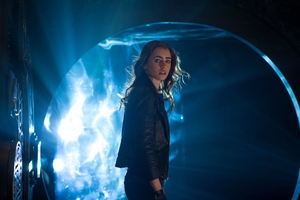 The Butler served up a second helping at the North American box office, topping the weekend with US$17 million ($22 million), according to studio estimates.
That was enough to lead all films on a late August weekend known as a dumping ground for studios following their northern summer blockbusters.
Lee Daniels' historical drama about a long-serving White House butler, starring Forest Whitaker and Oprah Winfrey, last weekend opened with US$24.6 million for the Weinstein Co.
Three new releases failed to catch on. The teen fantasy The Mortal Instruments: City of Bones, adapted from the popular young adult book series, opened tepidly in third with US$9.3 million on the weekend and US$14 million since opening on Wednesday.
With franchise hopes, Sony Screen Gems has already started production on a sequel, again starring Lily Collins as a New York teenager who discovers that she has mystical powers.
Edgar Wright and Simon Pegg's pub-crawl-gone-wrong comedy The World's End opened with US$8.9 million for Focus Features.
Playing in 1549 cinemas, The World's End did its business in less than half the theatres of The Butler or Mortal Instruments.
Despite good reviews, Lionsgate's home-invasion horror flick You're Next opened weakly with US$7.1 million.
With a cumulative total of US$52.3 million, The Butler is headed for a domestic haul of US$100 million. It has followed the release pattern of another movie about race and domestic service: the 2011 drama The Help, also released in August.
The Weinstein Co. hopes that The Butler will similarly lead to Oscar nominations.
Top of the box office
Estimated ticket sales for Friday through Sunday at US and Canadian theatres, according to Hollywood.com. If available, latest international numbers included.
1. Lee Daniels' The Butler, US$17 million.
2. We're the Millers, US$13.5 million (US$8.3 million international).
3. The Mortal Instruments: City of Bones, US$9.3 million.
4. The World's End US$8.9 million.
5. Planes, US$8.6 million (US$5.9 million international).
6. Elysium, US$7.1 million (US$20 million international).
7. You're Next, US$7.1 million.
8. Percy Jackson: Sea of Monsters, US$5.2 million (US$18.4 million international).
9. Blue Jasmine, US$4.3 million.
10. Kick-Ass 2, US$4.3 million (US$7.3 million international).
- AAP