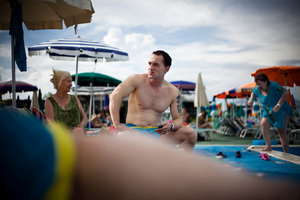 Cinematic examinations of television and celebrity make a long list: Ashby's Being There; Scorsese's King of Comedy; Fellini's Ginger and Fred; Gus Van Sant's To Die For; and Peter Weir's The Truman Show all addressed the subject.
This film, by the writer-director of the spellbinding Neapolitan Mafia drama Gomorrah doesn't earn star billing in any such list but it's a stylish and evocative piece of work.
It's set in Naples where Luciano (Arena) is a handsome fishmonger whose sales shtick uses the back of his truck as his stage.
When Luciano's family urges him to audition for the reality show Grande Fratello (Big Brother), he's not madly keen.
But when he gets a call-back, the prospect of the fame conferred by participation in the show begins to entrance - and before too long to obsess and then consume - him.
The film takes what some may see as a dispiritingly cynical view of the corruptibility of human nature when tantalised by the unearned celebrity of television exposure: Luciano soon begins to display an altruism that he does not feel because he is convinced that scouts for the show are monitoring his every move.
When he begins to give away his family's possessions, the corrosion of his humanity is virtually complete.
It's a sobering picture Garrone paints of the quasi-totalitarian nature of television, which is invested with unquestioned power because it can shine the spotlight on drab lives. And the film deploys a visually rich mix of neo-realism and Fellini-style grotesquery. i But it's too long and even the terrifically engaging and engaged performance by Aniello and Alexandre Desplat's bewitching score struggle to sustain it.
Stars: 3.5/5
Cast: Aniello Arena, Claudia Gerini, Giuseppina Cervizzi
Director: Matteo Garrone
Running time: 111 mins
Rating: M (offensive language) In Italian and Neapolitan with English subtitles
Verdict: Thought-provoking but overlong
Follow @nzherald_ent on Twitter for all the latest entertainment news.
- TimeOut