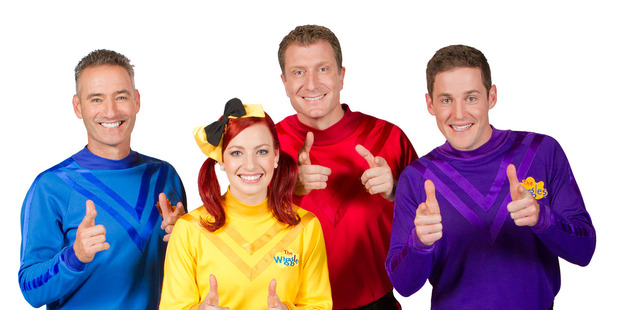 Jeff, Murray and Greg of The Wiggles may have retired, but they've passed their red, yellow, and purple skivvies over to Lachlan Gillespie, Simon Pryce and Emma Watkins (the first woman Wiggle). So it's "ready, steady, wiggle!" time again for New Zealand when the Aussie children's entertainers return to our shores for an 11-date tour this November.
The old Wiggles said farewell with a tour last September, but now it's time for a new chapter, and a new set of songs, like current hit Do The Propeller - though you can rest assured they still play those darn annoying favourites like Hot Potato - and their friends Dorothy the Dinosaur, Wags the Dog, Henry the Octopus and Captain Feathersword are coming along too.
They start their tour in Auckland at the ASB Theatre on Saturday, November 16, and continue through the country, taking in Tauranga, Hamilton, New Plymouth, Napier, Palmerston North, Wellington, and South Island dates.
Tickets go on sale on Monday, August 19. For more info and tour details go to thewiggles.com.au
Also returning are ethereal Celtic folk band Clannad who are touring to mark their 40th anniversary and the release of their 18th album Nadur (Gaelic for nature).
The Irish family group, led by haunting and heavenly vocals of Moya Brennan, play Auckland's ASB Theatre on October 23 and the Wellington Opera House October 24. Perhaps best known in New Zealand for composing Legend, the soundtrack to 80s TV series Robin of Sherwood, the group developed their trademark sound that blended traditional Irish music with folk, rock, ambient, jazz and world music over the course of their first six albums starting with their self titled debut from 1973.
As well as Legend, they are also well known for 1982's Theme From Harry's Game. They also have a fan in U2's Bono, who described the latter as "the sound of angels" and duetted with Moya on 1985's In A Lifetime.
Clannad tickets on sale tomorrow from Ticketmaster (Auckland) and Ticketek (Wellington).
Meanwhile, Californian reggae group Common Kings, who played Rotorua's Raggamuffin festival earlier this year, are hitting the road on their Summer Anthems Tour to celebrate the release of their EP of the same name.
The band, made up of members whose homelands are Samoa, Fiji, Tonga and Hawaii but who live in Orange County, describe their sound as R&B and roots reggae "with a mash-up of Bruno Mars meets Maroon 5 meets Sublime".
They play Altitude, Hamilton, Oct 23; Pettigrew Green, Napier, Oct 24; Hutt Indoor Sports, Wellington, Oct 25; Powerstation, Auckland, Oct 26; Brewers Bar, Mount Maunganui, Oct 27.
Elsewhere, UK metallers Bring Me The Horizon will play the Powerstation in Auckland on October 2.

Tickets are on sale through Ticketmaster from August 16.

Follow @nzherald_ent on Twitter for all the latest entertainment news.
- TimeOut