Gary McCormick, whose mum survived the quake, is an apt presenter, writes Sarah Lang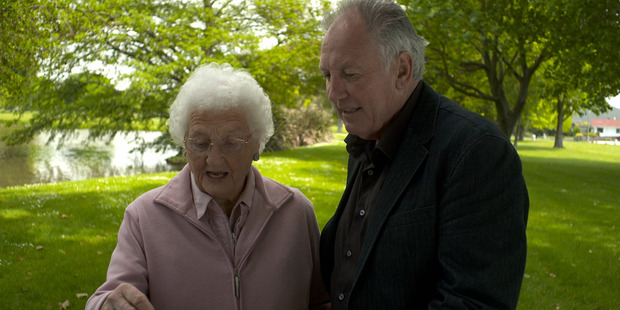 Billed as "factual TV", TV One's one-off series Descent From Disaster is effectively six separate documentaries about New Zealand's worst disasters. So far they've screened the 1894 sinking of the S.S. Wairarapa, the 1943 Hyde train crash, the 1963 Kaimai plane crash, and the 1967 Strongman mine explosion. Tuesday night's episode probes the deadliest disaster in New Zealand's history: the 1931 earthquake that destroyed Napier, badly damaged Hastings, killed 286, and injured thousands.
A "prominent New Zealander" presents one episode each, and this time it's Gary McCormick. He's a good choice. Not only has he endured the Christchurch quakes and their aftermath, but his mother Dawn McCormick (nee Mudgway) was very nearly killed at age 5 by the 1931 quake - and, happily, is still here to tell her son about it.
It's no easy task to create 48 minutes of TV footage about something that happened 80-plus years ago, even with funding from New Zealand On Air's Platinum Fund.
But Screentime, a leading local production company, makes it look easy. In dramatic reconstructions, actors play the parts of Hawke's Bay people caught in the quake: Dawn and her mother, a hospital patient, a hotel proprietor, a thief, a photographer, a newspaper boss, a priest-in-training. These dramatised scenes - all tweed suits, muted colours, dappled light and trembling teacups - are knitted to McCormick's interviews with the descendants of the various characters. This focus on individuals brings a human face to the disaster, reminding us that these were just regular people going about their day.
One story stands out. Former soldier Mervyn Bergrenn, 23, was in the Napier courthouse awaiting his trial for petty theft and breaking-and-entering when the quake struck. He dashed across the road, where he climbed into a caved-in hospital and rescued first a man (who turned out to be tobacco magnate Gerhard Husheer) then a woman. His heroism meant he didn't get much jail time. Eighty-two years later, Screentime tracks down Bergrenn's greying son and daughter, whose father died when they were kids.
McCormick informs them, with the air of a benefactor, that their father was a thief ... and a hero. You can almost sniff McCormick's disappointment when the pair don't say much, and their faces remain hard to read. No matter: it's still a ripper yarn.
As well as telling individual stories, Descent From Disaster widens its lens by weaving in archival film footage and black-and-white photos captured in the moments, hours and days after the quake. In fact, photographer A.B Hurst's black-and-white images are the only record of the Napier CBD after the quake that brought down buildings, but before the fire that razed them.
We see a shopkeeper and his wife huddled in the middle of a street, surveying their wreck of a shop. We see 104 Navy sailors - minus today's hard hats and high-vis vests - standing on the rubble, as they search for survivors, remove bodies and blow up unsafe buildings. I have to say, though, that inserting an image of the actor playing Hurst into one of Hurst's photos just looks silly. Stick to either 3D or 2D at any one time, please.
But that's a mere quibble, and this is an excellent documentary. It finds and tells stories that would otherwise be lost - and brings that history to life.


Descent From Disaster screens Tuesday, 9.30pm on TV One. The four previous episodes can be viewed at tvnz.co.nz.