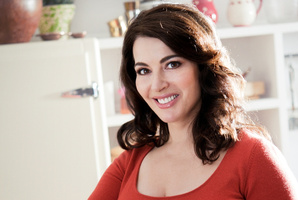 The public fallout from celebrity chef Nigella Lawson's divorce has taken a sad turn, with her stepdaughter speaking out against her.
Two months ago, Lawson's husband, Charles Saatchi, was pictured grasping her by the throat during a row at a London restaurant.
Saatchi, 70, accepted a police caution for the assault but still insists the incident was "a playful tiff".
He is reported to be still angry that his 53-year-old ex hasn't uttered a word in his defence.
"Her silence is torturing Charles," the Daily Mail reported one of his friends saying. "Surely she must realise this."
Now, Saatchi's daughter Phoebe, 18, has been drawn into the public eye. She was 7 when her father and Lawson married in 2003 and she became a stepsister to Lawson's children, Cosima and Bruno, then aged 8 and 6.
The Daily Mail reported that Saatchi brought Phoebe to the telephone in Italy, where they are on holiday, to read out a brief statement.
With her voice trembling, she said: "Nigella has not spoken to me since she left our house on that Sunday when the newspaper story appeared. She has behaved in a very cold-hearted way. She has been my mother since I was 7 or 8 and has just abandoned me. That's it."
She declined to answer any questions.
Friends of Lawson, the paper said, claim Saatchi is using his daughter to attack her stepmother.
"The divorce is really sad for the children but Charles should have known better than to let Phoebe get involved in such a grimy situation," said one.
But a friend of Saatchi said it was Phoebe's idea to speak out. "She's completely devastated that she hasn't had a phone call from Nigella. Whatever issues Nigella has with Charles, she doesn't have them with Phoebe.
"And on top of this, Phoebe is furious with Nigella for not saying anything to defend her father and just leaving him to hang out to dry," the Daily Mail reported.
Lawson is in Los Angeles making the second series of a reality cookery TV show, The Taste.