Matteo Garrone's latest offering explores the darker side of instant celebrity, writes Peter Calder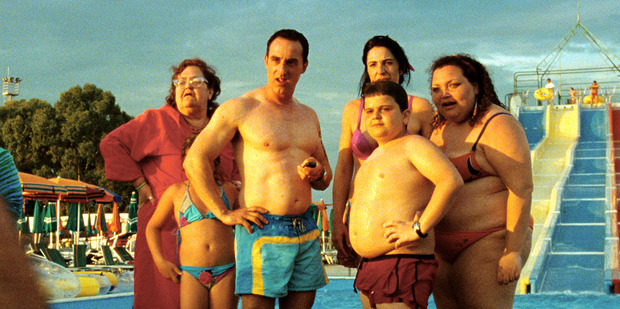 After a handful of films little seen outside his native Italy, writer-director Matteo Garrone seized the cinema-going world by the throat in 2008 with Gomorrah, a grim, fictionalised depiction of the Neapolitan mafia. It won the Grand Prix (effectively second prize) at Cannes, a feat Garrone repeated with his next movie, Reality, which opens here next week.
The title drips with irony, since it's actually the story of a man's descent into a world of delusion. Luciano (Aniello Arena), is a handsome Neapolitan fishmonger and small-time scam artist, whose broad drag acts at weddings and birthdays prompt his family to urge him to audition for the reality TV show Big Brother (or Grande Fratello, as it's called in Italy). At first, almost imperceptibly, and then with unsettling inevitability, his longing for the instant celebrity conferred by the show becomes an all-consuming obsession. Believing he is constantly being watched and assessed by scouts for the show he begins to feign an extravagant altruism that beggars his family.
Garrone discovered Arena, who is serving 28 years for three murders committed as a hitman for a Naples gang, when he saw a theatre production staged at the prison. The actor returned to prison at the end of each day's shooting.
The film's one-line synopsis had me expecting an attack on reality television, but in fact the film is not about Big Brother as a malevolent force; it's about the expectations that Luciano projects on it.
That's right. Big Brother is like the MacGuffin in a Hitchcock movie. It's not important at all. It's not about television; it's about illusion, not just his expectations but his perception. For him to be on television, it doesn't matter which programme, it is a validation of his existence. Gomorrah was a movie about victims of the crime system and this is a movie about victims of the show business system. They are different systems but what they have in common is that they are always wanting to make money and to have power. Reality talks about manipulating people's desire. In this story, Luciano invents a new character to reach his goal, he becomes someone else. So this absurdist aspect, which is sort of Pirandellian, is very modern. We approach the story as a dark comedy, trying not to be moralistic but to be human. Luciano, in a way, is not far from me. I am very weak and I can easily betray myself.
I have read that the film is based on a true story. What was that?
It happened in my family. My brother-in-law had the tragedy that you saw in the movie and the real story was probably darker than the story in the movie. He often came on the set to discuss with the actor that was playing Luciano the psychological basis of the character. He reached the point where he was about to commit suicide. That's how far it went. He felt like he was being watched and started to pretend to be like a saint. So many aspects of the story that seemed surreal actually happened. What surprised me was how complicit his family was in the process. They never thought for a moment that they might be guilty too and that was very interesting.
Television seems inseparable from politics in Italy because former Prime Minister Silvio Berlusconi is a television mogul. Do you see the film as having a political agenda?
Probably, but I don't think Berlusconi invented the model. It came from other capitalist countries, from the US. In 1975, Pasolini was already denouncing the consumer society. We have been living in this corrupt society for 30 or 40 years and this story could happen in another level of society.
Visually, the film draws on the neo-realism of De Sica and Rossellini, but there are also fantastical elements that remind us of Fellini. Were you seeking to contrast Luciano's drab life with the fantasy world he wants to inhabit?
That's right. The story of the film is not new but I was trying to tell it with a balance between realism and the fantasy dimension. That was a difficult line to find. It was a sort of magical realism in a way. I think Gomorrah too was a sort of black fairy tale.
What was it about Aniello Arena that made him right for the role?
His face, his eyes. He is a mix between Robert De Niro and [legendary Italian comedian] Toto. He was believable as a working class man but he is also able to capture the way Luciano feels as he is slowly drawn into the dream. You can see the sense of wonder and surprise in his eyes because he had been in prison for 21 years and was really rediscovering the world.
Who: Matteo Garrone, storied Italian writer-director
What: His latest Reality
When: Opens Thursday
Follow @nzherald_ent on Twitter for all the latest entertainment news.
- TimeOut