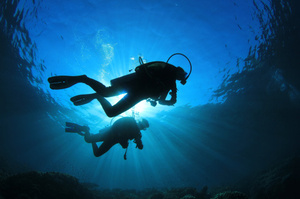 A new TV show about underwater adventures will showcase Northland's Poor Knights reserve alongside some of the best diving spots in the world.

Descending, which airs on Sky Travel Channel 025 from August 21, is a 13-part series about 17 countries.

New Zealand-born Ellis Emmett, 40, hosts the show with Canadian Scott Wilson and said there was no question about using the Poor Knights in the New Zealand episodes.

"We couldn't come to New Zealand and not film there. The marine diversity is incredible."

The Poor Knights, off the Tutukaka coast north of Whangarei, holds its own quite easily amongst some of the world's best, Mr Emmett said.

Tourism Development Group chairman and Whangarei District councillor Jeroen Jongejans said the Poor Knights were "the lifeblood" of Tutukaka and an increase in publicity would be a boost for the area.

"It's about that person in New York waking up and saying 'I saw this amazing place in New Zealand, I want to go there'," Mr Jongejans said.

"It's the food, the cafes, the charter fees, transport, accommodation ... Everything will add up in significance to our economic wellbeing."

The islands were made a total marine reserve in 1998 and Mr Jongejans said the next step is World Heritage Status.

Other locations in the series include a World War II wreck in Sudan, shark-filled waters in South Africa and the Raja Ampat reserve in Indonesia.
- APNZ